Topeka Capital-Journal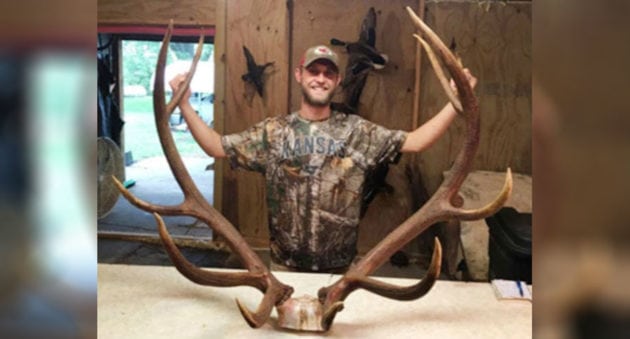 A hunter bagged what may be a new Kansas record when he took a big bull elk during the state's muzzleloader season.
On Sept. 6, DJ Klenklen shot what could be the next Kansas record elk.
He'll know for sure in November whether the big bull will assume the top spot in the record book. That's when the mandatory 60-day waiting period will expire and the bull's antlers will be officially measured and entered.
Klenklen was dove hunting on private property in Jefferson County, Kansas, when he walked within 40 yards of the bedded elk. He quietly backed away from the animal, hoping not to spook it off the property. The landowner knew the elk was on his property and had asked Klenklen if he wanted to hunt it.
Klenklen's wife tells the tale
Klenklen's wife, Lacy, wrote in an email to the Topeka Capital-Journal about the encounter.
?Landowners (two) had told him there was a rogue elk that has been around their property for the past three years,? she stated. "Well, while out dove hunting, my husband accidentally walked up on this elk, 40 yards or so, and spooked him up. He couldn?t believe it, he was real and he was right in front of him!?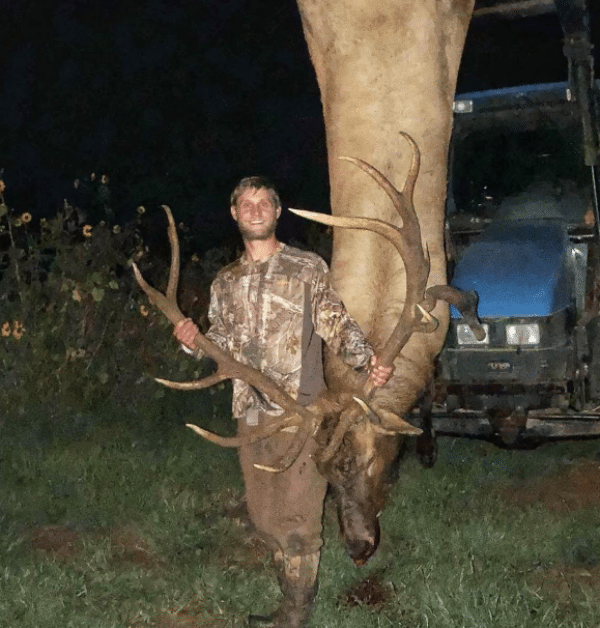 After seeing the bull, Klenklen purchased a $300 over-the-counter muzzleloader elk tag and headed back into the woods the next day.
?Then all the sudden, birds started to fly, you could here something coming through the timber, and then the infamous bugle," Lacy continued. "It was him. For about 20 minutes or so, he just watched him come in closer. Finally, at 60 yards, the bull turned broadside and he took his first shot.
?The elk didn?t run, he just seemed confused. My husband loaded his gun again. The elk spun around, now being broadside the opposite direction, and my husband fired a second shot. This time the elk started to trot off before finally going down just 20 yards from where he originally was hit.?
The adrenaline kicks in
For his part, Klenklen said he and his younger brother had waited several hours in the area where he spotted the bull.
?We?re thinking of packing up, it?s about 6:45, and he bugles, man, and it made the hairs stand up all over my body,? Klenklen said. ?I heard him start coming through those trees and he was just coming like a freight train. I?ll never forget the sound of him coming through those trees.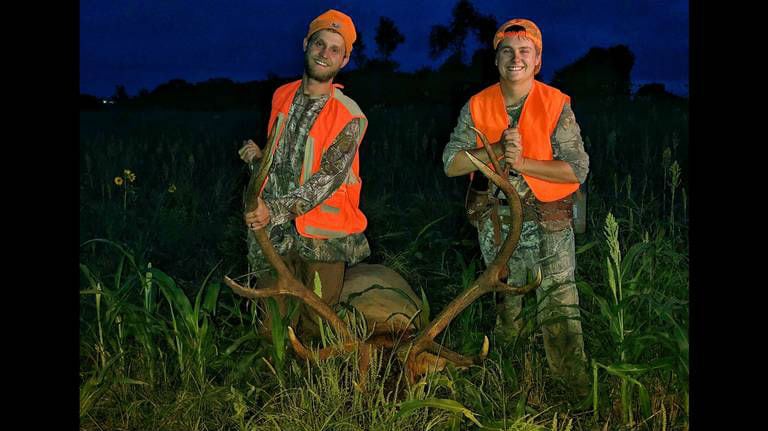 ?He?s making this noise?I don?t even want to try to replicate it, but it?s like a drum. And it?s really deep and short. And then he came out of the woods, and, man, I have never felt adrenaline like that in my life. I was shaking so bad.?
But Klenklen wasn't just looking at the massive animal's headgear. He's a meat hunter whose family relied on him getting a deer every year to fill their freezer.
?I was looking at it from a meat perspective,? he said. ?I?d never seen one in the wild, up close, so I didn?t know what a big one was. I?m a deer hunter. Compared to a whitetail, every elk is a monster.?
Klenklen's good luck
Klenklen wasn't thinking record book elk until a friend who hunts elk out west saw the antlers and advised him to have them measured. A game warden seconded his friend's assessment. So, on Nov. 5, Klenklen's elk will be measured and could become the new Kansas state record.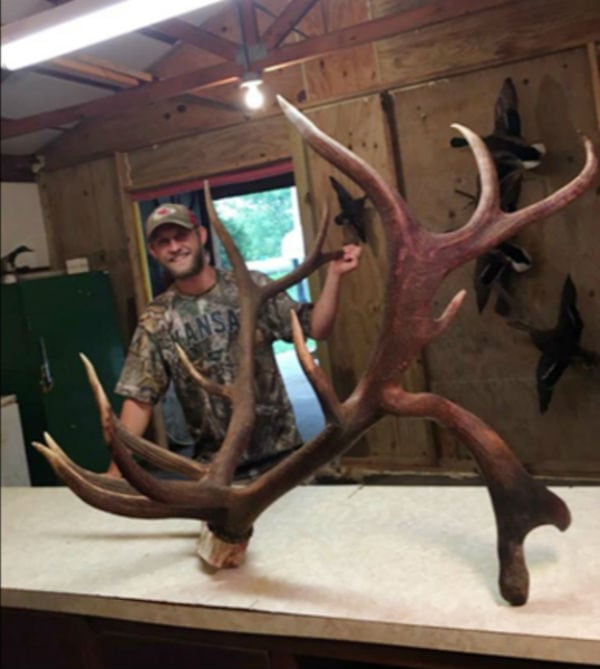 Klenklen won't share his preliminary scoring of the bull though. He said he doesn't want to jinx it.
The current Kansas record elk was set in 1990 by John Garrison, who took a 376-inch B&C non-typical bull.
Elk were once native to Kansas but have been gone since the 1890s. That is until the state's reintroduction program went into effect in the 1980s. Since that time the elk population has been slowly growing, with small herds scattered across the state. Hunters kill around 30 elk every year.
Klenklen's bull was likely drawn to and stayed in its location because of its proximity to an elk farm. The elk farmer told Klenklen the big bull wasn't one of his, but that his elk cows were probably keeping the bull in the area.
?Those cows are what kept him around,? Klenklen said. ?I think he knew we were there, but he was worried about those hot cows.?
Like what you see here? Experience more articles and photographs about the great outdoors at the Facebook page, Stumpjack Outdoors.
NEXT: A KANSAS PROGRAM IS INTRODUCING KIDS AS YOUNG AS 8 TO GUNS
WATCH
The post Muzzleloader Elk Hunt May Have Produced a Kansas Record appeared first on Wide Open Spaces.