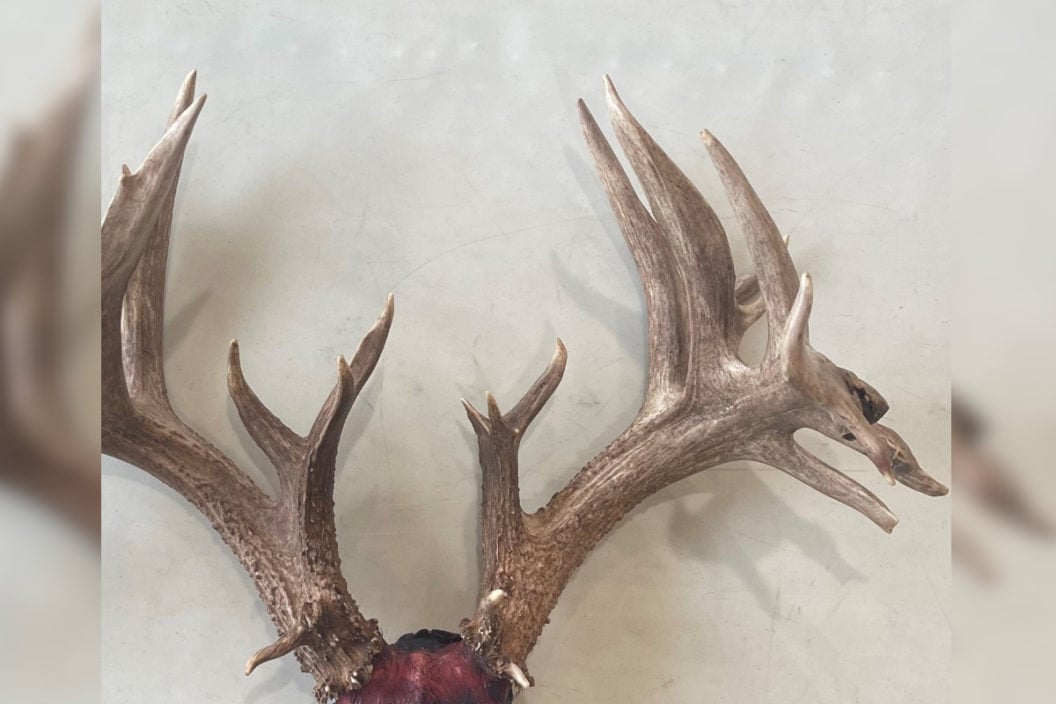 The Illinois Department of Natural Resources is asking for the public's help after a monstrous, 36-point non-typical whitetail buck was found dead in Fulton County. The agency posted photos of the buck's massive antlers on its Facebook page. They appear to carry heavy mass throughout the frame, along with a plethora of stickers and drop tines. The animal is of the sort that would be considered the buck of a lifetime for most hunters.
According to the Facebook post, the buck was found dead near Babylon, Illinois and the DNR suspects the animal was poached. They believe someone shot the buck around the third week of October west of the intersection of E. Tater Holler Road and N. Babylon Road. From satellite views of the area, it looks like prime deer habitat with very few houses around.
Two DNR officers thoroughly examined the buck's carcass before they suspected someone had taken the deer through unlawful means. CPO Brad Thompson and CPO Jarrod Elliott are currently investigating the case. They ask that anyone with information on this deer contact Thompson at 309-338-1048 or Elliott at 309-210-4321. Another option is to contact the IDNR Tip Line at 1-877-236-7529. Anyone can also submit tips to the Illinois DNR website.
The DNR noted that any information provided anonymously on this case would be kept confidential. The post doesn't specify what weapon the poacher or poachers may have used to kill the buck illegally. Still, the timeline puts the deer's death during archery season just a few weeks before firearms season began. With a buck of this caliber, we imagine it was likely known to area hunters and poachers alike. We suspect many disappointed local hunters are now brokenhearted upon hearing this news. Deer like this just don't come around every day.
We will keep an eye on this case and bring you any new developments as they come in.
For more outdoor content from Travis Smola, follow him on Twitter and Instagram. Check out his Geocaching and Outdoors with Travis YouTube channels for original videos.
The post Monster 36-Point Illinois Whitetail Found, Authorities Seeking Leads appeared first on Wide Open Spaces.