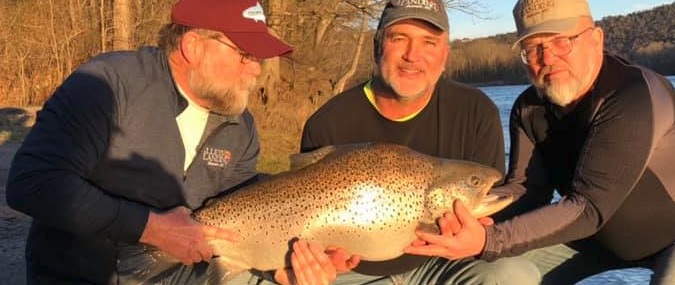 News-leader.com reported first: Neosho angler Paul Crews is on his way to smashing Missouri's brown trout record. On Saturday, he pulled in a 34-pound, 10-ounce brown on 4-pound test line after a 20-minute fight that took him back and forth across Lake Taneycomo near Branson. During the fight, the big fish swam beneath several docks along the edge of the lake without snagging anything and breaking the line. The fish was weighed alive at Shepherd of the Hills Hatchery, and once it's officially confirmed, it will easily break the current Missouri record — a 28-pounder also caught at Lake Taneycomo in 2009. Crews was using a spinning reel to cast a sculpin-colored jig up close to the bank in extremely high winds.
Check out the video on Facebook of the Giant in a basin during some measuring:
https://www.facebook.com/duane.doty/videos/10216591059747284/
"I was casting into 2 feet of water and I felt a tap and set the hook," Crews recalled. "I thought it was a pretty good fish, but when it swam under the boat it honestly looked like maybe a 4 or 5 pound rainbow. But then he really started turning it on. This fish was the boss and I could not control him."
Crews said the biggest brown trout he had ever caught was an 18-incher several years ago that weighed about 3.5 pounds.
Continue reading: https://www.news-leader.com/story/news/local/ozarks/2019/02/23/brown-trout-breaks-missouri-record/2968806002/
OTHER RECORD FISH:
The post Missouri Has A New Record Brown Trout For Sure – Beats Past Record By Pounds (Video Links) appeared first on OutDoors Unlimited Media and Magazine.