This story first appeared on https://www.winnipegfreepress.com. Ice fishers from across Manitoba sent hundreds of dollars to the Mulligan family to replace their stolen ice shack — just in time for Christmas.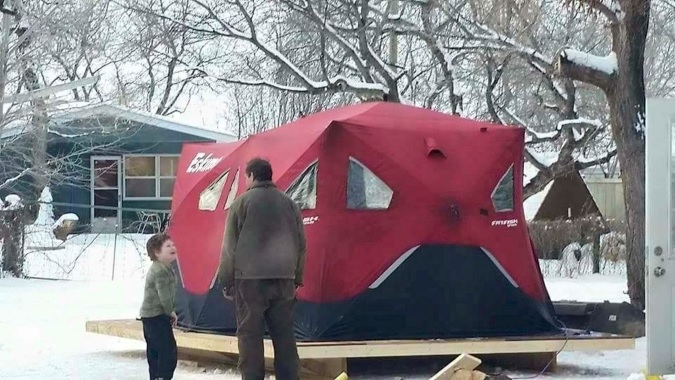 Mike Mulligan, an avid fisher and contractor from Oak Lake — a community about 50 kilometres west of Brandon — and his two sons set out for an afternoon of ice fishing Dec. 16, only to find their anchored tent had been stolen.
"They got out on the ice to the fishing shack, where we leave it all the time, and it was gone," Sheri Marie Swayze said Monday, adding her husband and children absolutely love ice fishing.
"They were mad, but they decided to drill a hole and fish anyway."
Soon after, Swayze posted a message to Ice Fishing Manitoba's Facebook group to see if anyone knew anything about the missing structure.
She said one ice fisher responded to see if it would be all right to ask the group of more than 11,000 to send contributions to help her family buy a new shack.
"This man, I call him an angel, Clive, he asked if he could give us a hand," Swayze said.
And he did. Clive Gaunt posted a message asking fellow enthusiasts to turn the situation around and send e-transfers to the Mulligan family. He said stealing from children is awful, so he thought asking the group for donations was "the right thing to do."
Less than 24 hours later, the Mulligan family had been sent $860 — enough to replace the shack and its missing contents (chairs and a heater). Strangers also offered to donate tackle and hats.
Swayze said she had to ask people to stop sending money, because it kept coming.
"I'm blown away by how so many people I don't even know just kept giving to get my kids and their dad a nice shack," she said. "It was an amazing Christmas blessing."
Swayze and her husband drove to Jo-Brook Outdoors in Brandon to buy a new shack Sunday. They ended up purchasing the same model, but with insulation (price tag: $689), and wrapped it up for their children — seven-year-old Aiden and five-year-old Cael — to open on Christmas Eve.
"My son Aiden was just so emotional and crying and couldn't believe how kind people were," she said.
Swayze said her husband, who never cries, also teared up.
"It made my kids and me happy," Mulligan said. "I've never had such a good Christmas."
The post Manitoba ice fishers send family big Christmas present appeared first on ODU Magazine-North America's #1 Digital Fishing Magazine.