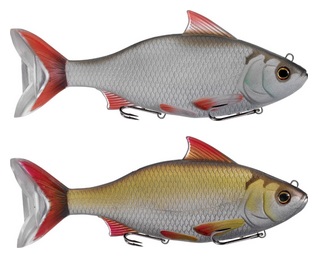 With their golden sides and soft, deep-red fins, rudd are among the most important baitfish for growing oversized specimens of hard-fighting Esox and Sander. Rudd are widely distributed across Europe and represent important prey items for a variety of apex predators. While larger rudd are often pursued by anglers using tiny baits and light tackle, smaller rudd are perfect forage items for pike and zander.
The luresmiths at LIVETARGET recognize the centrality of rudd to the feeding behavior of many European predators, and have devised an incredibly lifelike, rudd-imitating lure to target those important, popular freshwater gamefish.
Available soon, the LIVETARGET Rudd Swimbait combines biologically precise anatomical features and color patterns with biomimetic action and robust components to create a dynamic new swimbait for pike and zander. The swimbait's unique three-dimensional anatomy, including fins, tail, head and eyes, couple with a true-to-life profile to synthesize the perfect illusion of a living, finning rudd.
The LIVETARGET Rudd Swimbait's intelligently engineered tail oscillator generates a unique, rudd-inspired swimming action and vibration that elicits hot pursuit and violent strikes. Precision factory rigging ensures that the bait is ready to use immediately, achieving better balance without the need for frequent adjustment or tuning.
The LIVETARGET Rudd Swimbait is offered in three sizes: the Rudd 130 at 4.75", 1.25 oz, 36g, the Rudd 150 at 6", 2.25 oz, 64g, and the Rudd 190 at 7.5", 4.25 oz, 118g, each internally weighted and precision balanced for a natural, medium-slow sink speed. The three different sizes of the Rudd Swimbait have distinct, characteristic hook arrangements.
The LIVETARGET Rudd 130 and 150 swimbaits are armed with single, extra-wide gap hooks that ride behind the baits' dorsal fins, anatomical features that double as shields to protect the hook from collecting vegetation and other debris. In addition, the Rudd 130 and 150 feature ventral-side accessory pins for convenient on-the-water customization using willow leaf attractor blades, or even a secondary hook to bolster your hooking percentage.
The largest LIVETARGET Rudd 190 swimbait features a unique hook configuration, with twin extra-strong double hooks riding on the ventral side of the lure. Specialized rare-earth magnets, integrated into the soft plastic body of the Rudd Swimbait, hold the double hooks tight to the lure, ensuring a stable swimming action and maximizing hook-up ratios. Each of the belly hooks can be independently positioned to ride with their points turned upward, which enhances the lure's swimming action and reduces the amount of debris collected when the swimbait is fished through heavier cover, or with the points turned downward, resulting in greater exposure of the hooks within the primary strike zone. This user-customizable hook configuration is unique among swimbaits and makes the LIVETARGET Rudd an incredibly versatile choice for targeting apex predators.
All sizes of the LIVETARGET Rudd Swimbait are offered in two ultra-realistic color schemes to replicate the common varieties of rudd encountered in European waters: Natural/Pearl (219) and Metallic/Gold (220).
Related articles
The post LIVETARGET Reveals Ultra-Realistic Rudd Swimbait appeared first on OutDoors Unlimited Media and Magazine.