Northland Fishing Tackle's buggy-looking new Mitee Mouse Jig features a unique design that's as easy to fish as it is effective.
Representing the latest addition to the legendary Bro's Bug Collection, which was hatched in 2008 by panfishing icon and Team Northland® member Brian "Bro" Brosdahl, the Mitee Mouse Jig is forged from heavyweight tungsten for ultra-fast drops into the panfish strike zone.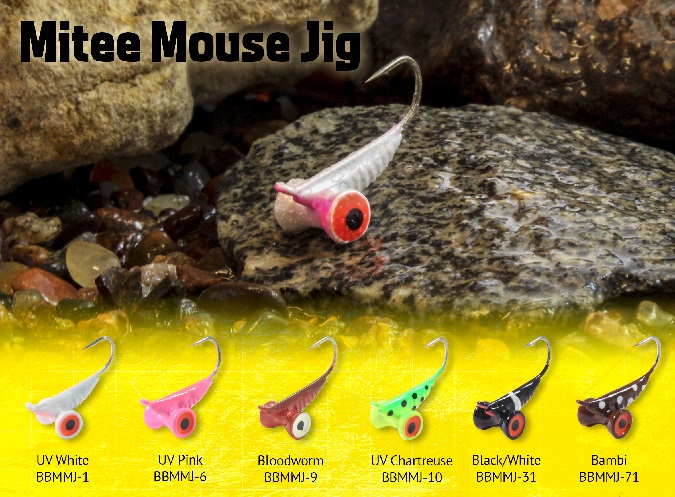 Super-dense tungsten is 30 percent heavier by size than lead, making the Mitee Mouse Jig ideal for targeting plump panzers whether they're patrolling deep water or hunkered down in heavy vegetation.
The Mitee Mouse Jig also features a tempting "mousie" body and bulging bug eyes, which are coated with a UV-enhanced finish for added visual attraction. Plus, it hangs at a 45-degree angle, allowing upward-feeding panfish to idle in for a better look before taking the bait.
"The Mitee Mouse is the total package for sunfish, crappies and perch," says Brosdahl. "Tip it with a variety of natural baits such as wax worms and maggots, or Northland's durable, scent-impregnated IMPULSE® soft plastics like the Bloodworm, Skeleton Minnow and Water Flea."
Mitee Mouse Jigs are available in six fish-catching colors and three sizes: 1/28-ounce with #10 hook; 1/16-ounce with #8 hook; and 3/32-ounce with #6 hook. Suggested retail is $3.49 apiece.
"The smallest size is perfect for finicky sunfish, while the 1/16- and 3/32-ounce versions excel for perch, crappies and bruiser bluegills," Brosdahl adds. "And, thanks to their unique design, all three are easy to spot on sonar."
 Sizes                                       MSRP          Fast-Falling Tungsten           
1/28-ounce (#10 hook)             $3.49          Bulging Bug Eyes, Mousie Body
1/16-ounce (#8 hook)                                 Easy To See On Sonar
3/32-ounce (#6 hook)                                 Tip With Live Bait Or IMPULSE® plastics                                                                                            Hangs At 45-Degree Angle In Water
Colors                                                             
UV White, UV Pink, Bloodworm, UV Chartreuse, Black/White, Bambi
The post Northland's New Bug-Eyed Mitee Mouse Jig appeared first on .