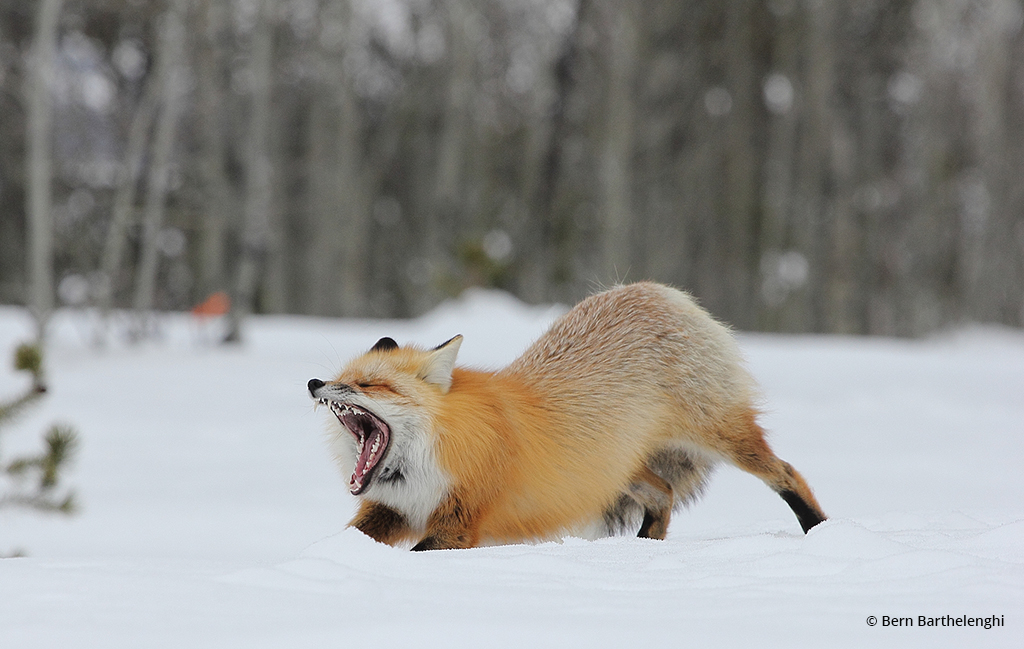 "I lived in Jackson, Wyoming, for five years and skied Jackson Lake and Colter Bay each weekend, gaining knowledge of where certain animals were at various times of the year, in particular, a red fox couple," says Bern Barthelenghi. "I headed out as the wind was blowing and the snow falling with high hopes of success. Traveling only a short distance toward the lakeshore, my efforts were rewarded. Low and behold, an orange ball-like shape caught my eye. It was the vixen. I began to fire away with my camera. After 20 minutes, her mate's barking stirred her, and as he came closer, she yawned, curling her tongue, then watched him with her lips curled, and finally stood up, stretching for him. Capturing the foxy stretch was not only about timing and being in the right spot at the opportune moment, but being familiar with the habitat and resident animals of the area."
Canon EOS Rebel T2i, Canon EF 100-400mm f/4.5-5.6L IS USM, MeFOTO tripod. Exposure: 1/800 sec., ƒ/10, ISO 400.
See more of Bern Barthelenghi's work at facebook.com/pg/AllNaturalshooters.
The post Last Frame: Foxy Stretch appeared first on Outdoor Photographer.