Nick Kyrgios saved three match points to shock Rafael Nadal—and saved his biggest shot for after the match.
Nick Kyrgios saved three match points to shock Rafael Nadal in Acapulco—and fired his most volatile shot for after the match.
The explosive Aussie exchanged an icy handshake with an annoyed Nadal immediately after streaking through the final five points of a wild 3-6, 7-6 (2), 7-6 (6), victory.
Watch: Kyrgios Saves Match Points, Topples Nadal
After conquering the king of clay for the third time in six meetings, Kyrgios showed a social media shark bite with an Instagram post of match point captioned: "I can smell the blood when I play this dude."

Kyrgios, who played with heavy taping around both knees, took two medical timeouts, including one for nausea and one to treat a back strain.
The world No. 72 hit some spectacular shots, repeatedly drop-shotted Nadal, served under-handed and one point and got under the Spaniard's skin with his rapid pace of play on serve that clashes with Nadal's more methodical approach.
Kyrgios also clashed with fans at one point screaming "Shut the f–k up!" at one loud fan and cupping his hand to his ears when some fans jeered him.
The second-ranked Spaniard praised Kyrgios as a player capable of winning Slams and said he does not believe the Aussie is "a bad guy" then slammed him for a lack of respect.
"He's a player who has enormous talent, could be winning Grand Slams or fighting for the No. 1 ranking," Nadal said in Spanish. "He lacks respect for the crowd, his opponent and towards himself.
"I don't think he's a bad guy, but he lacks a little respect for the public and the rival."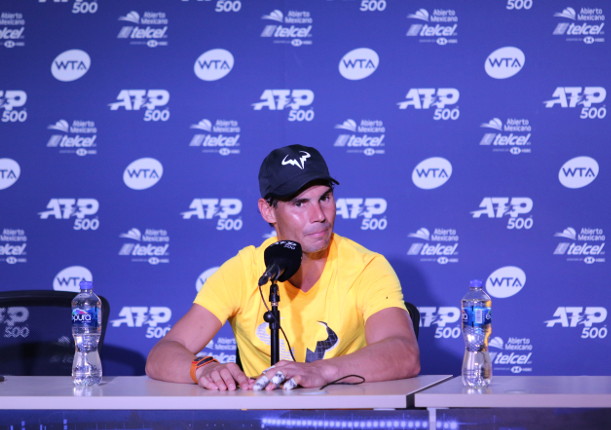 Photo credit: Guillermo Sanchez
Asked his reaction to Nadal's criticism, Kyrgios shot back "I'm not going to listen to that."
While calling the 17-time Grand Slam champion an "unbelievable champion", Kyrgios said he won't listen to the criticism because Nadal doesn't really know him.
"He doesn't know the journey I've been through," Kyrgios said. "He doesn't know anything about me. So, I'm not going to listen at all. That's the way I play.
"The way he plays is very slow in between points. The rule in the book says he has to pay to the speed of the server, but Rafa has his speed every time, so I'm not going to comment on him. "He's got his own game. I've got my game. We played well. That's the sport. People are different so I'm not going to take that into consideration at all."
Photo credit: Guillermo Sanchez