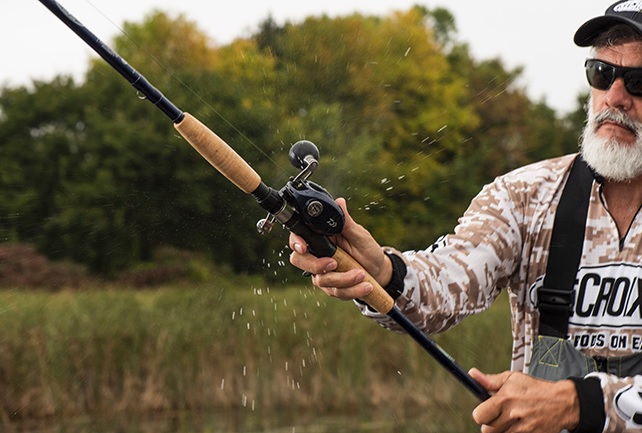 It's one of the largest congregations of muskie aficionados to meet in any one place. Called Muskie Expo Chicago, it's become a can't miss event for many, including exhibiting manufacturers in the muskie fishing industry like St. Croix Rod.
Turns out the event was not only a good chance for St. Croix to connect with countless muskie anglers, retailers, and other exhibitors, but also an opportunity to compete for "Best New Muskie Rod."
After three days of demonstrating their newest in muskie rods, from January 18 through January 20, a panel of muskie experts voted the new for 2019 Legend Tournament LMD90MLF Bantam Bait Musky Downsizer rod "Best New Muskie Rod" at the show. What the win represents is not only St. Croix's continued commitment to designing, testing, and bringing to market extreme high quality muskie rods but their continued attention to trends in the sport of muskie fishing itself.
Case in point, the winning LMD90MLF 9' medium-light power, fast action Bantam Bait rod is only one of three rods in the Legend Tournament Musky Downsizer mini-series, all three rods designed to meet the growing movement of muskie anglers more frequently fishing smaller baits for a multitude of reasons, from fish fatigue with big baits to the physical fatigue of anglers.
"The Downsizer series was designed and built because many muskie anglers are beginning to go back to their beginning stages and throwing smaller baits again," says Rich Belanger, St. Croix's resident muskie expert and Promotions Manager. "A lot of these anglers are doing it out of physical necessity, but on the flip side of that, a lot of these anglers understand that these smaller baits, which have been around for decades, and very successful now at catching large fish. In many places, muskies haven't seen that small of stuff in a long time. It's just that the bait and rod development pendulum has swung so far to the large side, and now that pendulum is swinging back. It creates a lot of opportunities to catch fish and also not put so much on the physical pressure on the angler him or herself."
But the rod development didn't happen overnight. In fact, the entire Downsizer line is something that's been in development for several years. From the very first prototypes to near completed sticks, the rods were test extensively by likes of Belanger himself, Lindner Media's Jeremy Smith, Joe Bucher, and others.
"We'd been playing with these rods for the past four or five years, and we decided as the interest grew that the timing was right to officially launch the series because the extensive testing had been completed on all three of the Legend Tournament Musky Downsizer rods," says Belanger.
Along the lines of testing, Lindner Media's Angling Edge TV host Jeremy Smith definitely put the rod through paces, in scenarios ranging from river muskie fishing to numerous Canadian trips.
"The LMD90MLF is pretty much my #1 stick right now. I just like throwing it, especially for a lot of smaller baits, and it's really versatile, too. Besides smaller bucktails it's become my number 8 Colorado rod for double 8s. Also, I'm using it with Super Shads and triple Ds and crankbaits with smaller hooks—it's just a good stick for all that stuff. It's also become my go-to live bait rod. I've been testing the rod for a couple of years and have caught a couple dozen fish on it. It was a rod we were pushing for big time, so we put it through a lot of testing and supplied a lot of feedback during the development stage," says Smith.
With regards to his favorite muskie rod winning "Best New Muskie Rod" at Muskie Expo Chicago, Smith says, "I'm pumped the industry is realizing you don't need an extra-heavy rod. This rod just makes fishing so much more comfortable and sporting. Especially for anglers who don't muskie fish a lot, you get a size 300 reel on it, and it just makes fishing way more fun. And it's way better for fighting fish. It's designed to fight muskies. So much of the other stuff is designed around throwing big baits and that can reduce the fun of fighting fish. This is just the real deal. At nine feet, you can figure 8 really well with it and it's great for boatside maneuvers. The other thing I like about it is the reel seat isn't too far forward yet it's perfectly balanced; in comparison with other rods of the same length, I feel like you get a lot more working rod and it's not in the butt section."
Belanger adds, "And it really is made for catching and fighting fish. After throwing Bulldawgs and double 10s all day, It's really nice to throw #5 Mepps or 500 Series Bucher Tail. Fish get conditioned to bigger, higher-profile baits and a lot of times that little snack comes by it's going to appeal to the fish."
On an ending note, Belanger says he and the rest of the St. Croix team are incredibly pleased with this recent recognition in Chicago by their muskie peers. "We are truly honored any time we are recognized with an award. But part of the credit should go back to our customers. We get the idea from customers, whether that's anglers or retailers—like this entire Legend Tournament Musky Downsizer rod series—and then we design the rod, play with it, refine it, test it more, and when it's 100% we'll bring it to market. But really, it's the listening part to customers that makes rods like this happen."
ABOUT THE LEGEND TOURNAMENT MUSKY DOWNSIZER SERIES
Integrated Poly Curve® (IPC®) mandrel technology.

Advanced Reinforcing Technology (ART).

High-modulus/high-strain SCIV graphite with FRS for unparalleled strength and durability.

Fuji® K-Series tangle-free guides with Alconite® rings and Corrosion Control (CC) matte finish frames.
Fuji® LG tangle-free top with Alconite® ring and Corrosion Control (CC) matte finish frame on Downsizer rods.

Fuji® PLS-SD Deluxe palming reel seat with frosted silver hood.

Split-grip/super-grade cork handle.

Machined-aluminum wind check and trim pieces.

Kigan hook-keeper.

Two coats of Flex-Coat slow cure finish.

15-year transferable warranty backed by St. Croix Superstar Service.

Technique-specific musky series features unrivaled technology and performance.

Designed and handcrafted in Park Falls, U.S.A.
Related articles:
The post Downsized Rod, Upsized Performance appeared first on OutDoors Unlimited Media and Magazine.