Larson Electronics, an industrial lighting leader, has announced the release of a new line of affordable, durable, high output curved LED light bars that provide bright illumination for a wide variety of applications.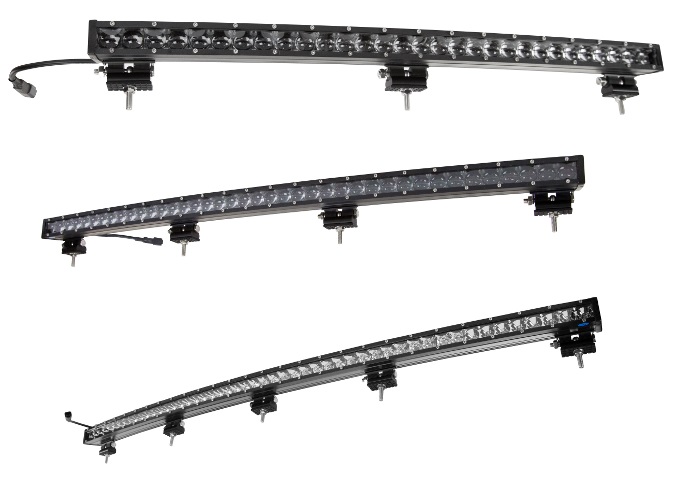 The company's new series of LED light bars are offered in a 150 watt, 200 watt, 250 watt, and are powder coated black for corrosion resistance. Each unit is constructed of super bright five watt CREE LED lamps, providing an impressive amount of illumination with low amp draw. Each LED light bar is supplied with two types of aluminum mounting brackets giving operators the flexibility to mount the light in a variety of areas on any vehicle. These new light bars are a nice accessory for any vehicle, boat, ATV, tractor, or excavator that requires an extra lighting source.      
The 150 watt light bar is constructed with 30 light emitting diodes that produce 11,700 lumens of light, offering over 30,000 hours of operational life. This unit measures approximately 30 inches long by six inches wide. The 200 watt light bar is constructed with 40 light emitting diodes that produce 15,600 lumens of light. It measures approximately 40 inches long by six inches wide. The 250 watt LED light bar produces a powerful 19,500 lumen light beam and measures 50 inches long by six inches wide. The curved design of these LED light bars allows it to cover a wider area than traditional light bars. This new series of light bars carry an IP67 waterproof rating and can operate on any voltage ranging from 9 to 30 volts DC.   
"These new LED light bars include two sets of mounting brackets, providing versatile options for mounting to any vehicle or boat," said Rob Bresnahan, CEO of Larson Electronics. "The light bars provide an affordable, durable lighting solution for vehicles, boats, and utility vehicles and have just been released in time for cooler weather and hunting season." 
Larson Electronics carries an extensive line of LED light towers, portable power distribution systems, explosion proof lights, portable work lights and industrial grade LED area lights. You can view Larson Electronics' entire line of lighting by visiting them on the web at Larsonelectronics.com. You can also call 1-800-369-6671 to learn more or call 1-214-616-6180 for international inquiries.
The post Larson Electronics Releases a New Line of Curved LED Light Bars appeared first on .