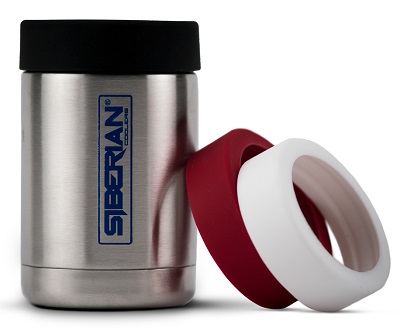 Siberian, a company dedicated to meeting the needs of those outdoorsmen who demand more from their coolers, is now offering the Cryo-Sleeve, a handy and functional sleeve designed to enclose your favorite bottled or canned beverage and keep it cold—from the first sip to the last.
With its double-walled vacuum-insulated design, the Cryo-Sleeve is a must-have item for any outdoorsman who spends hours during the summer months on the water or in the field with a cold drink in their hand. Like all the products available from Siberian Coolers, the Cryo-Sleeve was designed to be put through the rigors of an outdoorsman, with its scratch resistant 18/8 stainless-steel construction. And if something should happen, the Cryo-Sleeve has a Lifetime Warranty.
Keeping your beverage identified as yours is easy with the Cryo-Sleeve, as it comes with a black, red and white non-breakable gasket that can be easily swapped, so you and your buddy's will knows whose drink is whose.
The rubber non-slip bottom will keep your beverage from tipping over when in the boat or sitting on the back of your tailgate and the Cryo-Sleeve will fit in most cup holders, meaning you can keep it at your fingertips while driving.
Key Features:
Will hold 12- or 16-ounce cans

Hand-wash only

Do not place in dishwasher; do not use in microwave

Pricing: $24.99
For more information about the Cryo-Sleeve or to see the full lineup of Siberian Coolers and accessories, visit SiberianCoolers.com or contact Glenn Walker at: Glenn@providencemarketinggroup.net.
About Siberian Coolers:
Founded in 2015 beneath the mountains of Bozeman, Montana, Siberian Coolers was born from the idea that everyone deserves a high-quality cooler at a realistic price. Siberian products are constructed using a high-temperature polyethylene roto-molding process. This process creates an extremely durable, one-piece cooler able to stay cold for days in a wide variety of outdoor settings. For more information, visit SiberianCoolers.com or call, 844-782-COLD.
The post Keeping Your Beverage Cold From the First Sip to the Last appeared first on .