Blue Fish Radio is produced and hosted by Lawrence Gunther (www.lawrencegunther.com). The show features interviews with people that have expertise and first-hand knowledge about fishing, fish and aquatic ecosystems.
Fishing the St. Lawrence with Mohawk Norman Peters of Akwesasne Part-1 – The St. Lawrence River, which the Mohawks call Kaniatarowanenneh or the "big waterway,", has a rich heritage of aboriginal life and habitation that includes fishing and traveling on the River that dates back nearly 10,000 years. Norman Peters has been tasked to share his knowledge and expertise with a entirely new generation of Mohawks who grew up disconnected from the river. Norman came aboard Lawrence's Ranger Fisherman for a day of story telling and fishing. Learn what happened that caused this break with the River and what is being done to reconnect young people as Norman and Lawrence enjoy a day of fishing.
Link – http://lawrencegunther.com/?p=935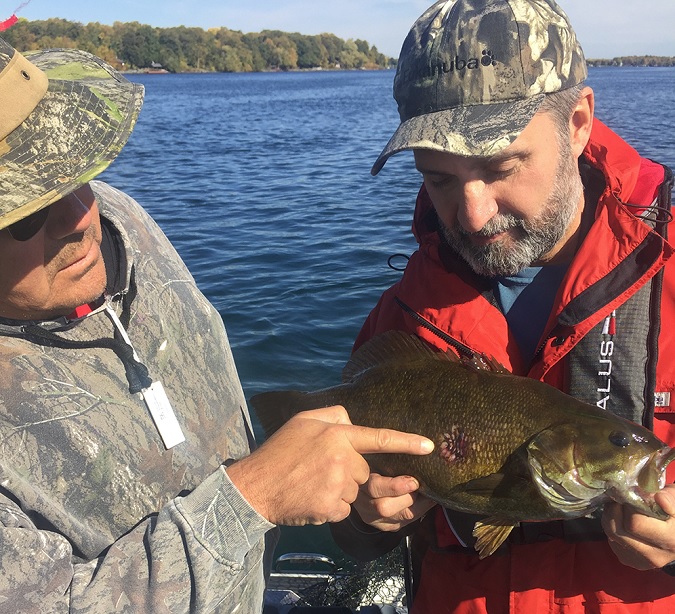 Fishing with Mohawk Elder Norman Peters on the St-Lawrence Part-2 – Turns out Mohawk fishers shared in common with non-native fishers the challenge of learning to use prudently modern fish harvesting technologies. Following sound advice from scientists and practicing traditional harvesting techniques is a lesson we can all learn from, and Lawrence does just that as he catches his personal best Smallmouth Bass.
Link – http://lawrencegunther.com/?p=929
Restoring the St. Lawrence-Thanks to the Mohawks of Akwesasne-Delve into the culture of Mohawks of Akwesasne. Living on the St. Lawrence River, these people were impacted by industrialization along its shores and the pollution that resulted. They have since led the charge to clean up the River including a law suit against several large polluters that took 20 years to settle. With the clean-up of the River underway, compensation to nearby communities for their loss of recreational fishing opportunities secured, its now the Mohawk's time to re-establish their traditional linkages with the water. Listen as four Mohawks explain how.
Link – http://lawrencegunther.com/?p=927
Ian Steven and the Water Wealth Project-Local champions come in all forms, but I think you will agree that Ian Stevens from the Water Wealth Project is a shining example of one of the truest. His personal life decisions and commitment to being a water advocate lends him credibility that's remarkable. We could all take a lesson from Ian's play book.
Link – http://lawrencegunther.com/?p=924
What Lies Below Q&A – What Lies Below is a six-year project that is about to be launched. It's a documentary that features my guide dog and I meeting with people who live by and from the water as we cross Canada from coast-to-coast-to-coast. With the website now live emails are coming in, so here are my answers on how I managed to bring this documentary from an idea to an actual film competing in the 2016 Planet in Focus Film Festival in Toronto this October, an which was chosen as the closing film. Watch the trailer at www.whatliesbelow.ca.
Link – http://lawrencegunther.com/?p=921
Oceana Canada Speaks Out About the State of Canada's Marine Fisheries – As the Executive Director of Oceana Canada, Josh Laugrehn has a lot to say about the state of Canada's commercial fisheries, and it's not that much different than what was recently reported by the WWF. With the longest coastline in the world and a responsibility that includes 2.67 million square kilometers of ocean, this is serious business. We use to be the 7th greatest commercial fish harvester in the world, but we've slipped to 21st. Are we on our way back? Listen as Lawrence and Josh discuss progress, challenges and what we still need to see happen before Canada can hold it's head high as a sustainable commercial fishing nation.
Link – http://lawrencegunther.com/?p=938
Lawrence Gunther applies his expertise, experience and engaging style to both educate and entertain listeners. Each show lasts 30 minutes and is streamed by a number of broadcasters. Production and distribution of the Blue Fish Radio Show is intended to share valuable lessons and successes so more people can become stewards of their aquatic resources. By empowering local champions with knowledge, future generations of fishers will have the opportunity to pursue the tradition of fishing, and by doing so, maintain a vital link between people and nature. If you have a story to tell about how you made a difference in your community, or would like to nominate a local champion to be interviewed on Blue Fish Radio, please send an email to: lawrence@lawrencegunther.com.
The post New Shows (6) From Blue Fish Radio, by Lawrence Gunther appeared first on .