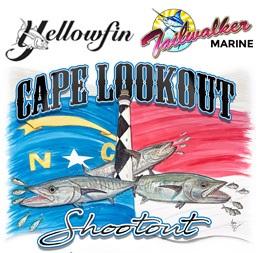 The Yellowfin/Tailwalker Marine Cape Lookout Shootout presented by Yamaha, and Nationwide is coming to Little River, South Carolina. After five years of fishing out of Beaufort, North Carolina, the tournament committee decided to add a southern division, and Little River was a great fit.
When tournament director Chad Shingleton was asked why start a southern series, he said it's what the anglers wanted.
"The fishermen asked us to. Our northern division has been very successful, and the field always fills up in minutes with some boats not getting in. With the new southern division there will be opportunities for more boats. There are some great king mackerel fishermen in southern North Carolina and Northern South Carolina. We think the Cape Lookout Shootout series will provide the platform for those teams to shine," Shingleton said.
The series consists of three tournaments of a maximum of 60 boats with a no-entry fee Championship. All three southern series tournaments will be held out of Little River Watersports located beside Crab Catchers Restaurant on the Little River Waterfront.
The dates are:
Leg 1: May 24 – 26
Leg 2: June 21 – 23
Leg 3: July 19 – 21
The tournaments consist of a Captains meeting on Friday night and one day fishing on Saturday.
The top 30 boats from the Southern division will compete with the top 30 boats from the Northern division in the no-entry fee championship out of Beaufort, North Carolina November 13 – 17.
"The series is all about king mackerel fishing" said Shingleton. "Our committee is made up of tournament fishing families that love competing. Our goal from the beginning was to provide what the fishermen asked for, give back to our charities, and the opportunity to win some significant money. Our total payout in 2018 for the northern series and championship was over 100% of entry fees totaling over $550,000. With the introduction of the southern series, our payout for 2019 should approach $1,000,000!"
Registration for the Yellowfin/Tailwalker Marine Cape Lookout Shootout presented by Yamaha and Nationwide southern division opens March 1. Visit www.Capeshootout.com for more details.
The post King Mackerel Tournament Series adds Southern Division appeared first on OutDoors Unlimited Media and Magazine.