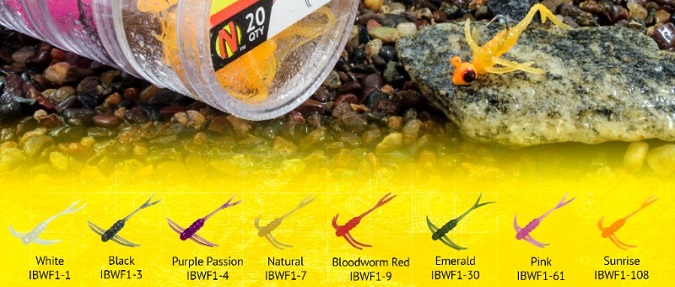 ORTHLAND'S IMPULSE® WATER FLEA BREATHES NEW LIFE INTO OLD PRESENTATIONS
Northland Fishing Tackle has added a new supple, scented soft-plastic panfish bait to its legendary IMPULSE® lineup—the new IMPULSE® Water Flea.
This breakout bait is infused with all the scent and flavor of Northland's patented IMPULSE® Instinctual Attractant, which features a baked-in MicroPlankton formula gamefish can't resist. In fact, rigorous laboratory testing scientifically proved that IMPULSE® is 143 percent more effective than competitive brands.
Designed for serious anglers itching to put jumbo panfish on ice, the IMPULSE® Water Flea features whisper sensitive legs and a super-flexible tail that quivers in anticipation when fish slide in for the kill. It's deadly when fished horizontally but also appeals to all species of panfish when presented in a vertical orientation. 
Northland Tackle introduces the new Impulse Water Flea. This baked in scented soft plastic features a lifelike water flea profile with undulating tentacles to catch even the most finicky panfish.
Some key jigs to use with the new IMPULSE® Water Flea are the new Bro Bug Head, Bros Bling Jig and the new Mitee Mouse Jig. Each have a unique style of presenting the IMPULSE® Water Flea no matter the conditions. 
The IMPULSE® Water Flea measures 1½ inches long and are available in eight great colors. Suggested retail is $3.99 per 20 baits, which are packaged in a clear, interlocking plastic disk that allow anglers to easily link disks to store and organize their cache of these new lethal weapons for panfish.
Size MSRP 
 Baked-In IMPULSE® Instinctual Attractant
1½-inches $3.99/20 Soft, Supple Bodies Look And Feel Alive
Realistic Quivering, Undulating Action
 Packaged In Clear, Interlocking Disks 
 Great With Micro Jigs For All Panfish 
Colors 
White, Black, Purple Passion, Natural, Bloodworm Red, Emerald, Pink, Sunrise
Product will be available Fall 2016
The post IMPULSE Water Flea, New For Ice Fishermen appeared first on .