YouTube: The Hunting Public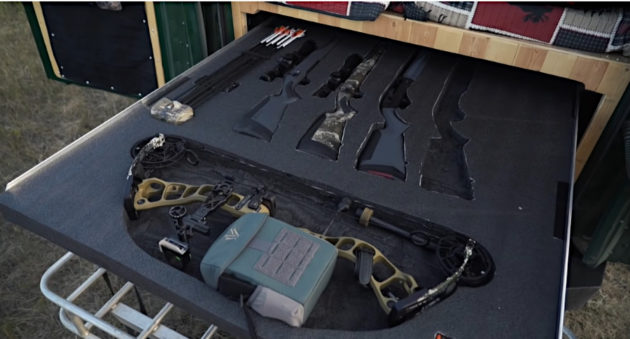 This makes us want to convert our own van into the ultimate hunting vehicle!
We think that everyone has dreamed of living life on the road at some time or another. It's an appealing idea. Calling no place home, living cheaply with limited possessions and being able to connect with the outdoors more in a new way. We have seen plenty of fascinating "van life" conversions on the Internet before, but never one like this.
This video by the Hunting Public features Sam Soholt's awesome van conversion. Sam completely gutted a stock Chevy Express 3500. He had it converted to a 4×4 and has implemented a ton of features entirely focused on living out of the vehicle and hunting wherever the winds take him.
It's an impressive build. You simply must see the awesome storage systems he has built in specifically for rifles, shotguns and bows!
As my editor, Eric Pickhartz reacted when I first shared this video with him: "I want that van!" Yep, me too.
This is one of the simpler van builds we have seen, but there is no wasted space in this vehicle. This van is packed with great features that any hunter can appreciate. Our favorite part was the gun storage system slide out. What a great way to keep your weapons secure and ensure the sights don't get knocked off-kilter in transport.
The beauty is in the simplicity of the design. It does not offer a ton of creature comforts other than a place to sleep. That just helps to encourage you to head into the field hunting and fishing more often. Sounds like a great way to re-connect with nature to us!
Seeing something like this makes us want to construct our own van build. Can you imagine doing a cross-country hunting trip during the fall months? Just driving wherever and hunting wherever the roads take you? We admit we never thought of this idea before, but it sounds like a recipe for adventure for us. We may have just added a new item to our ever-growing bucket list!

For more outdoor content from Travis Smola, be sure to follow him on Twitter and check out his Geocaching and Outdoors with Travis YouTube channels. 
NEXT: THE AXIS DEER AND HOW THEY'RE IMPACTING PARTS OF THE UNITED STATES
WATCH
The post Hunter's Custom Van Camper Conversion is Packed Full of Hunting-Specific Features appeared first on Wide Open Spaces.