Honor Defense recently donated a firearm for a raffle at the IV8888 event and the winner was Forge Relations. In the spirit of giving, Forge Relations asked Honor Defense to "pay it forward" and auction the firearm to support the Federal Law Enforcement Officers Association (FLEOA®).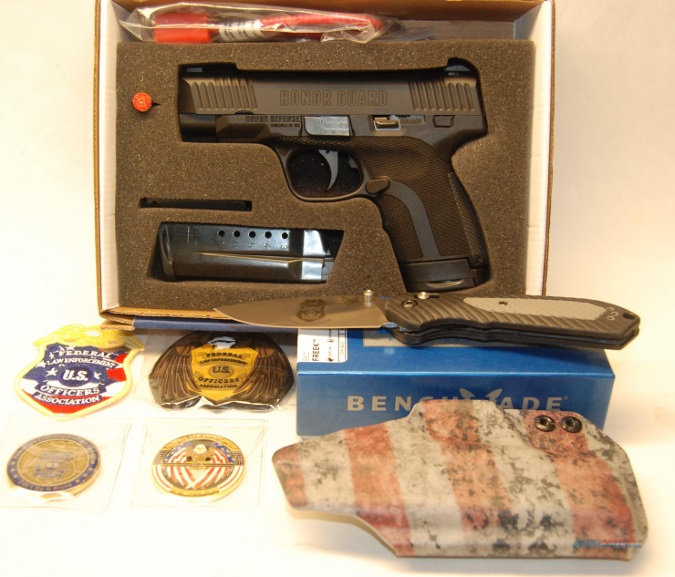 After hearing about the charity auction, Chestatee Firearms of Dahlonega, GA offered to custom engraving to the firearm. They have graciously engraved the FLEOA® logo to the slide.
Eclipse holsters has also donated a custom holster with the USA flag on it.
On top of all of this, FLEO® is also donating a custom Benchmade knife, Challenge Coins and patches.
All in all, a great package to benefit the families of federal law enforcement.
"Honor Defense is privileged to support the Federal Law Enforcement Officers Association with this holiday season. Everyone involved in this effort wants to say thank you to law enforcement and ask that others do as well." said Gary Ramey, President of Honor Defense.
The custom firearm and package will be auctioned on Guns America.
Proceeds will benefit Federal Law Enforcement Officers Association (FLEOA®). FLEOA® is the largest nonpartisan, nonprofit professional association, exclusively representing federal law enforcement officers. FLEOA® represents more than 25,000 federal law enforcement officers from over 65 different agencies
Honor Defense firearms represent the next generation of modular handguns. Honor Defense firearms have more features than any other sub-compact pistol. Every part is manufactured in the U.S.A. to our highest standards. You can't buy a better pistol right out of the box.
To create their pistols, Honor Defense secured input from a panel of professionals that have defended our nation or have extensive credentials in self-defense training.
The post Honor Guard Pistol to be Auctioned in Support of Federal Law Enforcement Officers Foundation appeared first on ODU Magazine-North America's #1 Digital Fishing Magazine.