News 6 1st Reported the update to this story first:  Florida Gov. Rick Scott is asking the Florida Fish and Wildlife Conservation Commission to take a closer look at state regulations in wake of the disturbing video of a group of boaters dragging a shark behind their boat.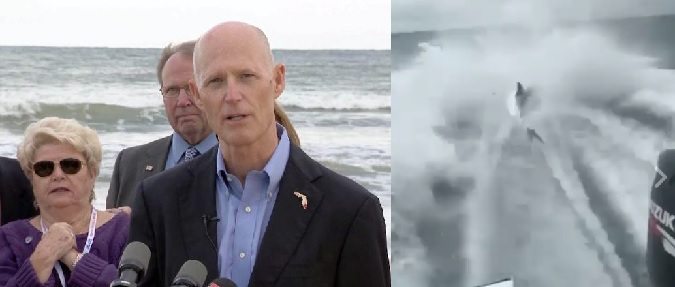 Gov. Scott sends letter to FWC about "disturbing" shark-dragging video
Wildlife officials ID people in unsettling shark-dragging video
Video shows shark being dragged behind fast-moving boat
Link to the Video, featured as well on ODU's Facebook page a few days ago – https://www.facebook.com/Sportfishart/videos/10154743765397201/
Scott wants to know if state law needs to be changed to better protect wildlife after the video went viral.
Scott sent a letter to the FWC Friday saying he wants to make sure the state's fishing regulations and statutes strictly prohibited "such inhumane acts."
"The brutality and disrespect shown to this animal is sickening and I am sure that you share in my outrage over these individuals' heinous actions," Scott said in his letter to the FWC.
The video is making its rounds on social media, and many commenters are upset over its contents. It remains unclear, though, if any laws were broken.
In the video, a group of men on a boat is seen smiling, laughing and pointing at the shark as it flails in the wake behind a fast-moving boat. The FWC has identified the men in the video.
A repost of the video on Facebook alone garnered hundreds of comments — many of them not appropriate to share — but most of them expressing anger over the animal cruelty.
FWC spokesman Rob Klepper says the agency has received numerous photos and videos this week of alleged wildlife abuse, including a video of men pouring beer into a hammerhead shark's mouth and gills. 
The agency's law enforcement division is investigating all complaints, but no charges have been announced.
The video of the shark being dragged gained attention Monday after a Miami sport fisherman criticized it on social media.
The post Gov. Rick Scott wants regulations checked after 'disturbing' shark-dragging appeared first on ODU Magazine-North America's #1 Digital Fishing Magazine.