Domain Name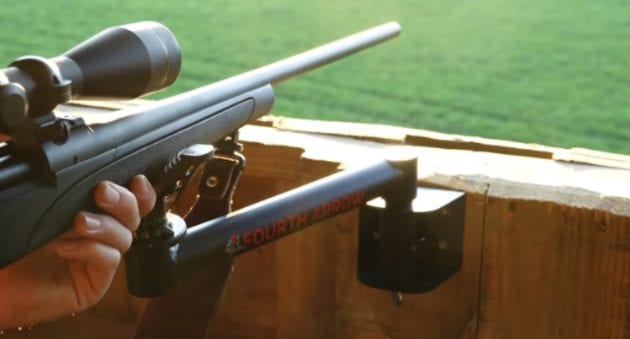 The Fourth Arrow Fixed Blind Shooting Rest System provides stability and durability for all hunters to find success. 
If you're into self-filming hunts, by now, you've likely heard of Fourth Arrow camera arms. The Fourth Arrow Stiff Arm and Carbon Arm are arguably some of the most popular self-filming tree arms on the market for deer hunters. However, did you know that Fourth Arrow also provides other accessories not just for your cameras but for your guns and bows too?
The relatively new company recently released its Fixed Blind Shooting Rest System. This camera arm stabilizes your gun or crossbow in a fixed blind while also maintaining complete mobility. The system includes the Fourth Arrow Rex Arm, the mounting bracket, an adapter and some hardware.
This system is specifically designed for a fixed blind. If you're looking for something more mobile the Fourth Arrow base is great for mounting when in your treestand. You can have multiple arm bases for different spots and only one Fourth Arrow Carbon Arm or Stiff Arm.
They even sell an arm accessory for a ground blind. This isn't designed for all hunting blinds, even though with some maneuvering and the right setup, it is possible. The bracket doesn't come with screws, so you'll need to purchase the proper screws that fit your blind when mounting the bracket base.
Assembly
This system doesn't require a tree base or the Fourth Arrow shoulder mount. Because the Fourth Arrow Rex Arm is shorter, it doesn't require the ball joint that comes with the shoulder. The bracket should already be mounted level. In fact, once you install the bracket the adapter and arm are removable if you want to take it from one blind to the next.
However, if you're blind does not contain a 2×4 or 1×4 surface you will need to properly mount one inside your blind. Otherwise the screws will likely pull out of the wood when you're shooting. See the video above for an example.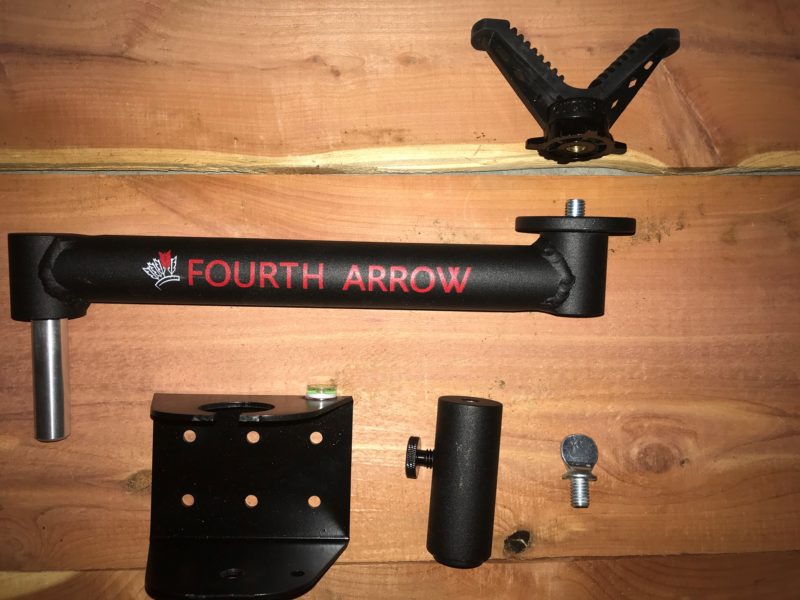 As shown in the video above the bracket needs to have enough clearance after you mount it to able to swivel without interference from the blind. If a hunter needs to make a quick move on a deer, he or she won't want the blind getting in the way.
The Fourth Arrow rest kit is ideal for everybody, but especially young hunters and hunters that require a steady rest.
You may be asking why should I purchase this arm if I can just relax the gun or crossbow on the blind itself? This arm and rest provide mobility that doesn't require picking up and re-positioning your gun or bow. It also helps cut down on avoidable noise from clanking the gun against the blind. The arm weight is extremely light and fits in almost any pack. This makes it simple to travel with if you're walking long distances to your blinds.
Like what you see here? Read more hunting articles by Nathan Unger at whitetailguruhunting.com. Nathan is also the host of the Whitetail Guru Hunting Podcast.
NEXT:GEAR REVIEW: DOUGLAS MANNA GRAVITY FEEDER REVOLUTIONIZES HOW YOU FEED ANIMALS
WATCH
The post Gear Review: Fourth Arrow Fixed Blind Shooting Rest System appeared first on Wide Open Spaces.