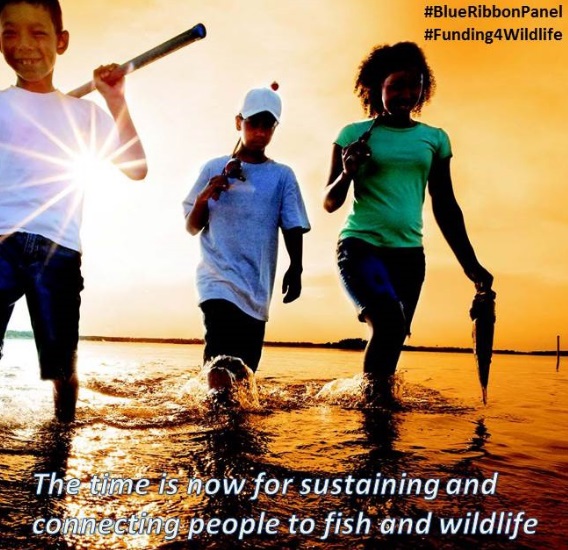 The Florida Fish and Wildlife Conservation Commission (FWC) in July endorsed an ambitious national strategy, presented by The Blue Ribbon Panel on Sustaining America's Diverse Fish and Wildlife Resources, to conserve fish and wildlife, keep thousands of U.S. species from becoming endangered, and leave a legacy of healthy wildlife populations for future generations.
The Recovering America's Wildlife Act, introduced on Dec. 14 by U.S. Reps. Jeff Fortenberry, R-NE, and Debbie Dingell, D-MI, would implement recommendations from the Blue Ribbon Panel, a coalition of business, energy and conservation leaders assembled by the Association of Fish and Wildlife Agencies. The Blue Ribbon Panel emphasized both the environmental and economic benefits of creating a long-term dedicated funding source to conserve the nation's fish and wildlife.
"Currently there are major gaps in funding to sustain fish and wildlife species and keep them off the emergency list of endangered species," said FWC Chairman Bo Rivard. "These species are important to our nation's heritage and at the heart of how people connect to nature through activities such as boating, bird-watching, camping, fishing, hiking and biking."
The Blue Ribbon Panel recommended dedicating $1.3 billion annually in existing revenue from the development of energy and mineral resources on federal lands and waters to provide funding to state fish and wildlife agencies to more fully implement well-established and widely supported state wildlife action plans. Under the act, Florida potentially could receive about $50 million a year to conserve and protect Florida's most vulnerable species and their habitats through Florida's Wildlife Legacy Initiative and State Wildlife Action Plan.
"For decades, wildlife conservation in the U.S. has largely depended on the unique and highly successful system where hunters and anglers willingly provide most of the funding for wildlife conservation work," said FWC Executive Director Eric Sutton. "But we need to do more, and the Recovering America's Wildlife Act would provide a sustainable, solution-based answer to funding conservation of fish and wildlife species."
The FWC resolution requests support from Florida's Congressional Delegation for the legislation implementing the Blue Ribbon Panel's recommendations. The resolution also calls for support from Florida's conservation community and other state fish and wildlife agencies.
The Alliance for America's Fish & Wildlife (alliance), a coalition of the partners supporting this initiative, is using the theme "Our Nature. Our Nation. Our Future." to summarize the seriousness of what is at stake. The alliance is actively working to inform the public about the importance of securing the fish and wildlife conservation funding proposed in the Recovering America's Wildlife Act. According to the alliance, the act's benefits include:
Funding conservation of over 12,000 species of fish and wildlife and their habitats across the U.S.
Supporting the outdoor recreational economy, which generates 7.6 million U.S. jobs and over $124 billion in tax revenue. In Florida, the combined economic impact of fishing, wildlife viewing, boating, hunting and the seafood industry is about $42.8 billion and over 347,000 jobs.
Helping families get back to nature and away from cellphones and computer screens. Children now spend an average of 50 hours a week on their electronic devices.
The FWC's Florida's Wildlife Legacy Initiative, which develops Florida's State Wildlife Action Plan, is the well-established, state-based framework for implementing the Restoring America's Wildlife Act in Florida and delivering on the commitment to conserve and restore Florida's fish and wildlife resources.
For additional information, go to OurNatureUSA.com.
The post FWC endorses national strategy aimed at conserving fish, wildlife appeared first on ODU Magazine-North America's #1 Digital Fishing Magazine.