Amidst the focus on jigging and mobility over recent years, some proven strategies have been lost in the icy shuffle. Like tip-up fishing, which has consistently produced fish and forced guys into head-to-head 50-yard dash sprints since day one. It's forged (and compromised) friendships over the years, served as fun fish story fodder, and even sent a few unlucky lads to the E.R.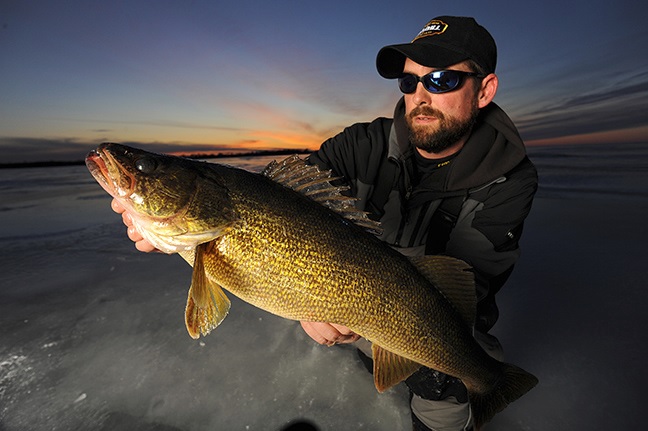 One guy who's tops on tip-ups is Frabill pro Pat Kalmerton of Sheboygan, Wisconsin based Wolf Pack Adventures. The good-natured guide will be the first to tell you that tip-up fishing is a sure fire way to cover lots of water quickly and ice just about anything that swims.
But Kalmerton stresses that tip-up fishing — like any angling approach — requires attention to detail. Set-it-and-forget is not part of this badger's program.  
"I've had the opportunity to learn tip-up secrets from seasoned anglers throughout the Midwest that would take years to figure out by trial and error," says Kalmerton.
Thus, Like Cliff's Notes for some class you snoozed through in high school, here's Kalmerton's Top 10 Tip-Up Dos and Don'ts to ace this winter semester's tip-up test. 
1) Heavy metal supersizing
Kalmerton says there's a time and place for big hooks, but when in doubt, go smaller. In the case of walleye warfare, he sizes down to a #16 treble, usually opting for the extra flash of a gold Eagle Claw.
"I load the spool with 30-pound Frabill tip-up line and tie 8- to 10-feet of 8-pound fluorocarbon to a 25-pound InvisaSwivel. Make sure to tie the fluoro side first so you don't have to run the whole tip-up through the Palomar loop! I slide one Owner glow bead up the fluoro and terminate the #16 gold treble with another Palomar. Then slide the bead down over the knot. I attach a split shot just heavy enough to keep the bait in a small strike window six to 10 inches above the hook and call it a day," says Kalmerton.
For pike, he swaps out the 8-pound fluoro for 12-pound and sizes up to a #12 treble. "More often than not, 12-pound fluoro will handle any scissors beaks," says Kalmerton.
When fishing 10-inch-plus suckers in trophy pike fisheries Kalmerton rigs 50-pound fluoro, five beads, a #6 Northland Real-Baitfish Image Colorado blade and clevis and a single 1/O hook tied with a snell knot
"The thing I like about the snell knot is it pivots the hook when I really reef the hookset. I learned this from bass fishermen who fish punch baits — definitely ups hookset percentages."
4) Fishing dead weeds
If you pull up your auger and the water's full of plant matter that stinks, those are dying weeds. Baitfish and predators are drawn to vegetation that's still producing oxygen, especially as winter progresses.
"Gotta get to the buffet with the freshest salad and best baitfish," laughs Kalmerton.  
5) Setting tip-ups too close together
Where you're allowed more than one tip-up by law, fish different locations along any given structure, spreading them out as far as your state regs allow. Imagine the ice as a grid, and position your tip-ups out from your base location along a break at different depths.
6) Fishing too small of window in the water column
"A lot of anglers put a depth bomb on, come up six to eight inches for walleyes and two feet for pike," says Kalmerton.
He suggests using your electronics to find the thermocline and baitfish to pinpoint where in the water column fish are feeding. For example, in late winter you may find that fish are up high, close to the ice, looking for water with more oxygen.
7) Mouse hunting with an elephant gun — and vice versa
Kalmerton chooses the right tip-up for your given species — or something versatile.
"The Frabill Dawg Bone can be used for both predators and panfish. For scouting panfish, simply adjust the shaft higher on the tip-up arm to release flag spring compression, which then results in sensitivity to very light bites. When hunting larger predators, just make sure you push that shaft back down."
8) Tip-up neglect
"Walk around and make sure your tip-ups aren't frozen in, there's bait on your line, and it's free of weeds," says Kalmerton.
He adds that if you're setting tip-ups for the evening "power hour," think about using a Frabill Thermal to keep your holes ice-free.
9) Poor visibility
Kalmerton orients his tip-ups in the same direction, so at a mere glance he can see when one flag in a series trips. Like his fellow ice fishing authority, Steve Pennaz, Kalmerton loves the pre-lubed Frabill Artic Fire Rail tip-up for many situations. That said, when faced with deep snow on the hardwater, he'll choose a Frabill wooden classic tip-up with a long spool arm to reach the hole and ride the flag above the snow. And for fishing in low visibility situations, he'll affix a Frabill tip-up light to the flag shaft for easy detection.
10) Weak hooksets
Knowing when to set the hook on a fish — especially when you're not sure when the tip-up flag tripped — can be difficult.
"Here's the beauty of downsizing hooks. Most of the time the fish doesn't spit the bait because it doesn't feel the metal. As soon as I know the fish is running away from me and I feel weight, I reef on 'em hard. Chances are you're going to get a good gullet or corner-of-the-mouth hookset because that fish is committed to your bait!"
The post TOP 10 DO'S AND DON'TS FOR TIP-UP FISHING appeared first on ODU Magazine-North America's #1 Digital Fishing Magazine.