New world record applications have recently been submitted for a beautiful two-spot red snapper from Mauritius, a fly-caught zander from Germany, a massive tautog from New Jersey, USA, and a trophy snook from Ecuador.
Drouhin's Two-Spot Red Snapper
French angler Philippe Drouhin caught this incredible 15 kg (33 lb) two-spot red snapper (Lutjanus bohar) – the heaviest ever recorded by the IGFA – on December 12th, while fishing off the island of Mauritius with IGFA Captain Yann Colas. The massive snapper was caught while bottom fishing with chunk bait, and put up a tough fight before it could be boated. If approved, the catch will become the new All-Tackle world record, which currently stands at 14.5 kg (31 lb 15 oz).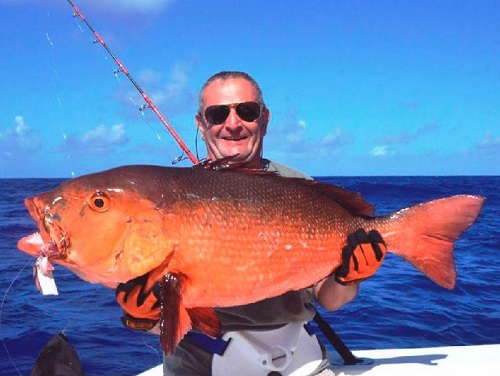 American angler Dustin Strehl caught this massive 10.20 kg (22 lb 8 oz) tautog (Tautoga onitis) on November 19th while fishing off the coast of New Jersey aboard the Fins on Feathers charter operation, which could replace a record that has stood for more than 60 years! Strehl caught the huge "tog" on a jig and bait combo, and needed only several minutes to land the fish on the light spinning outfit he was using. If approved, the catch will become the new men's 10 kg (20 lb) line class world record, which currently sits at 9.52 kg (21 lb) – a record that has stood since 1954!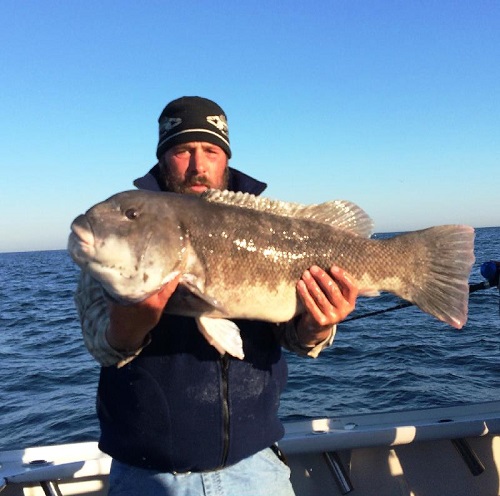 Ecuadorian angler Juanfelipe Adum – age 10 – caught this impressive 12.24 kg (27 lb) Pacific snook (Centropomus spp.) on December 3rd that could potentially earn him the new Male-Smallfry world record. Adum, an experienced young angler, needed only 10 minutes to subdue the hard-fighting snook after it crushed the diving Rapala lure he was trolling from the Makaira, off the coast of Salinas, Ecuador. If approved, Juanfelipe's recent snook will best his own record of 9.98 kg (22 lb) that he set back in February of 2016.
Angler Florian N. Fehringer – age 15 – caught this beautiful zander (Zander lucioperca) on October 18th while fly fishing the Jsar River in his native country of Germany. Using 6 kg (12 lb) tippet, Fehringer needed nearly 30 minutes to land the 6.58 kg (14 lb 8 oz) fish after it ate the fly he was casting. If approved, the catch will earn Fehringer the new men's 6 kg (12 lb) tippet class world record, which currently stands at 3.14 kg (6 lb 14 oz).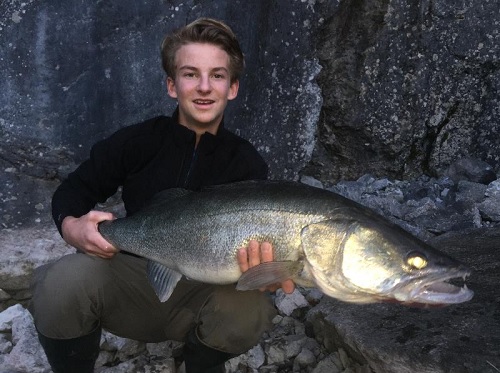 IGFA Mission – The International Game Fish Association is a not-for-profit organization committed to the conservation of game fish and the promotion of responsible, ethical angling practices through science, education, rule making, record keeping and recognition of outstanding accomplishments in the field of angling.
The post Four New IGFA Records To Announce For December appeared first on ODU Magazine-North America's #1 Digital Fishing Magazine.