Tony Roach introduces the new Glo-Shot® Jig. This single hook jig works perfect when jigged, suspended under a bobber or left to glow all night long on a rattle reel. The Glo-Shot® Jig design was inspired by Northland's Forage Minnow® Jig. Its light weight Z-Alloy body makes it flutter, dart and swim like a dying minnow. Pop in one of Northland's revolutionary Glo-Shot® Sticks to fish eight plus hours without charging or replacing the stick! The Glo-Shot® Jig is available in 12 fish catching colors and 3 sizes. Look for the NEW Glo-Shot® Jig in stores or online fall of 2018.
Visit Northland at this link – http://www.northlandtackle.com/
Northland Fishing Tackle builds on last year's wildly successful introduction of the Glo-Shot Spoon by expanding its popular Glo-Shot

palette with the Glow-Shot

Jig.
Like the Glo-Shot

Spoon, the new Glo-Shot

Jig raises the bar in fish attraction with Northland's revolutionary Glo-Shot

Sticks, which harness the power of luminescence to radiate colorful, fish-calling colors that lure curious gamefish from a wide radius.
Each Glo-Shot Jig is built to hold one replaceable Glo-Shot

Stick. Introduced with the Glo-Shot

Spoon last season, Glo-Shot

Sticks are non-toxic, easy to activate and glow in vivid color for eight+ hours without recharging from an external light source. They are available in three colors—red, green and chartreuse—and are light enough not to affect lure action.
Inspired by the Forage Minnow® Jig, the vertical-hanging Glo-Shot

Jig features a body shape perfect for every species that swims under the ice. "The Glo-Shot

Jig's luminescent Glo-Shot

light stick and fixed single-hook design make it a deadly weapon for deadsticking or fishing below a bobber with a lightly hooked live minnow," says iceman extraordinaire and Team Northland Pro Staffer Tony Roach.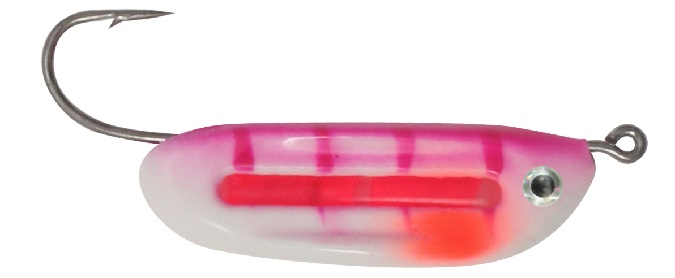 "That being said, the new Glo-Shot

Jig isn't a one-trick pony," he continues. "Its lead-free, zinc-based, Z-Alloy construction and unique design allow the Glo-Shot

Jig to swim, dance and flutter seductively when vertically jigged, perfectly mimicking the preferred food source of all predators—a dying minnow. The added attraction of color radiating from the Glo-Shot

Stick makes the jig especially effective in dark water and low-light conditions, such as beneath thick snowcover, overcast skies or at night."
Glo-Shot

Jigs are available in three sizes and a dozen fish-catching colors. With a suggested retail of $8.49, each Glo-Shot

Jig package contains two Glo-Shot

Jigs and a three-pack of Glo-Shot

Sticks, plus a handy removal tool for swapping light sticks on the fly. Glo-Shot

Sticks are also sold separately for $2.39.
The post Glo-Shot Jig New From Northland Tackle appeared first on .