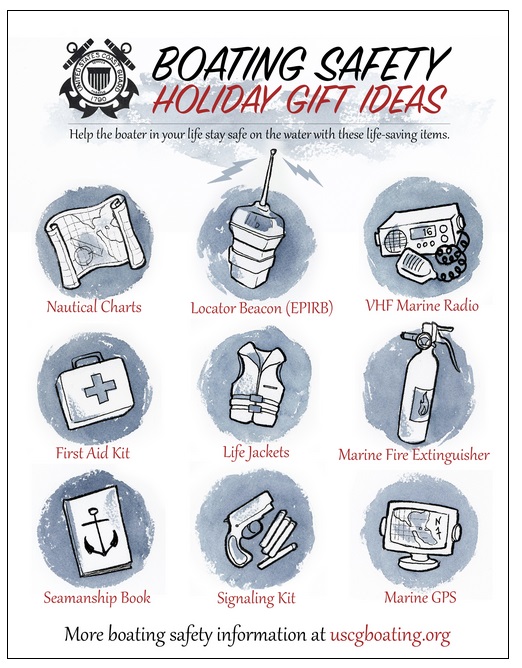 As the holidays approach, the joys of spending time with friends and family can occasionally be offset by the pressure to find each of them the perfect gift.
The Coast Guard is here to offer some respite by recommending several gift ideas for anyone who enjoys spending time on the water. Not only are these gifts useful, they can help save lives.
Life jackets — Life jackets save lives, but only if you wear them! The law requires that all recreational vessels carry one Coast Guard-approved life jacket for each person aboard. There are many styles and colors available today, so even the fashion-conscious boater has no excuse to forego this important and simple piece of equipment.
Emergency position-indicating radio beacon (EPIRB) — In an emergency at sea when every second counts, the signal of an EPIRB can make the difference between a short, successful rescue and a long, exhaustive search. EPIRBs can also transmit where and when cell phones cannot. EPIRBs transmit the location of a distress, and when properly registered, provide valuable information to rescuers.
Signaling kit — A signal kit can include a variety of items such as flares, lights, whistles, or mirrors, which can be used to signal for help. If your boater should find themselves in a bad situation, you'll want to equip them with every possible means of drawing the attention of other boaters and responders.
Marine-type fire extinguisher — With very few options for escape, a fire at sea can be terrifying. Having a fire extinguisher aboard enables a boater to fight the flames and keep a small fire from becoming a major disaster. Having a fire extinguisher aboard is not only a good idea, it's the law!
VHF marine-band radio — A VHF radio is the single most important communication system a boater should have. This essential tool provides an open line of communication with responders during an emergency. Don't let your boater leave the dock without a working radio!
Nautical charts — Whether your boater uses digital charts or traditional paper charts, make sure they have the most up-to-date versions for their local waterways and any other areas they plan to transit. Charts provide important navigation information including depths, harbors and possible hazards.
First-aid kit — On water, just as on land, a first-aid kit allows you to tend to a variety of ailments and injuries. In the event of a more severe injury, items in a first-aid kit can help stabilize a victim until responders arrive.
Seamanship book — There are many books about seamanship on the market and having one aboard can serve as a great resource for mariners on a variety of subjects. A boating safety course through the Coast Guard Auxiliary can also be a great gift for your boater, and the classes will include a seamanship book and other educational materials. Learn more about boating safety courses here.
Marine GPS — A marine GPS system, much like the one in your car, can be an important and convenient tool for navigation. For boaters, these systems provide digital charts, depths and other helpful navigation information.
This holiday season, show the boater in your life how much you care for them by gifting them something truly useful – something that can save their life.
For more boating safety information, please visit www.uscgboating.org.
The Coast Guard wishes Happy Holidays to all!
The post Coast Guard Suggests Life Saving Gifts for Boaters appeared first on ODU Magazine-North America's #1 Digital Fishing Magazine.