Jennifer Danella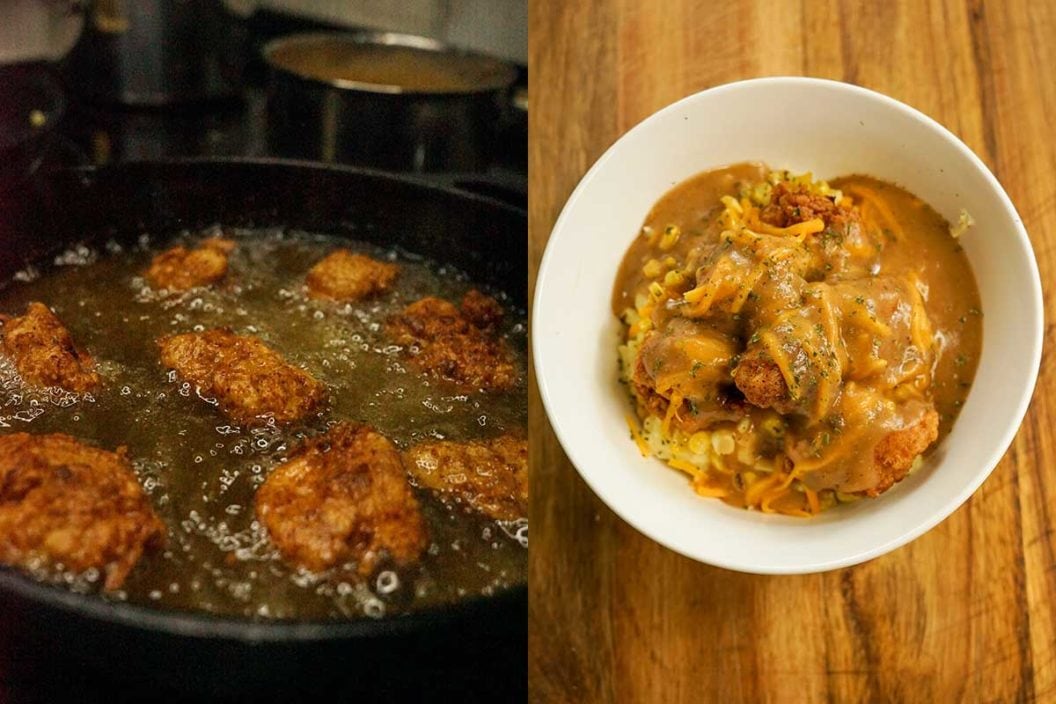 This recipe is definitely drool-worthy! I whipped up my own version of a Wild Turkey KFC Bowl, and boy did it deliver. There's admittedly a little more work involved than your typical wild game recipe, but it's all worthwhile once you bite into that excellent combination of crispy nuggets, velvety mashed potatoes, and flavorful gravy.
Be sure to check out my new cookbook, The Weekend Wild Game Cookbook: Easy, Everyday Meals for Hunters and Their Families available on Amazon.
Wild Turkey KFC Bowl Ingredients
For the Turkey Nuggets:
1 wild turkey breast (or about 1 pound), cut into 1inch pieces
1 cup pickle juice
Wet Ingredients:
Dry Ingredients:
1 1/2 cup Flour
2 teaspoons Salt
1 tablespoon Garlic Powder
1 tablespoon Onion Powder
1 tablespoon Paprika
1 teaspoon Black Pepper
For the Mashed Potatoes:
1 ½ pounds Yukon Gold potatoes, Peeled & Cut into 1.5 inch Pieces
2 cloves garlic, minced
½ cup heavy cream
1/4 cup sour cream
Salt and pepper
2 tbsp butter
For the Gravy:
4 tablespoons unsalted butter
1/4 cup flour
1 teaspoon better than bullion (chicken flavor)
1 teaspoon better than bullion (beef flavor)
2 1/4 cups water
2 cups low sodium turkey or chicken broth
1/2 teaspoon onion powder
1/2 teaspoon black pepper
Pinch salt (if needed)
For the Bowl:
1 cup Cooked Corn
1 cup Shredded Cheddar Cheese
Oil for frying
Parsley, to Garnish
Wild Turkey KFC Bowl Recipe Directions
1. Marinate the turkey nuggets by placing turkey nuggets in a Ziploc bag with the pickle juice. Put the Ziploc bag in fridge and let it marinate for 4 hours.
To make the potatoes:
1. Place potatoes and garlic in pot and just cover the potatoes with water, and add in 1 teaspoon of salt. Cover with a lid and bring to a boil and reduce heat to medium. Cook uncovered until potatoes are fork tender.
2. Drain potatoes, and place back in pot. Over medium heat cooking potatoes removing any extra moisture. This is key to great mash.
3. Add in heavy cream and butter, then cook just until butter melts. Turn heat to low or completely off. Mix in sour cream then season with salt and pepper to taste.
To make the gravy:
1. Melt butter over medium low heat. Whisk in the flour and cook until roux has turned golden brown.
2. Slowly add in water, whisking constantly to avoid clumping.
3. Add in chicken and beef better than bullion and onion powder.
4. Season with salt and pepper. Cook until gravy is thick enough to coat the back of a spoon. Keep stirring so not to burn.
To make the nuggets:
1. Remove turkey nuggets from fridge and drain off the pickle juice.
2. Heat oil to 375°F in a large cast iron skillet.
3. In large bowl, whisk together buttermilk and eggs until combined. Dredge turkey pieces into the mixture.
4. Mix all dry ingredients then remove turkey from milk & egg mixture and toss turkey into mixture and coat. Add to oil and fry 3-4 minutes until cooked and crispy.
5. Remove from oil and drain off oil
To prepare the bowl:
1. Plate your bowl by adding in mashed potatoes followed by corn, nuggets, cheese and topped with gravy. Garnish with parsley if desired.
The post Field to Table: Wild Turkey KFC Bowl Recipe appeared first on Wide Open Spaces.