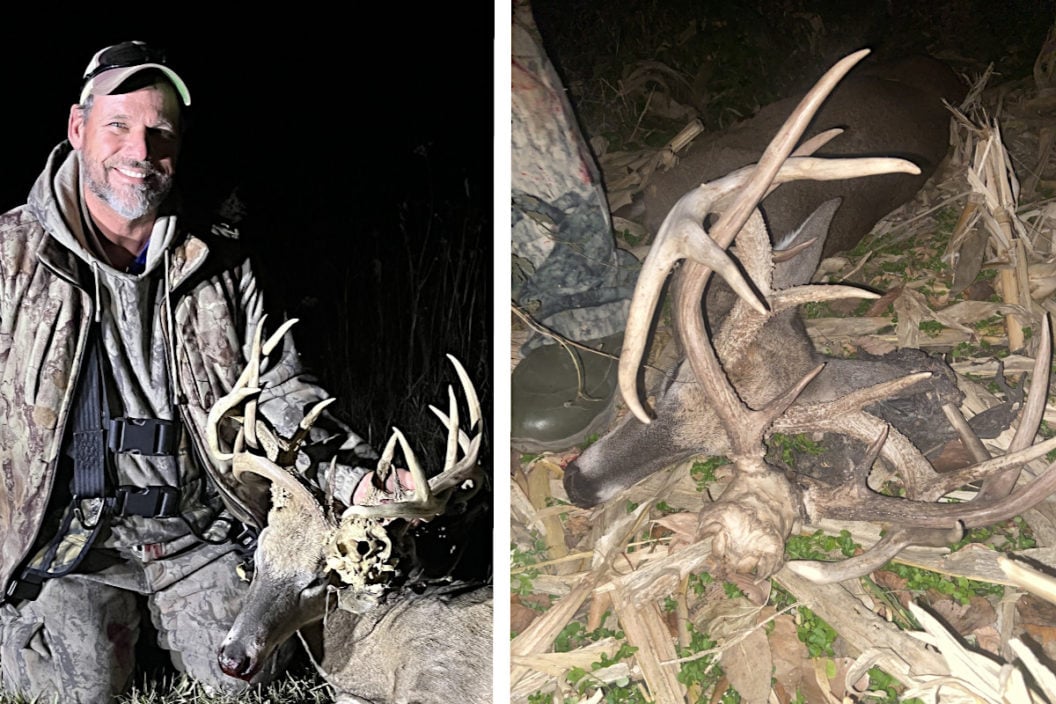 Everyone knows nature can be brutal, and Missouri bowhunter Mike Lewis found that out firsthand recently when he shot a nice buck during archery season that was still carrying around the skull and antlers of a dead rival! The Missouri Department of Conservation posted the amazing photos of Lewis' buck to their Facebook page. The buck that Lewis harvested appears to be a nice 8-point with his rack hopelessly entangled with another 8-point of comparable size.
The antlers are clean of velvet, and it appears the skull is also almost completely clean of all hide and flesh material, which means the buck has probably been carrying this head around for a while now. While this isn't the first time that we've heard of someone harvesting a deer that was carrying around the head of another, it's the first time we've seen one where the losing opponents head was so clean.
There weren't a lot of details about the hunt provided, but the MDC noted that Lewis contacted them and was given a tag to legally possess the antlers by Nodaway County Agent Kris Smith. The MDC posted several different angles of the strange harvest showing just how tightly these bucks were stuck together. It makes the imagination run wild as you imagine the sheer terror the surviving buck likely experienced realizing he was hopelessly stuck to a dead deer.
Our only question is how the buck eventually got free. Did he drag his dead rival around for days? Did coyotes eat the body of the other buck allowing this one to get free? That would be a terrifying experience for any deer by itself. Unless someone has trail cameras or video showing the deer prior to harvest, it's likely we'll never know what really happened here. It's not too much of a stretch to imagine this buck would have carried his rival until late winter when he shed his antlers had Lewis not shot him.
Congratulations to Lewis on a wild harvest. That should make for one heck of a mount and a conversation starter on the wall!
For more outdoor content from Travis Smola, be sure to follow him on Twitter and Instagram For original videos, check out his Geocaching and Outdoors with Travis YouTube channels.
The post Hunter Harvests Buck Still Locked to Dead Rival in Missouri appeared first on Wide Open Spaces.