Travis Smola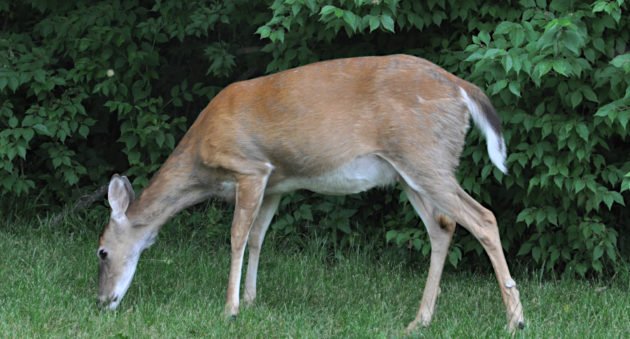 The Keystone State will take a unique approach to detecting CWD.
Last month the Pennsylvania Game Commission first unveiled tentative plans to majorly crack down on the spread of chronic wasting disease or CWD in the state.
Researchers will soon take an even more innovative approach to detecting the always-fatal neurological disease that affects members of the cervid family. According to Penn Live, the University of Pennsylvania will begin researching the potential for dogs to detect the disease in deer feces.
The Pennsylvania Department of Agriculture is providing $242,246 for the project, which will be undertaken by the Penn School of Veterinary Working Dog Center.
It's a novel idea that could help improve CWD testing. The biggest problem with detecting infected deer is that scientists have only been able to confirm CWD cases post-mortem through testing of brain matter or lymph nodes. CWD is a mad cow-like disease that spreads via a prion. The disease is highly infectious and can stay dormant in an animal for an extended period before symptoms become apparent. It is believed it can also lay dormant in soil for years before infecting another animal, which is why it's so concerning for sportsmen and women everywhere.
Penn Live reports the funds for the dog research are only a fraction of $1 million the Pennsylvania Department of Agriculture is pumping into research aimed at combating the spread of CWD. An additional $561,000 in grant money will go to a project by the University of Pennsylvania School of Veterinary Medicine and another $196,754 will go to a project being headed by CWD Evolution LLC founder and chemist Davin Henderson. The goal of these two projects? To come up with live test results to diagnose cases of CWD early.
A live test is important. Mainly because deer farms and high fence hunting facilities with captive deer have proven problematic for CWD response plans nationwide. In many instances, the first cases of infected animals come from these facilities. Both forms of research could be vital for providing an early-warning alert on CWD-positive deer in such a facility, which could be very useful for CWD management purposes.
Meanwhile, Pennsylvania hunters may have to contend with larger and more aggressive disease management areas this hunting season. Officials have called for aggressive harvest of wild deer in areas where the disease is present. They've proposed extra antlerless tags for just this purpose. Hunters in DMAs in Bedford and Fulton Counties will likely be the most affected. The disease has been found most prevalent in wild deer in the south-central part of the state.
The Pennsylvania Game Commission has specifically stated they want to emulate the deer management actions of states like New York, which has had great success in containing the disease. They are trying to avoid the many problems states like Wisconsin have had with containing the disease.
In addition to more tags during Pennsylvania deer season in those areas, officials are also considering strict feeding bans, banning urine-based deer hunting attractants and cracking down considerably on the transport of deer heads and other high-risk parts to areas outside of DWA zones.
For more outdoor content from Travis Smola, be sure to follow him on Twitter and check out his YouTube channel.
NEXT: THE AXIS DEER AND HOW THEY'RE IMPACTING PARTS OF THE UNITED STATES
WATCH
The post Disease-Sniffing Dogs Part of Pennsylvania's CWD Detection Plan appeared first on Wide Open Spaces.