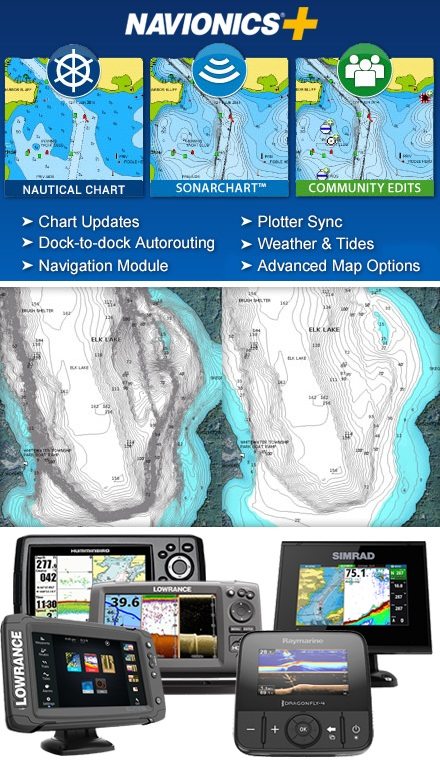 Revolutionary chart maker Navionics, has packed their new Navionics+ titles with additional features at an affordable price for smaller boat owners. The Navionics+ charts now include ready-to-use coastal nautical charts and thousands of lakes preloaded with the crowd-sourced, hi-def SonarChart™, as well as the downloadable and publically-sourced Community Edits. Boaters can benefit from twelve months of free chart and Community Edits updates. Leading plotter manufacturers have integrated other hi-tech features of Navionics+ charts such as the time/fuel-saving Dock-to-Dock Autorouting and Plotter Sync.
"Thanks to leading-edge technological advances by Navionics, boaters now have access to the most sophisticated and detailed charts at a fraction of what they  cost only a few years ago" said Robin Martel of Fugawi "we are proud of our decade long partnership with Navionics to make these high quality charts available to the North American boating enthusiasts".
Each Navionics+ card boasts thousands of lakes, preloaded with the incredible details of the crowd-sourced SonarChart™ and ready to use without needing to download any data. These charts are ideal for both recreational and professional fishermen looking for that elusive drop or ledge. Navionics+ can come at the bargain price of $99 for North American boaters when bought togethernwith a small screen chartplotter.
The North American version of Navionics+ is offered in 5 regions of USA North, USA South, USA East, USA West and Canada & Alaska at the affordable price of USD $149 (CAD $199). The Navionics+ Regions are the perfect solution for mariners considering a smaller screen plotter since with the USD $50 manufacturer's rebate, this best-in class chart can cost as little as $99.
Boaters who purchase a new 4", 5" or 7" plotter from Humminbird, Lowrance, Simrad or Raymarine can take advantage of the $50 Navionics direct rebate when they also purchase a Navionics+ card. To qualify for the rebate, customers must purchase both products before the end of July 2017 and within 30 days of each other, mail the receipt and $50 rebate form, available from www.navionics/rebate, within 60 days from purchase date.
The eligible plotters are:
HUMMINBIRD: Helix 5, 7
LOWRANCE: Elite Ti 5, 7; Hook 4, 5, 7
SIMRAD: GO 5, 7
RAYMARINE: Dragonfly 4PRO, 5M, 5PRO, 7PRO
About Fugawi
Fugawi was founded in 1995 in Toronto and distributes software services, connectivity solutions and hi-tech marine products from leading manufacturers. The assets of Fugawi were purchased by Johnson Outdoors Canada Inc. in 2016.
The post Enhanced Navionics+ detailed charts now with $50 rebate for compact chartplotters appeared first on ODU Magazine-North America's #1 Digital Fishing Magazine.