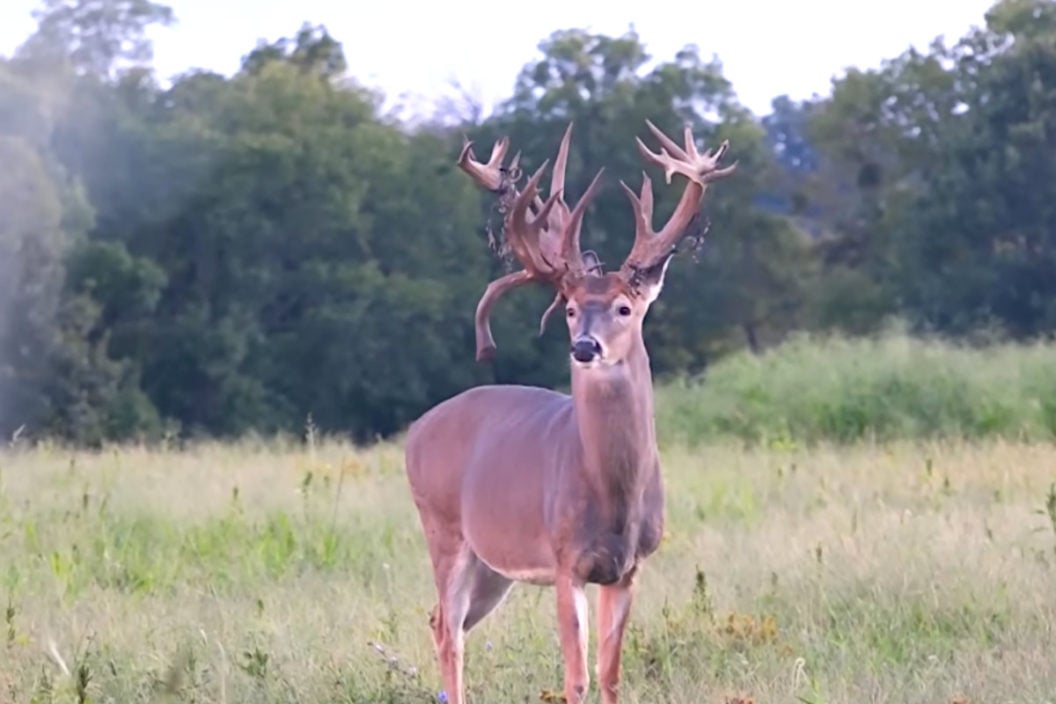 There's just something special about hunting a piece of property that's been in the family for years. For Austin Musselman of Homegrown Experience, that place is his grandparent's farm in Kentucky. After being in the family for years, Austin took over the site's management. He made significant habitat improvements to the property to make it more attractive for whitetails. Around this time, they started getting trail camera photos of a buck showing tremendous potential. Fast-forward a couple years later, the buck has ballooned into a massive non-typical with drop tines and stickers everywhere.
After reviewing all the trail camera evidence, Austin and his cameraman Glen Eilers decide the best place to hunt this buck is in the middle of the field he frequents. They plan to throw a bunch of haybales in the area he's frequenting. Then they put a haybale blind in there with them. The plan works to perfection, and the big buck walks right in during daylight hours and gives Austin an easy shot with his bow. Musselman tells the whole story of how they managed this property in the video, but if you want to see the hunt, skip to the 13:15 mark.
The big lesson from this hunt is that almost every property can be improved with a little hard work and sweat. The controlled burns helped improve the grassland, and the hinge cutting provided new sanctuary areas where a buck like this could feel safe and secure. It worked like a charm since they could pattern this buck perfectly and plan a perfect ambush for him.
A hunt rarely works to perfection like this, especially on a large buck. Kudos to Austin for keeping his cool and making the shot on a deer like that. I'm not sure I'd be able to stop shaking long enough to make it happen myself! Congrats to Austin on a fantastic deer and for an inspirational tale on property management we all can learn from.
For more outdoor content from Travis Smola, follow him on Twitter and Instagram. Check out his Geocaching and Outdoors with Travis YouTube channels for original videos.
The post Early Season Bowhunt Nets Giant Kentucky Non-Typical Buck appeared first on Wide Open Spaces.