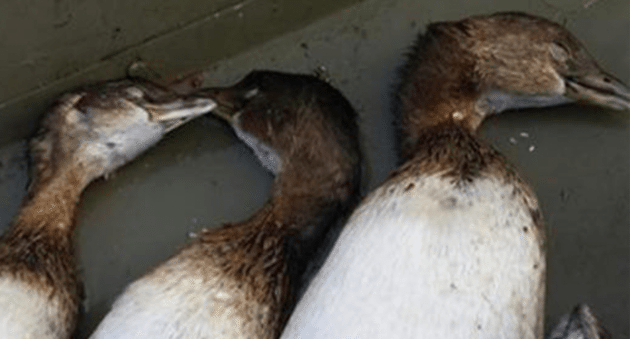 A Delaware duck hunter recently posted a photo of three dead grebes to Facebook asking for identification help. The responses do not fail to entertain!
In the public Facebook group Diver Ducks ONLY, an Al Lee posted a picture of three dead grebes on the deck of a boat. Al's post titled, "Can someone tell me what these are? Thanks." Not surprisingly, it was quickly removed.
Why was it removed, you ask?
In many states (if not all) the Grebe is illegal to shoot.
Furthermore, in many waterfowl circles, you're ridiculed if you shoot first and ask for ID help later. Especially if you shoot a bird that's not legal.
Al Lee might have learned this lesson the hard way. If Al is the shooter he risks a ticket (maybe 3) and he was trolled on Facebook, hard! Here's a sample of some of the best comments!
"Toss your guns, gear and self dignity away – brutal…"

(The comment was simply a tag) "Delaware Fish & Wildlife Natural Resources Police"

"He better refinance that boat…he's about to have some hefty fines and bye bye hunting license for a few years. Lol"

"THOSE ARE LEAVERS, leaver right there bud"

"Grebes are the best of eating byes… yee are all crazy… who cares he shot 3 of them… how many of you guys kills birds that your not aloud to kill… a goddam good lot of yee I'd say… if it flies it dies… eat em up byes"

(Reply to Above) "I speak newfaneese…. "Gentlemen, grebes are fine table fare, I strongly disagree. Why would one mind if he shot three of them. None of you have ever made a mistake? A large majority I'd wager. There's the old adage "if it flies it dies" Grebes are a delicacy."

"Somewhere, A game warden is touching himself while reading these comments..."

"Muhammad Al Lee….went 3 rounds with the grebes….Then got knocked out in the comments."

"Someone tag him already. He's missing out"
Don't worry; there's plenty more left for you to read.
While it's fun reading these comments, it's a valuable lesson. Don't shoot a bird (or any animal) unless you know it is legal.
About the Author: Dominic Aiello is an avid hunter, angler, and wildlife policy expert. He is the President of the Oregon Outdoor Council, Cabela's Prostaff, and Outdoor Writer. Follow his adventures on Instagram @daiello91 or Twitter @HunterInformant. 
NEXT: WATCH THIS HANDGUN DEER HUNT FROM THE HUNTER'S POINT OF VIEW
The post Duck Hunter Gets Hilariously Trolled After Posting Grebes to Facebook appeared first on Wide Open Spaces.