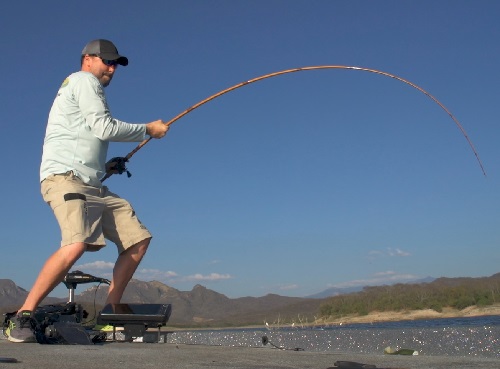 A groundswell of support from tournament anglers in 2016 prompted B.A.S.S. to modify a long-standing rule that previously limited rod length to 8-feet. Competitive black bass anglers pulling oversized swimbaits or uber-deep diving crankbaits, as well as smallmouth specialists targeting bronzebacks with the increasingly popular float-and-fly technique, all petitioned for the opportunity to fish with rods longer than 8-feet. Much to the delight of tournament anglers, B.A.S.S. has modified their rod restrictions to accommodate rods up to 10-feet in length. With this change in mind, the virtuoso rodcrafters at St. Croix Rod went immediately to work, and are pleased to unveil the new heavy-power, moderate-action, Legend Glass casting rod (LGC88HM), which spans 8' 8" from butt to tip.
The founding family of Legend Glass casting rods took the bass fishing world by storm in late 2016, earning Best Freshwater Rod accolades at ICAST. The inaugural four models range in length from 6'10" to 7'11", all designed with the devoted crankbait angler in mind.
When St. Croix and Bassmaster ELITE Pro Stephen Browning first put a Legend Glass rod in his hands, he knew it would be an instant hit. "Crankbait fishing requires visualization. Your crankbait needs to tell you what it's doing; if it's on rock, sand, or mud. Because of the rod's incredible sensitivity, Legend Glass can absolutely dial-in whatever type of structure you're fishing."
So why the extra inches?
Browning responds: "With all of the recent emphasis on super-deep cranking techniques, there will be no better addition to the St. Croix Legend Glass series. This longer version of an already incredibly effective rod will allow anglers to increase their casting distance, giving them access to even greater, unfished depths on the retrieve."
But there's more to the 8' 8" Legend Glass story than just longer casts and deeper dives.
"The added length will reduce the stress of all-day cranking," adds Browning. "The palming reel seat is much like the ones that musky anglers have relied on for years. This reel-seat will allow bass anglers to grip the longer Legend Glass in total comfort, without sacrificing the rod control needed for awesome feel and powerful hooksets."
Browning, the "Crankmaster General," continues: "Tournament anglers and serious bassers will be able to keep their magnum-sized crankbaits at maximum depths for longer periods during the retrieve. When the bait stays in the strike zone longer, you get more bites…period!"
Now, we can cast farther and dive deeper than ever imagined, all while fishing with enhanced comfort, grip and control.
The new 8' 8" Legend Glass casting rod will be unveiled to the public at the 2017 GEICO Bassmaster Classic Expo in Houston, Texas.
Legend Glass Model LGC88HM Features:
Super premium, 100% linear S-glass.

Integrated Poly Curve® (IPC®) tooling technology.

Fuji® K Series Concept Tangle Free guides with Alconite rings.

Fuji® PSS-SD palming reel seat.

Split-grip/super-grade cork handle.

Kigan hook-keeper.

Two coats of Flex Coat slow-cure finish.

15-year transferable warranty backed by St. Croix Superstar Service.

Designed and handcrafted in Park Falls, Wisconsin USA.
About St. Croix Rod
St. Croix Rod is a family-owned and managed manufacturer of high-performance fishing rods headquartered in Park Falls, Wisconsin with a 68-year heritage of USA manufacturing. Utilizing proprietary technologies, St. Croix controls every step of the rod-making process, from conception and design to manufacturing and inspection, in two company-owned facilities. The company offers a complete line of premium, American-made fly, spinning and casting rods under their Legend Elite®, Legend® Xtreme, Legend Tournament®, Avid Series®, Premier®, Wild River®, Tidemaster®, Imperial® and other trademarks through a global distribution network of full-service fishing tackle dealers. The company's mid-priced Triumph®, Mojo Bass/Musky/Inshore/Surf, Eyecon® and Rio Santo series rods are designed and engineered in Park Falls, Wisconsin and built in a new, state-of-the-art manufacturing facility in Fresnillo, Mexico. Founded in 1948 to manufacture jointed bamboo fishing poles for a Minneapolis hardware store chain, St. Croix has grown to become the largest manufacturer of fishing rods in North America.
The post Crank Without Limits, Legend Glass appeared first on ODU Magazine-North America's #1 Digital Fishing Magazine.