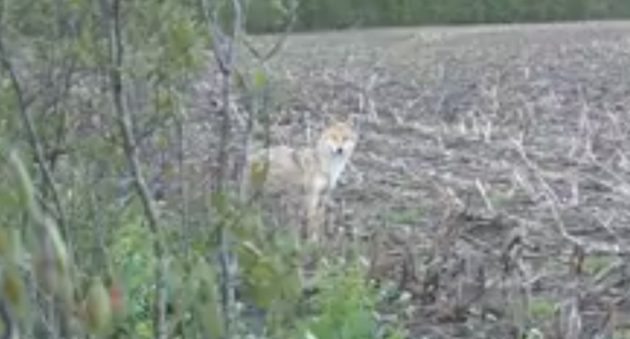 After the hunter pulled the trigger, this coyote had no idea what hit him! 
Few things can mess up a turkey hunt as bad as a coyote running over and hanging out by your decoys. Well, that is exactly what happened to these hunters on their turkey hunt.
Let's just say things didn't turn out too favorably for the four legged pooch.
Check out the video below to see what happens next!
Out doing a little turkey hunting this weekend take a look at what showed up. The turkey decoys were just to the right of the screen, he figured out a little too late they we not the real deal!#huntingontarioSportchief Triggers and Bows Eberlestock Tetra-POD ALTAN SAFE OUTDOORS HFC Outdoors Inc. #cantstoptheflop

Posted by Hitmen Canada's Brotherhood Of The Hunt on Monday, May 8, 2017
The crazy thing about this video is just how close that coyote got to these hunters without picking them up. Coyotes are typically extremely alert animals that have a great sense of approaching danger. However, when that gun went off, this one had no idea the hunters were even there.
With high populations of coyotes in the country it is typical for deer and turkey hunters to take on out every now and then. In fact, in most places it is encouraged.
Did you enjoy this post? CLICK HERE to view more articles by Jesse Males. You can also follow him on Facebook Backwater Fly Fishing, Twitter @Backwater_Fly, and Instagram backwaterflyfishing.
NEXT: TEXAS IS STILL LOSING THE WAR ON FERAL HOGS
WATCH
The post Coyote Takes a Bullet to the Head After Getting Too Close to Turkey Hunters appeared first on Wide Open Spaces.