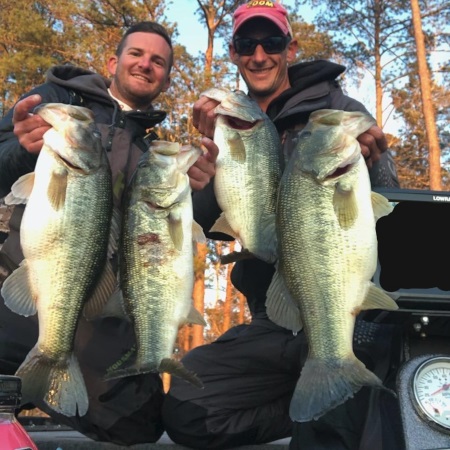 Many anglers have led the first three rounds of a Bassmaster Elite Series event, only to have the title slip through their hands on the final day.  More times than not, pressure was the culprit.
 
But if South Carolina pro Brandon Cobb felt pressure a single time during this week's Bassmaster Elite at Lake Hartwell, he certainly hid it well.
 
Cobb, who lives in nearby Greenwood, S.C., took the lead on Day 1 of the event and never relinquished it, slamming the door on his first Elite Series victory with a final-day catch of 16 pounds, 14 ounces on Championship Sunday. His four-day winning weight of 72-4 earned him a $100,000 paycheck and the iconic blue trophy that goes to every Elite Series winner.
 
"Staying calm definitely made the difference for me," said Cobb, who stayed at his own house and made the 50-minute drive to Lake Hartwell each day. "I don't do well if I get flustered. I start running around a lot, and it just doesn't go well for me.
 
"Being on my home lake helped, too. I literally never ran out of places where I felt like I was going to catch one."
 
Cobb caught 19-9, 17-8, 18-5 and 16-14 in four days — and he did most of his damage with two baits. He used a green pumpkin Zoom Fluke Stick when he was moving through shallow areas where he thought spawning beds were present and a 1/8-ounce Greenfish Tackle shaky head with a green pumpkin Zoom Trick Worm when he was stopped, fishing for bass he could actually see on bed.
 
"I was going down spawning areas throwing that Fluke Stick at anything that even looked like a bed, hoping to catch them before I got there," Cobb said. "If the fish didn't bite before I got up there, I'd Power-Pole down, pick up a shaky head with a Trick Worm and fish for him until I caught him."
 
Unlike many anglers who were forced to devote large chunks of time to a single bedding fish throughout the week, Cobb caught his bedding bass quickly — and that helped him make the most of his time on the water.
 
"Probably 10 minutes was about the longest I spent on one fish this week," said Cobb, who was fishing just his 14th major event with B.A.S.S. "Today, I caught three fish off one bed, and that probably took me about 15 minutes.
 
"I think I only saw two fish this week that I didn't catch, and that's because they were spawning, rolling together — and you can't do anything with them when they're doing that."
 
Though it's Cobb's first season on the Elite Series, the 29-year-old pro is not considered a rookie because he won more than $400,000 in 105 events with FLW Fishing. He won two BFL events with FLW, but never managed to claim a Tour-level championship.
 
"Basically, everything went exactly the way I wanted it to go this week," Cobb said. "I don't think I lost a single fish all week — and if I did lose one, I caught it again in just a few minutes.
 
"I've been so close so many times to winning tournaments like this and just never quite been able to put it together. But it all came together this week."
 
Though Cobb struggled early Sunday morning while trying to exploit a blueback herring spawn that has just begun on Lake Hartwell, he said he always knew he could go and catch a good limit of bass doing the same things he'd been doing all week.
 
Once he finally started putting bass in the boat, his victory seemed like a foregone conclusion. His closest competition came from Arkansas pro Stetson Blaylock who finished second with 68-11. Georgia pro Micah Frazier finished third with 63-6 and Florida angler Drew Cook took fourth with 63-4.
 
Cook's performance was enough to put him in first place in the Toyota Bassmaster Angler of the Year standings and the race for DICK'S Sporting Goods Rookie of the Year.
 
Blaylock took home the Phoenix Boats Big Bass award worth $1,500 with a 5-15 largemouth he caught during Saturday's semifinal round.
Florida rookie Drew Cook claimed the lead in both the Toyota Bassmaster Angler of the Year and the DICK`S Sporting Goods Rookie of Year race, after three events, earning $1,000 for AOY and $500 for ROY. Cook's impressive rookie campaign includes three Top 20 finishes, including a fourth place finish at Lake Hartwell. The highest-scoring rookie at the end of the 10-event Elite season will collect the $10,000 ROY prize.
The two highest finishing anglers eligible for Toyota Bonus Bucks were Jamie Hartman and Chad Pipkens. Hartman finished 8th and added $3,000 to his purse, while Pipkens finished 9th earning a $2,000 bonus. 
2019 Bassmaster Elite Series Platinum Sponsor: Toyota
2019 Bassmaster Elite Series Premier Sponsors:  Humminbird, Mercury, Minn Kota, Nitro Boats, Power-Pole, Skeeter Boats, Talon, Triton Boats, Yamaha, Abu Garcia, Berkley
2019 Bassmaster Elite Series Supporting Sponsors: Bass Pro Shops, Carhartt, Lowrance, Mossy Oak Fishing, T-H Marine, Academy Sports + Outdoors 
2019 Bassmaster Elite at Lake Hartwell Host Sponsor: Visit Anderson
About B.A.S.S.
B.A.S.S. is the worldwide authority on bass fishing and keeper of the culture of the sport, providing cutting edge content on bass fishing whenever, wherever and however bass fishing fans want to use it. Headquartered in Birmingham, Ala., the 510,000-member organization's fully integrated media platforms include the industry's leading magazines (Bassmaster and B.A.S.S. Times), website (Bassmaster.com), television show (The Bassmasters on ESPN2), radio show (Bassmaster Radio), social media programs and events. For more than 50 years, B.A.S.S. has been dedicated to access, conservation and youth fishing.
The Bassmaster Tournament Trail includes the most prestigious events at each level of competition, including the Bassmaster Elite Series, BassPro.com Bassmaster Open Series, TNT Fireworks B.A.S.S. Nation Series, Carhartt Bassmaster College Series presented by Bass Pro Shops, Mossy Oak Fishing Bassmaster High School Series presented by Academy Sports + Outdoors, Bassmaster Team Championship and the ultimate celebration of competitive fishing, the GEICO Bassmaster Classic presented by DICK'S Sporting Goods.
—
2019 Bassmaster Elite at Lake Hartwell 4/4-4/7 Lake Hartwell, Anderson SC. (PROFESSIONAL) Standings Day 4 Angler Hometown No./lbs-oz Pts Total $$$ 1. Brandon Cobb Greenwood, SC 20 72-04 100 $100,000.00 Day 1: 5 19-09 Day 2: 5 17-08 Day 3: 5 18-05 Day 4: 5 16-14 2. Stetson Blaylock Benton, AR 20 68-11 99 $26,500.00 Day 1: 5 13-10 Day 2: 5 16-13 Day 3: 5 19-03 Day 4: 5 19-01 3. Micah Frazier Newnan, GA 20 63-06 98 $20,000.00 Day 1: 5 17-09 Day 2: 5 18-03 Day 3: 5 14-00 Day 4: 5 13-10 4. Drew Cook Midway, FL 20 63-04 97 $16,500.00 Day 1: 5 14-04 Day 2: 5 20-06 Day 3: 5 14-13 Day 4: 5 13-13 5. Shane LeHew Catawba, NC 20 61-15 96 $15,000.00 Day 1: 5 14-10 Day 2: 5 13-06 Day 3: 5 19-08 Day 4: 5 14-07 6. Mark Menendez Paducah, KY 20 61-10 95 $15,000.00 Day 1: 5 13-01 Day 2: 5 15-09 Day 3: 5 17-00 Day 4: 5 16-00 7. Bill Lowen Brookville, IN 20 60-15 94 $15,000.00 Day 1: 5 16-00 Day 2: 5 18-03 Day 3: 5 14-14 Day 4: 5 11-14 8. Jamie Hartman Newport, NY 20 59-06 93 $15,000.00 Day 1: 5 13-15 Day 2: 5 16-03 Day 3: 5 16-04 Day 4: 5 13-00 9. Chad Pipkens Lansing, MI 20 58-02 92 $15,000.00 Day 1: 5 14-10 Day 2: 5 15-03 Day 3: 5 16-01 Day 4: 5 12-04 10. Hank Cherry Jr Lincolnton, NC 20 56-08 91 $15,000.00 Day 1: 5 17-09 Day 2: 5 13-15 Day 3: 5 14-11 Day 4: 5 10-05 PHOENIX BOATS BIG BASS Stetson Blaylock Benton, AR 05-15 $1,500.00 ----------------------------------------------------------------------- Totals Day #Limits #Fish Weight 1 72 367 970-13 2 69 359 893-04 3 35 175 506-03 4 10 50 141-04 ---------------------------------- 186 951 2511-08
Related articles:
The post Cobb Puts It Away On Lake Hartwell's Bassmaster Elite Event appeared first on OutDoors Unlimited Media and Magazine.