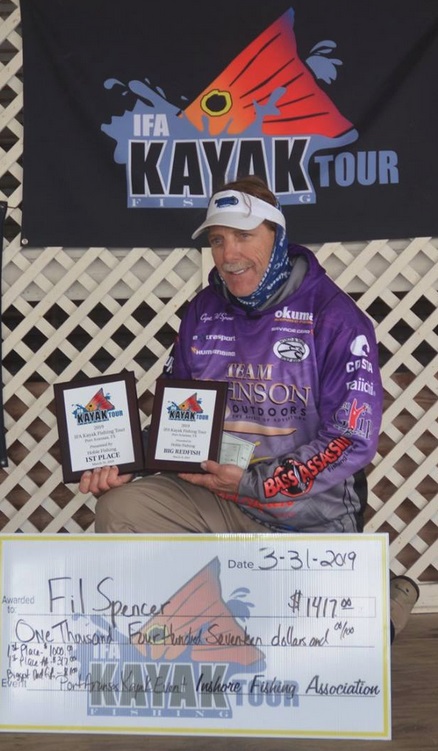 Fil Spencer of Corpus Christi, Texas, measured a combined limit of 49.00 inches to win the first regular-season event for the 2019 Texas Division of the IFA Kayak Fishing Tour on March 31 at Port Aransas, Texas.
Spencer spent his day fishing soft plastics in the Corpus Christi Bay area. The angler reported bad conditions but fought through to take the $1,000 first-place prize. Spencer also added $317 in Anglers Advantage cash along with the $100 Berkley Big Redfish award for a total of $1,417 in winnings.
Matt Murphy, of San Antonio, Texas, measured a combined length of 44.75 inches to second place. The angler boated his limit with white Berkley Gulp! swimming mullet under a popping cork in the Rockport area.
"It was cold, wet and windy," said Murphy. "I didn't win first, but loved the people that showed up."
For his efforts, Murphy won a total of $787, including $262 in Anglers Advantage cash.
Third-place finisher Rene Lopez, of Port Aransas, Texas, measured a 21.75-inch redfish and a 19.50-inch speckled sea trout to take home $521 in winnings. Lopez reported a tough bite due to tough conditions. He traveled two miles roundtrip where he fished spoons in the east flats.
Sixthe-place Luis Hernandez measured a 24-inch trout, which won the angler the $100 Berkley Gulp! Big Trout award.
The next stop for the IFA Kayak Tour is New Smyrna Beach, Florida, on April 14. Anglers who enter at least two events and compete in at least one event will be qualified for the 2019 IFA Kayak Tour Championship.
The fastest-growing kayak fishing tournament trail in the country, the IFA Kayak Fishing Tour events are catch-photograph-release tournaments, offering inshore kayak anglers from a multitude of states the opportunity to participate in competitive fishing tournaments with low entry fees and minimal travel requirements.
For more information or to become a member of the IFA, visit www.ifatours.com.
IFA events are made possible through the sponsorship and continued support of these well-respected brands: Hobie Fishing, Ranger Boats, Bass Pro Shops, Cabela's, Mercury Marine, Garmin, Berkley Gulp!, Berkley Gulp! Alive!, PENN Reels, Spiderwire, Navionics, Power-Pole, Valley Fashions, T-H Marine, ATLAS, G-Juice, and Powertex Group.
IFA Kayak Tour – Texas Division
Port Aransas, Texas (Top 8)
Fil Spencer – 49.00 inches

Matt Murphy – 44.75 inches

Rene Lopez – 41.25 inches

Michael McMullen – 37.00 inches

Albert Soto – 24.75 inches

Luis Hernandez – 24.00 inches

Michael Clements – 21.38 inches

Luis Jasso – 18.13 inches
Related articles:
The post Spencer Wins IFA Kayak Fishing Tour Event at Port Aransas appeared first on OutDoors Unlimited Media and Magazine.