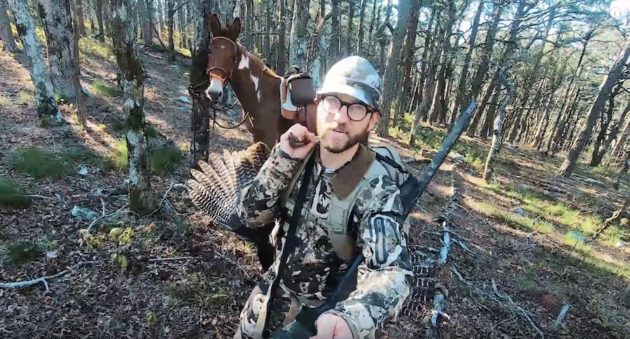 Clay Newcomb used his trusty mule Izzie to access a remote part of the Ouachita Mountains in Arkansas for a backcountry turkey hunt.
Bear Hunting Magazine Editor Clay Newcomb has been training Izzie for the past several months with the eventual goal of using her to assist in hunting bears in the remote areas of Oklahoma and Arkansas where he lives. His recent backcountry turkey hunt in the Ouachita Mountains of Arkansas (where he killed one of his bears last year) was a good test run to see how things are progressing with the project.
Watch the video to see how his backcountry turkey hunt went!
Well, that looks like an awesome hunt! Congratulations, Clay!
I've never heard of anyone using a mule on a turkey hunt before, but it clearly worked out for Clay and I'm sure that hunt was good practice for a bigger and more complicated bear hunt in that same terrain later this fall.
Like what you see here? You can read more great articles by John McAdams on his hunting blog. Follow him on Twitter @TheBigGameHunt or check out one of his Alberta black bear hunts. 
NEXT: THESE ARE THE BIGGEST BLACK BEAR KILLS BY HUNTERS IN THE RECORD BOOKS
The post Check Out This Backcountry Turkey Hunt In Arkansas appeared first on Wide Open Spaces.