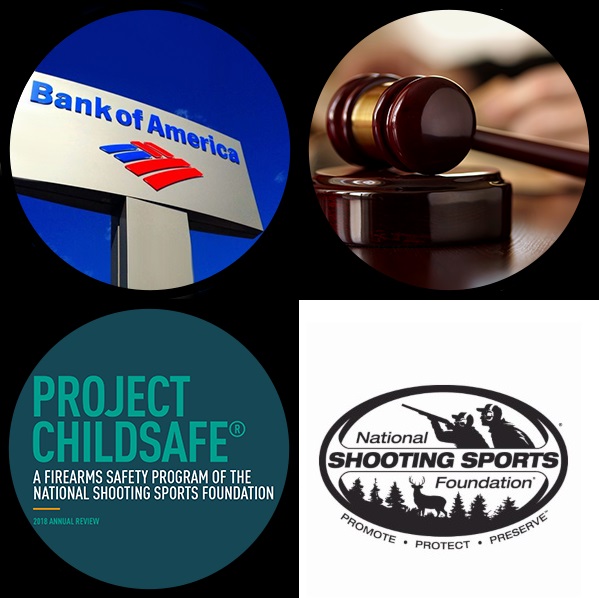 SENATE BILL WOULD TARGET BIG BANKS' VIRTUE SIGNALING … U.S. Sens. Kevin Cramer (R-N.D.) and John Kennedy (R-La.), have introduced the NSSF-supported Freedom Financing Act, S. 821, that would work to end discriminatory lending practices by major banking institutions against lawful industries, including firearms-related businesses. NSSF has been pushing back against banks that seek to set social policy from the boardroom.
NSSF STATEMENT IN SOTO V. BUSHMASTER DECISION … The Connecticut Supreme Court reversed (4-3) a Superior Court ruling, deciding in Soto v. Bushmaster that the case can advance based on the plaintiffs' allegation that the defendant's marketing violated a state statute that fit within a limited exception to the federal Protection of Lawful Commerce in Arms Act. NSSF filed an amicus brief in the case and issued a statement expressing disagreement and disappointment.
PROJECT CHILDSAFE®'s 2018 SUCCESSES … NSSF Project ChildSafe's successes are chronicled in its recently released 2018 Annual Review, including promoting gun safety through its federal grant program, adding thousands of new supporters, providing firearm safety kits to law enforcement agencies and being named one of three finalists for the National Safety Council's Green Cross for Safety Awards.
More NSSF News:
The Rhode Island House Judiciary Committee will hear gun control bills Tuesday at 4:30 p.m., Room 101, in the State House. NSSF urges gun owners to attend and to contact their state representatives.
President Trump signed into law S. 47 expanding public lands access for hunters and recreational shooters.
Magpul Executive Vice President Duane Liptak, in an op-ed in the Washington State Wire, advised state lawmakers that ill-conceived legislation will do nothing to improve public safety.
Kings Gun Center owner Todd Cotta says his California-based company has seen an uptick in range memberships thanks to NSSF's First Shots® program, and your range can too.
Bear Mountain Sports, an independent retailer in central California, shares how the death of the store's patriarch sent sent shockwaves through its business and how a formal contingency plan can help any small business survive the unexpected.
2019 SHOT Show Product Spotlight: Consider stocking your shelves with Norma's new BONDSTRIKE Extreme ammunition. Its unique bonding technology and state-of-the-art design offers big game hunters extreme accuracy at all distances.

Watch your email inbox for an invitation to participate in NSSF's annual retailer survey. Those who complete the survey will receive a free report showing aggregated sales and trend data, a $120 value.

​​​​ATF Q&A: More great questions came in on our 24/7 NSSF Member Compliance Hotline last week. One question asks, "How should an FFL respond to a police officer's request for an original 4473?"
2018 annual, fourth-quarter and December import and export totals for several sporting arms, ammunition and optics categories are now available. Log in and select the Industry Research link to see a breakdown of the 2017-2018 data.
The NSSF-commissioned quarterly Hunting License Sales Index Report provides an unusually early preview of hunting license sales data. Log in to the NSSF online store and select the Industry Research link to access the 2018 Q1-Q4 report.
A new NSSF report that provides insight on consumers' usage of indoor shooting ranges is available for free to NSSF members. The Consumer Indoor Range Study can be found by logging-into the NSSF online member portal.
USA Shooting responded strongly to a sportswriter's column calling for elimination of shooting as an Olympic sport, calling the idea "an alarmist's reaction to a sport millions of people across the globe participate in" and noting the 2016 Olympic Games featured 390 athletes from 97 countries qualified to participate
Washington State's The Range was awarded NSSF's Five-Star rating for its packed calendar of events, unique try-before-you-buy rental program, and full-time in-house gunsmith. This range is truly a top sportsmen's destination.
Employees of companies that support the NSSF at the highest level may apply for education aid through the NSSF Patron Member Scholarship Program. For more information, contact Samantha Hughes, NSSF's Manager, Member Services.
Related:
NSSF Statement on Connecticut Supreme Court Ruling in Soto v. Bushmaster
NSSF Praises Target Practice and Marksmanship Training Support Act
NSSF Launches 'My NSSF' Mobile App
NSSF Praises U.S. Senate Bipartisan Target Practice and Marksmanship Training Support Act
The post Bullet Points – Weekly Firearms Industry Newsletter – 3-20-2019 appeared first on OutDoors Unlimited Media and Magazine.