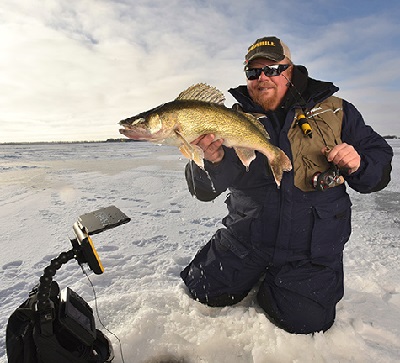 If a singular, larger-than-life personality applies to ice fishing, it's certainly Brian "Bro" Brosdahl—a true legend of the sport—who embarks on his annual Bro Road Show, beginning in November. For the past fifteen years, Bro has traveled the Ice Belt, visiting up to 150 retail locations every winter. At each stop, from Gander Mountain to Mills Fleet Farm, Cabela's and numerous independents in between, Bro offers on-the-spot fishing seminars and in-store training on trending products for sales staff, while leaving plenty of time to hang out with store customers, answer questions and scribble icy autographs.
But more often than not, Bro simply swaps fishing stories. Everyone who meets the affable angler, it seems, comes away with a smile, a story and a few new fishing gadgets.
"Bro has a gift for inviting folks into his inner circle with a simple handshake, a laugh and perhaps a tip related to the fish in their home waters, which more than likely, Bro's fished at some point in his travels," says Noel Vick, lifelong friend and president of Traditions Media, a fishing-focused PR-marketing firm with lengthy roots in the ice fishing industry.  
Recognizing the obvious draw Bro affects at each Road Show stop, retailers often schedule his visits to coincide with special sales and promotions, as well as in-store seminars. The results consistently yield noticeable upticks in store traffic and receipts, particularly among the brands Bro promotes: Frabill, Plano, and Aqua-Vu, among others.
"When I start planning for our annual Ice Institute, Bro is the first person I contact," says Todd Heitkamp, owner of Dakota Angler in Sioux Falls, SD. "The knowledge that he passes on to all those who come and see him is unbelievable. He's a super promoter for us and the tackle we sell, but is really a great friend to the entire fishing industry, from individual anglers on up to the companies he represents, including Aqua-Vu, Frabill and Plano."
Frabill's new ICAST award-winning, USCG-approved I-Float Jacket and Bibs will be the hottest topics in ice fishing apparel this winter.
"Ice fishing has become as much about the culture as the pursuit itself," says Bro. "People see ice fishing in the media and they want the lifestyle; to be a part of this sport… it's got an allure and a camaraderie that's unique in the industry. In boats, people want to fish in solitude, but on the ice, people are drawn to each other… to stop by and talk. It's one of the things that keeps growing the sport."
Says Justina Whalen, Marketing & Pro-Staff Coordinator for Plano Synergy: "Bro embodies ice fishing. From that unmistakable fiery red goatee and approachable realness, to his status as a founder of modern ice fishing, Bro's simply the best. For us, his value at retail is truly special. But it's Bro's authenticity and ability to connect with folks he's never met before that matters most."
 "Couldn't agree more," adds Ben Gibbs, President of Aqua-Vu. "Plus, Bro's a legitimate endorser of our underwater cameras and the other products he promotes. It's not in Bro's DNA to promote gear you won't find in his garage, fish house and truck. Bro fishes with our stuff, believes in it."
New Aqua-Vu AV Micro Plus DVR-DT adds depth and temperature features to the best-selling line-up of handheld cameras.
In terms of trends in consumer buying habits, Bro sees an uptick in the willingness to buy premium-quality gear, even if it means a few bucks more at the check-out lane. "I'm seeing more people who want to be comfortable, and they're willing to spend $700 to $800 on a quality insulated portable shelter. Same thing with high-end underwater Aqua-Vu cameras and first-rate rods and reels. They want premium and are no longer so deterred by price, as in the past.
"It's amazing how many Frabill combos I sell to people each winter," Bro continues. "Many times, I'll enter a store in December, and already they'll be sold out of all Bro Series combos. Anglers want more options for specific techniques and species, not just an all-purpose rod or two.
Bro is also surprised by how many people new to the sport will drop $2,000 to $3,000 all at once to fully outfit themselves with a shelter, clothing, electronics, auger, and tackle in the same day. All of which points to one, final poignant question: What are the hot new trends in ice fishing?
"Definitely the new Frabill Bro SideStep shelter," Bro laughs, seeing the irony. "It's an insulated two-person flip-over, has convenient SideStep entry with a vertical front wall, and special exterior Pro-Series Arctic Ice Camo cosmetics.
"Safety on ice is vital," he adds. "It's why we're so excited to finally have a flotation suit for early ice excursions. Frabill's I-Float suit just won ICAST's Best Technical Apparel category and is USCG-approved, for total piece of mind any time you're on the hardwater."
"The coolest thing I've seen? Undoubtedly, it's Aqua-Vu's new HD700i underwater camera. You can't believe the clarity, panoramic picture and sunlight-viewability of this new viewing system. Underwater cameras are hot in ice fishing and Aqua-Vu's new high-def system is going to amaze anglers when they see it, no doubt."
If you live in the Ice Belt, there's a 2016/2017 Bro "Road Show" event near you. Don't miss the fun.
Tentative 2016/2017 Bro "Road Show" Events
Nov. 4-5                                       Dakota Angler / Dakota Angler Ice Institute, Sioux Falls, SD

Nov. 12                                        Scheels, St. Cloud, MN

Nov. 13                                        Mills Fleet Farm, St. Cloud/Waite Park, MN

Nov. 15                                    Gander Mountain, Duluth/Hermantown, MN

Nov. 16                                     Marine General, Duluth, MN

Nov. 17                                    Mills Fleet Farm, Blaine, MN

Nov. 18                                    Cabela's, Rogers, MN

Nov. 19                                    Gander Mountain, Forest Lake, MN

Nov. 20                                    Cabela's, Owatonna, MN

Nov. 21                                    Mills Fleet Farm, Carver, MN

Nov. 22                                    Cabela's, Woodbury, MN

Nov. 25                                    Mills Fleet Farm, Hermantown, MN

Nov. 26                                    Gander Mountain, Baxter, MN

Nov. 27                                    Mills Fleet Farm, Baxter, MN

Nov. 30                                    Hank's Bait, Waterloo, IA

Dec. 2-4                                   St. Paul Ice Show, St. Paul, MN

Dec. 9                                      Ace Hardware, Wis. Rapids, WI

Dec. 10                                   Gander Mountain, Wausau, WI

Dec. 11                                    Cabela's, Green Bay, WI

Dec. 12                                    Mills Fleet Farm, Stevens Point, WI

Dec. 13                                    Mills Fleet Farm, Appleton, WI

Dec. 14                                    Gander Mountain, Appleton, WI

Dec. 15                                    Cabela's, Richfield, WI

Dec. 16                                    Bass Pro Shops, Gurnee Mills, IL

Dec. 17                                    Cabela's, Hoffman Estates, IL

Dec. 18                                    Cabela's, Hammond, IN

Dec. 19                                    Gander Mountain, Deforest, IL

Dec. 20                                    Gander Mountain, Eau Claire, WI

Dec. 21                                    Gander Mountain, Lakeville, MN

Dec. 22                                    Cabela's, Rogers, MN

Jan. 12-15                                Ultimate Fishing Show, Novi/Detroit, MI

Feb. 24-26                               Wisconsin Fishing Expo, Madison, WI

Mar. 10-12                               Iowa Boat, RV and Vacation Show, Cedar Falls, IA
* Event locations, dates and times subject to change. Please contact individual retailers for the latest details.
The post BRO ROAD SHOW KICKS OFF ANNUAL, EDUCATIONAL RETAIL TOUR appeared first on .