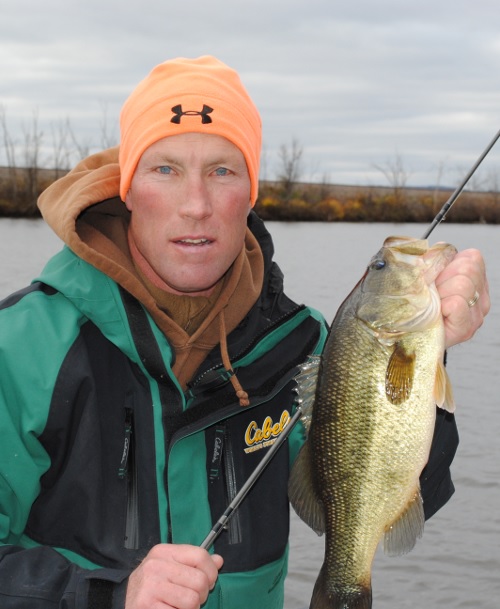 Autumn has arrived in the Midwest.  In a couple of weeks the countryside will be alive in color and lots of outdoor enthusiasts will have departed the lakes for treestands in search of deer or the fields looking for pheasants or geese or ducks.  Nothing wrong with that:  Hunting is a wonderful outdoor tradition.  But the fall months are a great time to be on the water.  The fish are hungry.  Now is when your chance for a trophy is best, and big baits are what it takes to catch big fish.  Here's why the fish like bigger baits in the fall, and a couple of ideas for using bigger baits.
There are a couple of reasons why big baits are usually more productive in the fall.  First, the days are getting shorter and the water temperatures are going down.  This signals to the fish that it's time to put some fat on.  The fish seem to prefer to eat one large meal instead of several smaller ones.  It requires less energy for them to catch and eat one big meal than it does for them to catch several small meals.
Also, the baitfish that were spawned in the spring are at a larger size now, and some baitfish that are fall spawners are more accessible to the predator fish now.  It seems that the larger predator fish are more interested in eating the size baitfish that are more abundant now.
If walleyes or smallmouth are your quarry, you can't beat a big redtail chub on a live bait rig.  Redtails are expensive, but they're also pretty tough.  You can keep a couple dozen all day if you have them in a good aerated bait container or in your livewell. 
If you can't get redtails, suckers will work also.  In fact, I've seen times when the smallmouth preferred suckers.  Not many times, but enough to make it a good idea to have a few suckers in your bucket.  I like to start with a minnow in the four to six inch range.  If the bite is on, go bigger and you'll get bigger bites.
If you're looking specifically for walleyes, a redtail on a Fire-Ball jig is tough to beat.  However, last fall we got on a walleye bite on Lake Winnibigoshish in north central Minnesota where Salmo Perch and Salmo Sting crankbaits in the largest sizes where what really put the larger-than-average walleyes in the net.
If you're after largemouth, and if you can fish a spinnerbait in the range where the bass are calling home, use a spinnerbait with a big blade, and add a plastic trailer to bulk it up even more.  Select a trailer color that contrasts in color with the spinnerbait skirt.
If the bass are deeper or want a slower moving bait, employ a Jungle Jig with a big trailer, maybe an Impulse five inch Jerk Minnow.  Again, use a trailer that contrasts in color with the jig skirt.  Pumpkin Craw and black/blue are good jig colors almost everywhere, but there are local favorites in most places also.
When you're fishing in the fall, the opportunity to catch a big one is good.  Don't take chances:  Make sure you're using fresh line.
Autumn is a great time to be on the water, and if you use big bait, you have the opportunity for a truly memorable fishing experience.  Find that out for yourself in the next few weeks.
PHOTO CAPTION-
To see all the most recent episodes of the Fishing the Midwest television series, new fishing related tips, and fishing articles from the past, go to fishingthemidwest.com  If you do Facebook, check us out for a variety of fishing related things.
by Bob Jensen
The post Big Baits For Big Fish Now appeared first on .