Big Prize Money, Podium Spots and Bragging Rights on the Line at Crankworx in 2014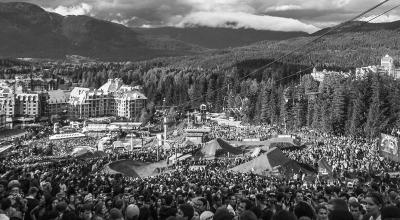 WHISTLER, BC July 30, 2014 – In less than two weeks time, athletes and fans from around the world will descend upon Whistler in celebration of all things mountain bike from August 8 to 17. Comebacks, rivalries and high stakes – they all come together during Crankworx. The energy of competition becomes especially palpable during some of the fan-favourite events that take place over the 10 day tournament, including the CLIF Bar Dual Speed & Style, the Official Whip-Off World Championships and the Ultimate Pump Track Challenge presented by RockShox. Entering into its second decade, the events are drumming up some major excitement ahead of mountain biking's defining celebration.
Mid-day on August 9, the first Saturday of competition, the CLIF Bar Dual Speed & Style will kick things into high gear. It takes brains and braun to top the podium in this unique format – things that Cam Zink (USA) had in spades during his recent win in Les 2 Alpes. Zink will be trying to take the momentum from France and use it to his advantage in Whistler.
"It gives me a lot of confidence for sure," says Zink of the win. "Not necessarily in my skill in racing or tricks, but just that my head is working well. It's a huge mental game and takes a lot of focus."
The mix of speed, style and strategy required for the event is a unique one – an invitational field of riders compete head-to-head on tricked-out dual tracks. Fastest down wins the speed points, but racers can earn a time credit for the level of trick difficulty in their run. Other than the two Crankworx competitions, only one other professional-level Speed and Style event takes place. The winner of the 2013 Sea Otter Classic Speed and Style, Barry Nobles (USA), will be competing in his first Crankworx.
"I'll definitely be a bit more overwhelmed than those guys," Nobles says of the roster of competitors that's been confirmed so far, including Kyle Straight (USA), Tom van Steenbergen (CAN), Yannick Granieri (FRA), Kirt Voreis (USA), Paul Basagoitia (USA) and Greg Watts (USA). "They do tricks full time. I go fast full time so hopefully it evens out and we all put on a great show for the fans!"
One question that remains is whether Martin Soderstrom (SWE), who was beaten by Nobles at Sea Otter last year but came back to win the event in both Les 2 Alpes and Whistler, will be competing. He had been set to return to Crankworx competition in Les 2 Alpes after last year's devastating injury, but was forced to bow out at the last minute due to a recent concussion. Word is currently that Soderstrom is recovered and planning to compete.
Further into the festivities, one of the most highly anticipated events of the festival will take to the airspace above Crabapple Hits on Thursday, August 14. The Official Whip-Off World Championships will bring together the best sideways riders in the biz for this invitational event. Some of the top competitors set to whip so far include the second place finisher in the Spank Official European Whip-Off Championship in Les 2 Alpes, Bernard Kerr (GBR), as well as Graham Agassiz (CAN), Brendan Fairclough (GBR), Danny Hart (GBR), Eliot Jackson (USA), Andrew Lacondeguy (ESP), Tyler McCaul (USA), Thomas Vanderham (CAN) and Cam Zink.
Another top competitor, and consistent fan favourite, is the Crankworx Whistler incumbent from 2013 – Bernardo Cruz (BRA) recently came in third behind Neil Stewart (GBR) and Bernard Kerr in Les 2 Alpes. As far as his strategy to repeat last year, he's staying true to the roots and essence of the sport.
"My plan its very simple," says Cruz. "Do what I always do – whip it."
An exciting change for competitors this year will be the significant increase in prize money – $5000 total will be up for grabs for the riders who execute the most stylish sideways' with solid landings. This includes prizes for men, women, various announcer giveaways and the fan favourite.
When the sun sets on all the day's whip action there will still be much excitement to come. The evening of Thursday, August 14 will see a stacked field of competitors descend on the Crankworx pump track for the Ultimate Pump Track Challenge presented by RockShox.
Competitors lined up to compete include Brendan Fairclough and Matt Walker (AUS), who finished first and second in the Crankworx Les 2 Alpes pump track competition, Paul Basagoitia, winner of the Sea Otter pump track plus two-time Crankworx Slopestyle champ, Troy Brosnan (AUS), who currently sits atop the World Cup Downhill standings, Adrien Loron (FRA), winner for both Crankworx pump track events in 2013, and Mitch Ropelato (USA) who won the event for three years straight until he was unseated by Loron last year – and that's just the men.
"I'm looking forward to the pump track so much as it's an event unique only to Crankworx!!" says Jill Kintner (USA), who has sat atop the ladies' pump track podium for the last four years. "Last year battling with Caroline [Buchanan (AUS)] under the lights was a highlight for sure. The more technical the course with more turns the better it is for me. I love when there are good combos so not everyone is doing the same thing."
As for the question that's on many people's mind: "I think I'm prepared for a five-peat after being held in the gate for the final last year with the commentator yelling "four-peat!" over and over. No pressure, right?" she says with a smirk.
Whether competitors have their sights set on a repeat, a re-match or are getting ready to drop-in to the Whistler Mountain Bike Park for their first Crankworx, one thing is certain – the 11th year of North America's largest freeride festival will be the thing to watch from August 8 to 17.
CRANKWORX 2014 SCHEDULE

Whistler 8–17 August 2014
8 Aug

6:30pm – Fat Tire Crit
8 Aug

Kidsworx
9 Aug

noon – CLIF Bar Dual Speed & Style
9 Aug

Familyworx
10 Aug

8:00am – SRAM Canadian Open Enduro presented by Specialized
10 Aug

9:00am – Liv Women's Only A-Line Session
12 Aug

12:30pm – Garbanzo DH
12 Aug

GoPro Dirt Diaries
13 Aug

11:30am – Fox Air DH
13 Aug

Deep Summer Photo Challenge
14 Aug

Official Whip-Off World Championships
14 Aug

8:00pm – Ultimate Pump Track Challenge presented by RockShox
15 Aug

3:30pm – GIANT Dual Slalom
15 Aug

Canadian Open XC
16 Aug

Canadian Cheese Rolling Festival
16 Aug

4:30pm – Red Bull Joyride
17 Aug

11:30am – Canadian Open DH