Facebook: Strawberry Bay Outfitters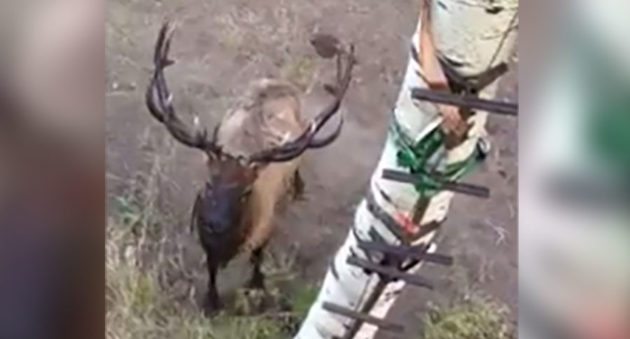 This half-ton, ground-pounding bull elk has decided to turn the tables.
Whatever these people are hunting or filming, they just realized how happy they are for a tall tree.
During the regular season, a beautiful 6×6 bull like this one would need no invitation to hang on your wall, but this time he just puts on a heck of a show!
Watch the video below to see for yourself:
These folks are either simply filming nature or they're hunting something else. They seem to clearly be in separate treestands, camouflaged, and have their harnesses attached, but they're obviously not hunting that big bull.
Whatever they're doing, we're thankful they shared this great video!

NEXT: THE SMART CAR THAT TOOK ON A 900-POUND BULL ELK
WATCH
The post A Trophy-Class Bull Elk is Clearly Unhappy With These Hunters appeared first on Wide Open Spaces.