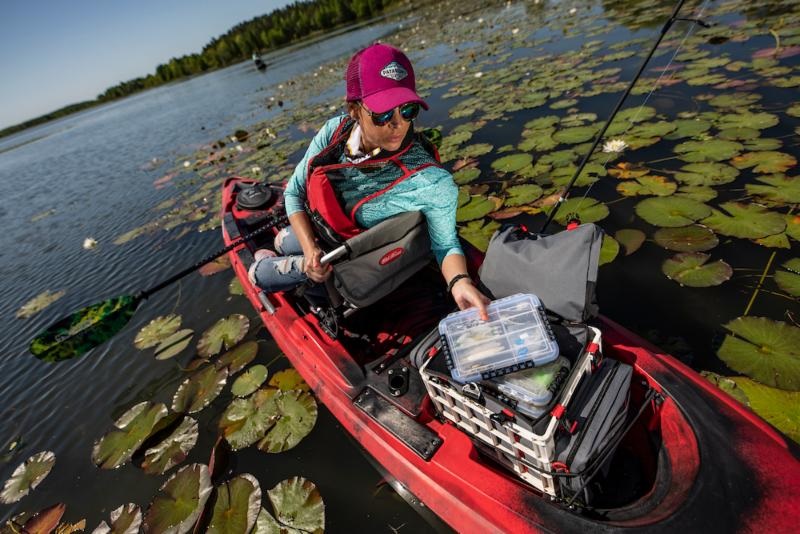 Kayak fishing is all the rage for one very good reason: it simplifies things. Kayaks don't take up a lot of space, they are easy to transport, have an eco-friendly footprint and, most importantly, allow anglers to go places others in big boats can only dream of. This incredibly effective and rewarding style of fishing offers unprecedented stealth with minimal investment.
Still, kayak fishing has its challenges. 'Yak anglers are still anglers, which means most have a bunch of gear. They need to put all that fishing stuff somewhere, and there isn't exactly a ton of space to work with.
Until now, the paddle crowd has largely been forced to adapt big boat fishing tools to their relatively tiny vessels. Thankfully, many kayak anglers have strong DIY tendencies, and many homespun tackle storage solutions have focused on the venerable and readily available milk crate. Great effort, folks. Now allow the pros at Plano to finish what you've started.
The Plano Soft Crate turns the simple milk crate into an incredibly versatile, modern tackle storage option. In fact, the Soft Crate is so ideal, one can expect to see them employed in all kinds of craft – even the big ones with motors. Fresh out of milk crates? Worry not; the adaptable Soft Crate is completely capable of standing alone – minus the repurposed exoskeleton.  
The lightweight Plano Soft Crate is made of durable water-resistant fabric, and is simple to transport with side storage panels that fold up to form a sturdy carry handle. An adjustable, padded shoulder strap is also provided. The four-panel design is shaped and sized to fit inside a standard 13″ x 13″ milk crate or rest directly on the deck of kayak, boat or dock as a freestanding crate alternative. The large, open interior has multiple compartments that accept up to nine 3700-size StowAway utility boxes and can also function as bulk storage. The lid offers additional storage with the added security and convenience of a zippered pocket. Outside, the Soft Crate's handsome gray exterior with red accents sports numerous D-rings, tool holders and MOLLE webbing for easy access to pliers, hook removers and other essential fishing accessories. The Soft Crate's various segments and panels are secured by straps and buckles, which allow for easy removal and customization to individual angler needs.
Plano Weekend Series Soft Crate
*  Lightweight design travels easily
*  Fits securely in milk crate (not included) or rests freestanding as crate alternative
*  Four-panel design carries as much or as little as you need
*  Easily remove panels and utilize attachment points for customizable storage
*  Large open interior with two sections of bulk storage
*  Side storage panels double as sturdy carry handles
*  Lid features large storage area and additional zippered pocket
*  Numerous D-rings and two tool holders offer easy access to pliers, hook removers, etc.
*  Secured by series of sturdy zippers, straps and latches
*  Durable water-resistant fabric
*  Carries up to nine 3600 Series StowAways (two #23650 StowAways included)
*  Product size: 12″L x 12.5″W x 17.5″H  
Effective tackle storage has consistently been at the top of the list of kayak fishing's hard problems. Not any more. Kayak anglers now have a soft solution in the form of the versatile and affordable Soft Crate, and a hard option in the premium V-Crate – two brand new tackle management systems specifically designed to elevate the kayak angling experience from the pioneers of practicality at Plano.
You focus on reeling in unforgettable fishing experiences. We'll make sure you're equipped and ready.
Related
The post A Soft Solution for Kayak Fishing's Hard Problem appeared first on OutDoors Unlimited Media and Magazine.