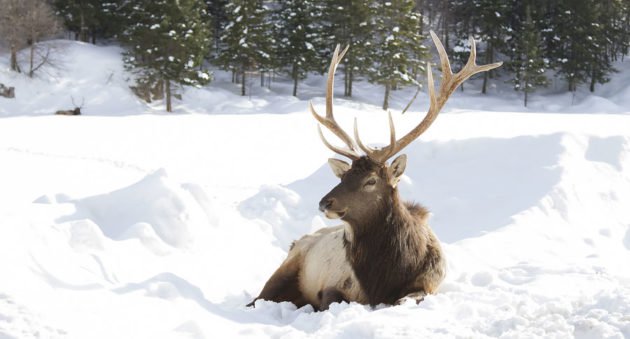 Hunters from these Montana counties have the chance to win a new rifle.
According to a report from The Missoulian, several conservation groups in Montana are trying to push hunters to dismiss late-winter shed hunting this year with the chance of winning a new Kimber rifle.
Scott Falagan, a member of the Mule Deer Foundation Bitterroot Chapter, started the movement by asking fellow members to refrain from shed hunting until April. Although many male deer and elk have already dropped their antlers, they experience brutal travel conditions this time of year. The pressure from shed hunters and shed traps push already-tired, food-deprived animals off their trail into deeper snow, forcing them to use energy they desperately need.
To Falagan's surprise, he received a very positive response.
"My phone has been going crazy this morning," he told The Missoulian. "People have been calling and texting me to say thank you and offer to take the pledge. I like to believe that everyone is pretty sincere that they'll follow the pledge."
Hunters in Missoula or Ravalli counties who agree to forego shed hunting until April and inform at least five other people about the winter's impact on wildlife will be eligible to win the rifle.
"Your entry is your word and you are making the pledge," Falagan said in the report. "No cost associated."
Falagan's pledge has made a lot of noise, too, as some big-name groups have offered their support. The Rocky Mountain Elk Foundation and local Safari Club International chapters have both backed the initiative, as has Montana Fish, Wildlife & Parks Butte Area Wildlife Biologist Vanna Boccadori.
"While the original request was directed at Missoula and Ravalli counties, the same applies to our wildlife across southwest Montana right now," Boccadori told the Missoulian in an email. "At the very least, I personally want to ask you all to hold off shed hunting until later this spring."
So, there you have it. If you can hold off on shed antlers–even elk antlers–for a couple more weeks, you could have a new rifle for next hunting season.
To enter, text your name and phone number to (406)-360-3241.
NEXT: YETI DELIVERS TOUGHEST DOG BOWL ON THE MARKET
WATCH
The post A Pledge by Montana Hunters to Avoid Shed Hunting Could Serve as Motivation appeared first on Wide Open Spaces.