Questions for Conservation Officer Cory Krause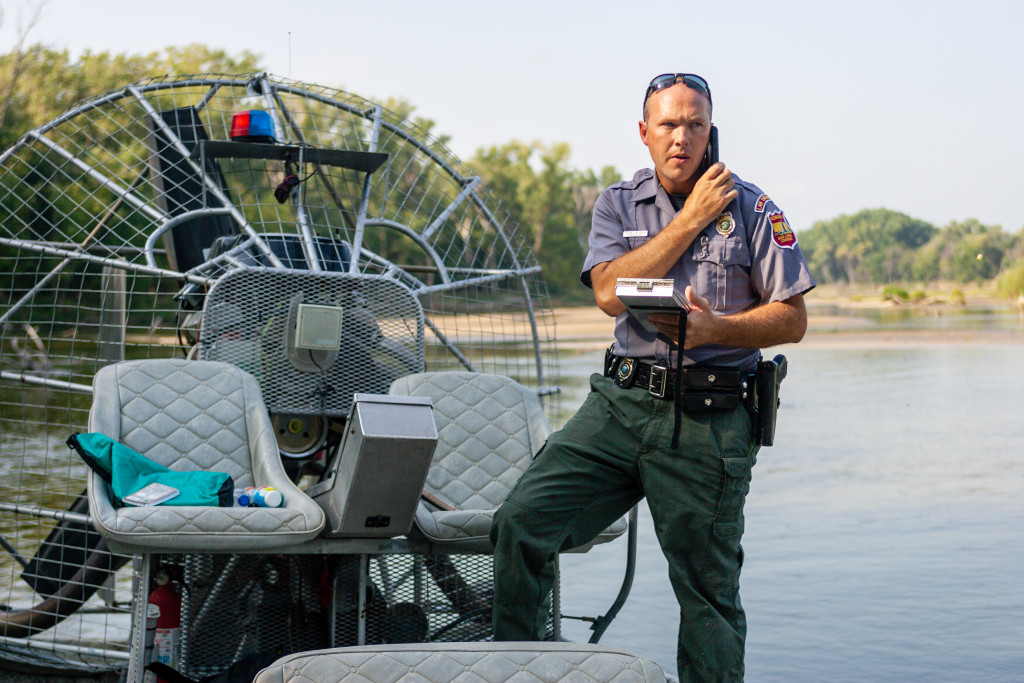 I had the opportunity to patrol the Elkhorn River with Game and Parks Conservation Officer Cory Krause, who is stationed in West Point in northeastern Nebraska. Shortly after getting on the water, we came upon two fishermen in a remote area of the river. As Cory predicted, they did not have valid fishing permits. Cory filled out a couple of tickets and made some calls, and just when I thought this was going to be a textbook citation, the shiny handcuffs came out. Cory had just run background checks, and one of the men had several outstanding warrants in a nearby state. After some more digging, Cory found that he was also in possession of marijuana, neatly hidden in his tackle box.
Cory strapped the offender in an ugly orange life vest, crowned him with a pair of earmuffs and gave him the most awkward boat ride of his life. He was handed over to the sheriff's department, who waited for us by the bridge on Highway 275. After, we sat down for lunch at a nearby restaurant to talk about the morning and Cory's job as CO.
JNW: How long have you been a CO and what interested you?
CK: When I was in the second grade, a conservation officer came to visit my class. He was actually my dad, and I never had a clue at what he did until he came to school and talked. I knew he went out and worked, and wore the uniform and a gun belt, and that was about it until his visit. I decided then that's what I wanted to do. I've been a CO since 2005, and I'm living my dream.
JNW: How long does the process take from applying for the job to actually being out in the field?
CK: You begin by taking a written test that covers a number of things, including biology, wildlife identification, the equipment you will use and general knowledge of hunting, fishing and trapping. Then you have two interviews after that, which is followed by more testing. It could be five months before you find out if you're offered a position. And then if you're not certified law enforcement already, you have to go to Grand Island to the law enforcement training center for 16 weeks. After that, you go through four months of conservation officer academy and the in-the-field training program. So, if you're not already certified law enforcement, it would be a year until you're on your own.
JNW: What signals or signs do you look for when you approach people?
CK: Those guys earlier, as soon as we got there, I could tell there was something wrong before we even really got into it. And I know the reason why they chose the spot they did. Normally, when I see someone that far off the beaten path, there's something going on. It just happened to be these guys who didn't have fishing permits.
JNW: Why is it important for everyone to follow game and fish laws?
CK: We can't let everybody go that doesn't buy fishing permits because that's what funds our conservation efforts. And it's just a small percentage of the people out there who aren't following the rules that make everyone else look bad. And there's a difference between an honest mistake and blatant violation.
JNW: So whether or not you issue a citation is dependent on circumstances.
CK: Officer's discretion is very important, and I don't need to write a ticket to do my job. Citations can either make or break a person. For example, let's say there's a kid who just turned 16, and he didn't grow up in a family where they did any fishing or hunting. All of a sudden, this kid decides that he's going to buy his own fishing pole and go fishing, but he goes fishing without a permit because he doesn't know. And here comes the CO to check him. By law, he's in the wrong, but I can make or break him on his outdoor experience.
If I give him the ticket and walk away, he may say, "I'm never doing this again." Or he can become a potential problem for me down the road and become a big violator who will never buy a permit. Or, I can work with him. That can pay dividends down the road. He could be someone who can keep an eye out for me or give another kid a break and help somebody else.
JNW: Have you ever gotten into a dangerous situation?
CK: We don't just handle fish- and game-related situations. There are times when the sheriff's department or state patrol needs help with speeding tickets, DUI, car wrecks and traffic, and we'll assist. To say anything was completely dangerous where I was fearful for my life, fortunately, no. I've had some "oh [crud] moments" though. A few summers ago at one of our small state recreation areas, I ended up in a wrestling match with a guy on the ground. He had drugs, and he wasn't cooperating. It was late at night, I was in an area with poor radio coverage, and I was outnumbered. The only way I could get him in handcuffs was to go to the ground fighting.
JNW: What's a typical work week for you?
CK: It's not a Monday through Friday job. My off days change all the time. We work nights, weekends and holidays. We are busy year-round, and we get home when we're done. If I'm working spot lighters, I won't go out until 9 p.m. and don't come home until 3 or 4 a.m. And as soon as you get home you get a call — somebody needs something or somebody needs help. Then you go back out for a little bit longer to help. It's a sacrifice, but it has a lot of benefits and those pros outweigh the cons 10-fold.
JNW: Are people usually cooperative?
CK: It depends on how you approach them and how you talk to them. And I'm not here to preach or to lecture anyone. They know they are in the wrong. They're adults, the majority of them are. They know the consequences. So it's a citation, and we go on about life.
I had a guy, a couple years ago, in Stanton County. He shot a deer off the road, landowners caught him, and he tried hiding the deer. He lied to me for 15 minutes, that he never shot the deer, but I had already found the deer that he tried to hide. I just looked at him and said, "Stop and think about this. You're a grown man. You're trying to lie and my little kids can lie better than you. What is the deal? Why did you feel compelled to shoot this deer off the road? I know you did it, and I'm not going away."
And then he just stopped and said, "I did it." And I said, "I know you did."
I saw that guy a year later at the boat and sports travel show in Omaha, and he came up to me and introduced his son. He said, "This officer wrote me that ticket for shooting that deer. He treated me with respect, and I was in the wrong." He thanked me for it. What are the odds of being thanked for writing somebody a ticket? Not very often. But it's kind of nice when it does happen. Unfortunately, I met a nice guy at the wrong time.
JNW: What's exciting about this job for you?
CK: Everything. There's never a dull moment — except writing reports. Having people come up and say, "Hey, we appreciate what you do. We need more officers in this state. We don't see enough of you guys." And being able to have a good working relationship with the state patrol and some of the deputies is a big help. I know they'll always be there. They will come running. It's a friendship as well as a professional working relationship.
I also enjoy going to the elementary schools and library here in town. I'll go and give a program on wildlife, and I can sit there with a group of kids and keep their complete attention for an hour. Many of us COs also teach fishing clinics and boating safety classes.
Like I said, there's more to the job than writing a ticket and making arrests.  ■
The post A Day With a Conservation Officer appeared first on Nebraskaland Magazine.