YouTube: Hornady Manufacturing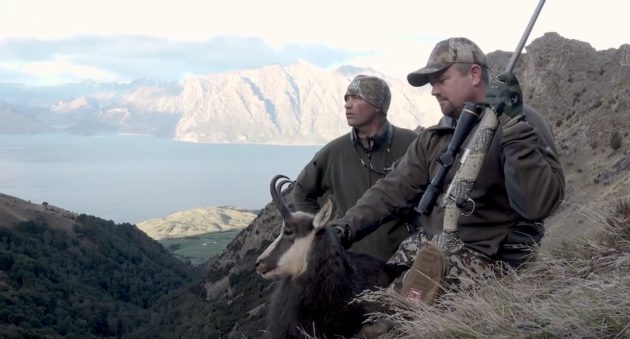 Hornady Marketing Director Neil Davies took a rifle chambered in the new 6.5 PRC cartridge chamois hunting in New Zealand. Here's how it performed.
Chamois live in incredibly rough terrain in New Zealand that can be extremely difficult to access. Those hunts usually involve climbing up, down and across some really steep hills, which is physically demanding to say the least. To top it all off, hunters are rarely able to get really close to their prey while chamois hunting.
With all that in mind, these hunts are not for the faint of heart. Well, the folks at Hornady figured that a chamois hunt down on the South Island of New Zealand would be the perfect opportunity to put their new 6.5 Precision Rifle Cartridge through the paces.
The 6.5 PRC is basically a scaled-up version of their extremely successful 6.5 Creedmoor cartridge. Firing an extremely aerodynamic bullet at a higher velocity, the 6.5 PRC has a flatter trajectory, more resistance to wind drift, and more retained energy at longer range. In theory at least, the guys at Hornady figured that all of those factors should make the new cartridge a pretty good choice for an chamois hunt.
Watch the video to see how the cartridge performed when the chips were down!
Based on those results, it looks like the 6.5 PRC is certainly capable of getting the job done for chamois hunting!
Neil's shot was right at 301 yards. He used a Kimber Ascent re-barreled to 6.5 PRC firing Hornady's 143-grain ELD-X bullet. This is the bullet Hornady uses in their Precision Hunter line of ammunition.
For what it's worth, Hornady advertises a muzzle velocity of 2,960 fps for their 6.5 PRC Precision Hunter Factory ammo. That's about 260 fps faster than their 6.5 Creedmoor load for that same line of ammo firing that exact same bullet.
Nice work, Neil!
Like what you see? You can read more great articles by John McAdams on the Big Game Hunting Blog. Subscribe to his show: the Big Game Hunting Podcast or check out one of his New Zealand hunting safaris.
NEXT: YOU CAN HUNT ALMOST ANYTHING IN THE WORLD WITH JUST THESE FOUR GUNS
WATCH
The post Chamois Hunting in New Zealand With a 6.5 PRC appeared first on Wide Open Spaces.