Cabela's/Cabela's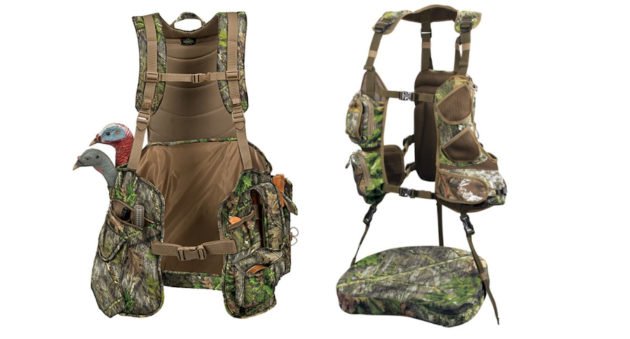 These are our top choices for turkey vests.
Turkey hunting is in full swing in most parts of the country. Whether you are a casual turkey hunter just hoping for one gobbler or a serious addict travelling to multiple states in search of a grand slam, a good hunting vest will make your turkey hunting trip more enjoyable.
A good turkey vest will help keep all your calls organized, your ammo in a convenient location and may also provide a nice cushioned seat while you are waiting for that longbeard to close the last 30 yards into shotgun or archery range.
We did the research, here are our top picks of turkey hunting vests that will make you hunt even better this year.
Cabela's Tactical Tat'r 2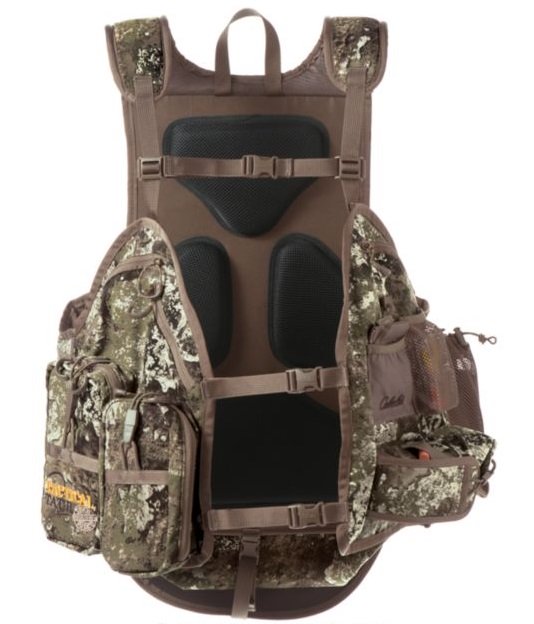 This vest has the highest customer ratings of any other on the Cabela's website. Users praise the quality construction and generous amount of storage for hunting accessories. The game bag on the back has an adjustable capacity to carry your decoys in and that big Tom out. The three-layer foam seat helps make your sit much more comfortable and enjoyable. For those hunting in warmer climates, the mesh back panels help the air to circulate better. Cablea's says they read countless user reviews and had their pro staff input on the design. It has a box call pocket, locator pocket and a mouth call wallet. It also has a pocket specifically for slate calls that folds down to create a "table" workspace. It has plenty of other zippered storage areas for your cell phone, a water bottle and other small items.
RedHead Striker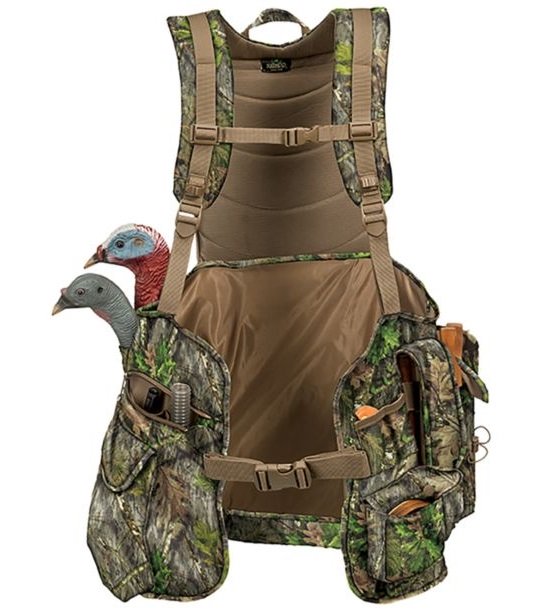 This vest is available in two different camo patterns, TrueTimber Strata and Mossy Oak Obsession NWTF. It has multiple pockets to hold all your turkey calls. It includes two slate call pockets, a striker call pocket, a mouth call pocket and a magnetic, memory foam seat cushion for maximum comfort. The game bag is adjustable to hold all your decoys. The shoulder straps are padded for additional comfort. One feature we really like about this one is the fact that it is hydration compatible. That way, you can quench your thirst easily without too much movement that will frighten wary gobblers away. It also has a blaze orange flag for your hike in and out of your hunting spot. Because safety is important, especially if you're hunting public land. Keep an eye out for sales, as you can get a great deal on this one at the right time of year.
Knight & Hale Run and Gun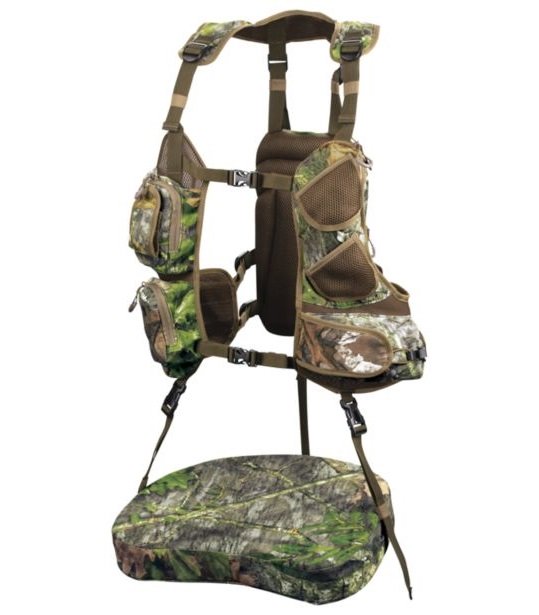 For the hunter who likes to travel lighter or wants a vest that fits better than the "one size fits all" approach most vests take. The Knight & Hale utilizes a 10-point adjustment system for a more secure and better fit. This idea here is that with a better fit, your vest will not catch on every stray branch in the woods on the way to your hunting spot. This vest has four zippered pockets and five extra ones for all your smaller accessories, diaphragm calls, extra ammo, etc. It also comes with slings to haul in your decoys and harvested birds. The cushioned seat will help make those long waits for a stubborn bird to strut into range much more enjoyable and will increase your odds of success. This vest is available in Mossy Oak Obession NWTF.
Ol' Tom Time and Motion Easy-Rider Turkey Vest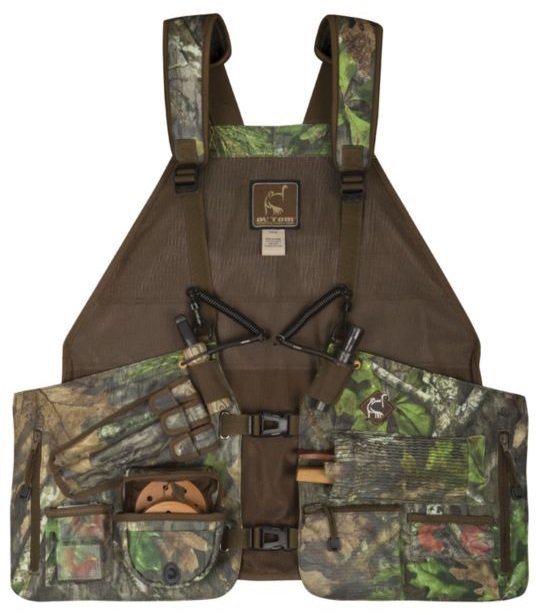 The big selling point of this vest is the pockets are designed to be easily accessible even when that large Tom is bearing down on you. This vest is built to be durable and customizable. It is made of a 3,000-denier ripstop fabric. It has the usual striker sleeves, mouth call and box call pockets, but it also has features like a flashlight pocket and a bloodproof game bag. Another nice feature here is a back pad for a little extra comfort when you are leaning back against an old tree for extended periods of time. Most of the pockets operate with quick magnets for simplicity and less fumbling around when you need something in a pinch.
SHE Outdoor Turkey Vest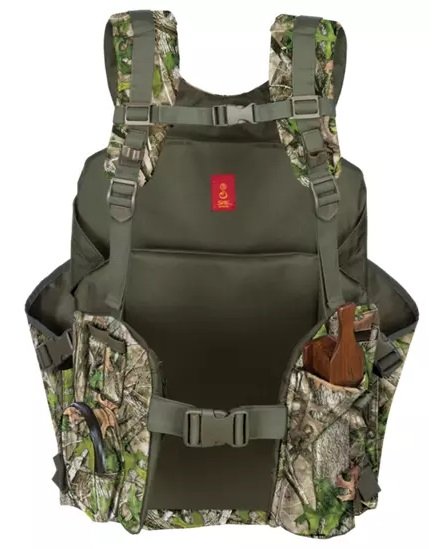 The ladies like to turkey hunt too. Unfortunately, most vests out there are not designed with women in mind. This vest is the exception. She Outdoor exclusively designs clothing "tailored to the feminine form." This vest also does not skimp on storage options. It has a box call pocket, two mouth call pockets, two striker pockets plus eight other pockets for various hunting accessories. It also comes with a chair system and padded shoulder straps for extra comfort. A decoy and game bag helps with transport to and from the field. This vest is available in either True Timber Kanati or True Timber HTC Green camo patterns.
Nomad Melegris Gallopavo MG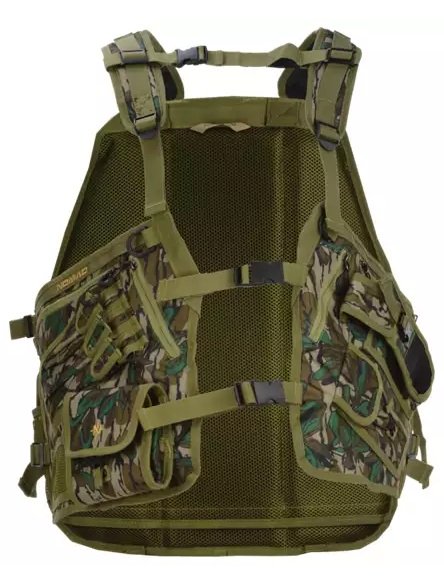 The Nomad is another vest that allows for excellent sizing adjustments thanks to the eight straps and three front fasteners. It has reinforced shoulder straps and a chest harness that are padded for extra comfort. This vest has three external striker pockets, a box call pocket and multiple mesh mouth call pockets. Four internal pockets help keep your other hunting gear organized. The foam seat is adjustable and fully removable. Another nice feature of this vest is an external Thermacell pocket. That is something you will appreciate when the mosquitoes show up in the early spring. This vest comes in a classic Mossy Oak Greenleaf pattern that should blend into a variety of environments with ease.
For more outdoor content from Travis Smola, be sure to follow him on Twitter and check out his Geocaching and Outdoors with Travis YouTube channels. 
NEXT: 8 OF THE BEST TURKEY HUNTING SHOTGUNS ON THE MARKET RIGHT NOW
WATCH
The post 6 Great Turkey Hunting Vests to Hold All Your Gear This Season appeared first on Wide Open Spaces.