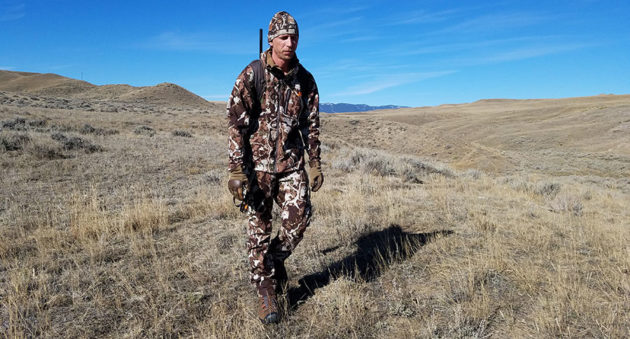 The First Lite Catalyst Softshell system has definitely stood up to its reputation.
First Lite has broken through the crowded marketplace for advanced hunting gear, and made their mark in the outdoor space by coming out with exceptional apparel favorited by some of the most devoted in the business.
Under some favorable circumstances (you know, being the editor of the outdoor website you're reading), I had the chance to try out the full Catalyst system, plus a few First Lite extras, throughout the latest hunting season. I'm officially part of the First Lite fraternity, and after a good amount of use, I'm proud to be among the crowd.
I didn't use the gear for every hunt, but I look back now and realize I missed it when I didn't have it on. There's something about the comfort and freedom of movement the jacket and pants allow that gave me reason to believe it's among the best gear I currently own.
In addition, I tried out the First Lite Shale Hybrid Gloves, the Merino Beanie, the Fuse Long Johns, and Talus Fingerless Merino Gloves.
At the heart of the Men's Catalyst Softshell Jacket and Pants system is its lightweight, 2-layer construction with an interior fleece lining and a soft, quiet, durable exterior that staves off wind, water, and snow. First Lite's exclusive 37.5 Active Particle Technology helps "exhaust moisture and maintain optimal body temperature." I'd say it's pretty good at its job.
I stretched my sessions with the gear from an October dove hunt in Texas, to a snowy Wisconsin duck hunt, to a Wyoming quest for pronghorn, and mixed some more deer, quail, grouse, and hog pursuits in for good measure.
From the early to the late season, the Catalyst jacket and pants felt appropriate if not ideal for each.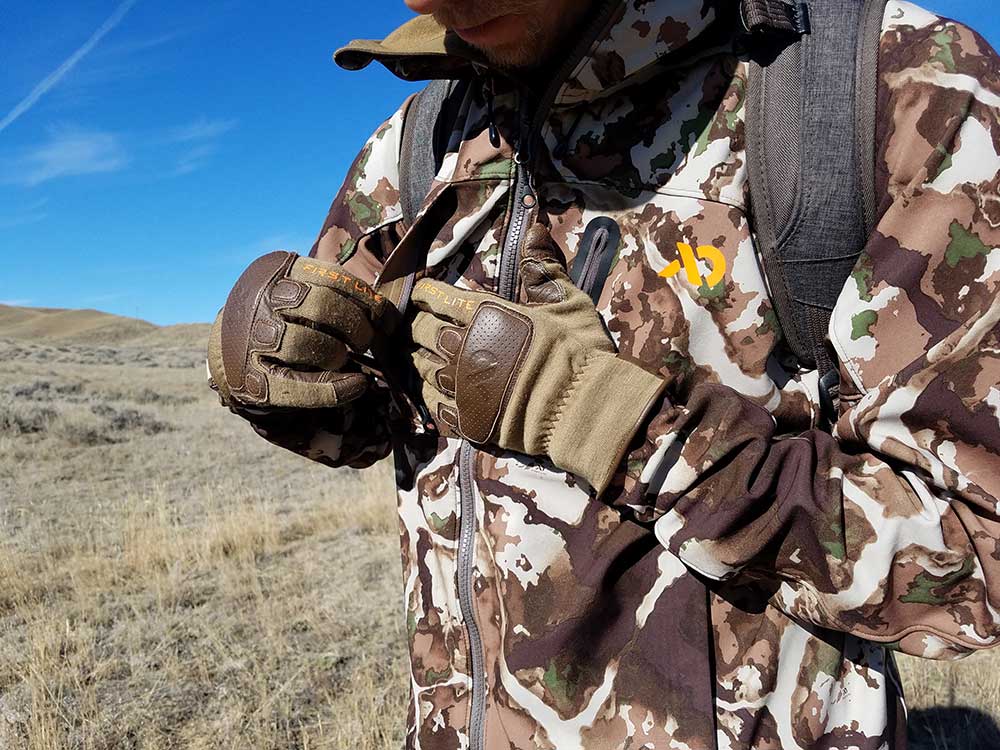 The DWR, or Durable Water Repellant finish on the outer shell, doesn't exactly translate to a true waterproof rain jacket, but it more than stands up against a good amount of precipitation. It still means it's an ultra-versatile jacket and pants, and I wouldn't be afraid to wear it in some heavy rains.
Though it doesn't have the insulation of a puffy jacket, it really holds up in cold weather. The duck hunt in Wisconsin included below-freezing temperatures and a light snow, and I was kept reasonably warm while sitting still in a makeshift blind. Sure, it's intended for western big game, but the fact that it felt at home in the marsh speaks to the versatility.
The jacket has what First Lite calls a "3D Turret Hood," which must be apparel-speak for "awesome." Easy one-handed cinch strings and a comfortable size and fit keeps it from flapping or folding. The pants have balanced, double-layered cargo pockets, with one zippered and non-zippered on each side. First Lite goes the extra mile with removable suspenders, a sweet addition that I found helpful on a few occasions, but unnecessary on others.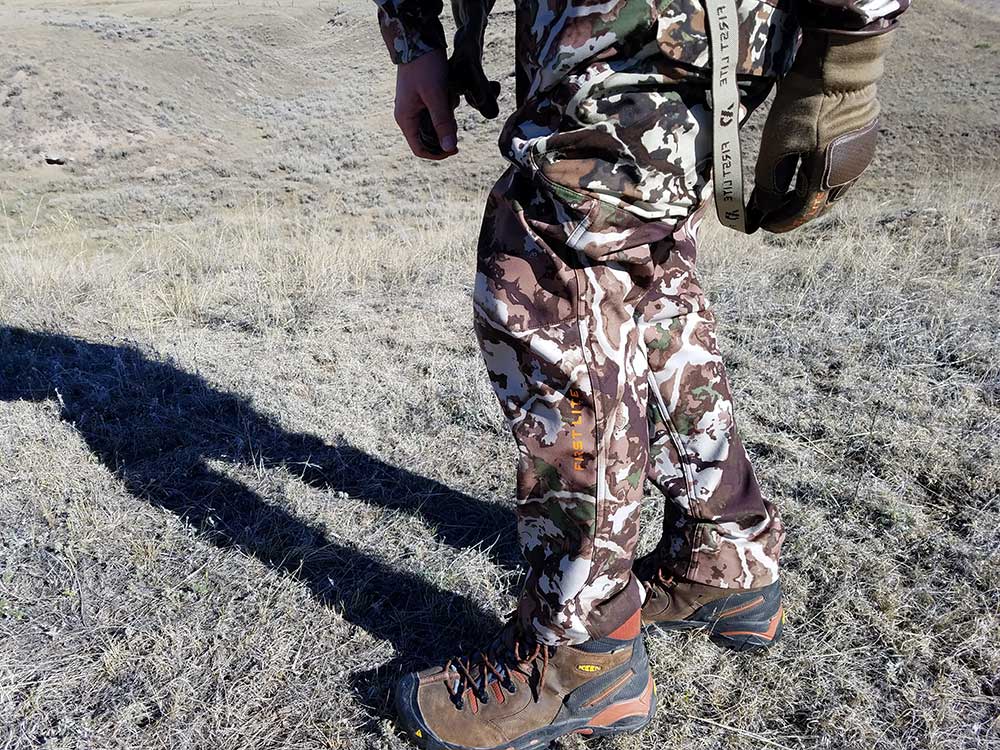 As far as base layering systems go, the Lightweight 205 Aerowool top and long Johns excel. They're a wool/nylon blend with great odor resistance and extremely beneficial moisture wicking capabilities. I'm as comfortable in the top on a blue bird, 70-degree day as I am on a cold winter morning with the Catalyst jacket over the top.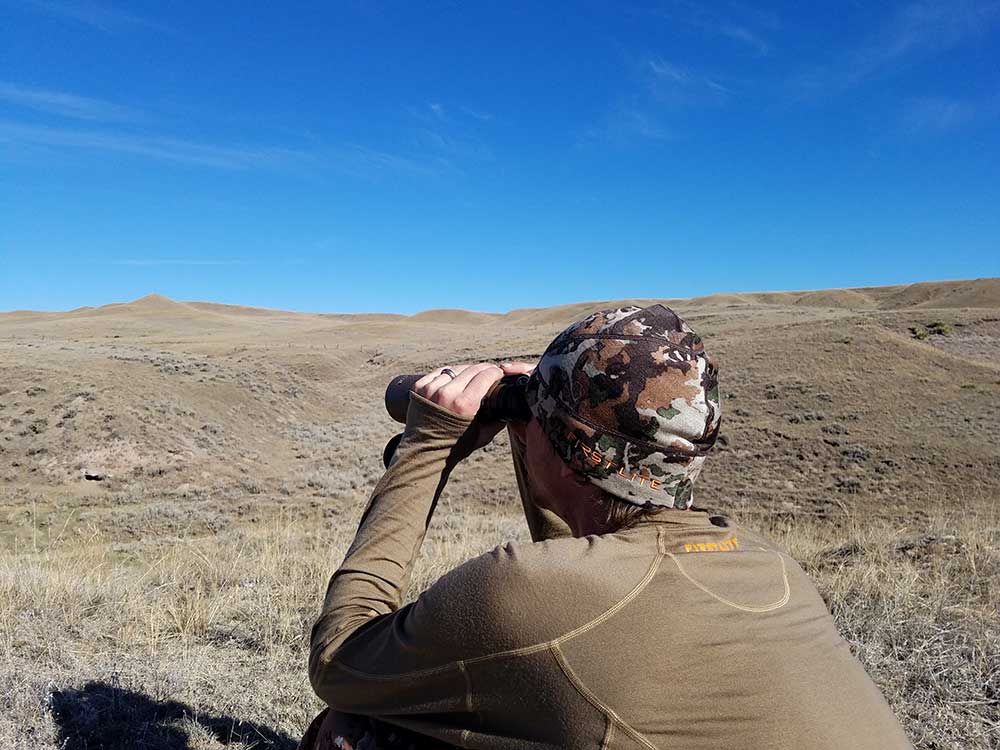 There are thumb holes on the cuffs of the quarter zip top, meaning there's no chance for the sleeve to bunch up when slipping on the jacket. Even still, the sleeves are tight to the skin but stretchy, lessening any chance of getting snagged or bunched.
The long Johns work so well that they're probably getting more use than they should, with a particularly cold Central Texas winter leading me to wear them under jeans into the office when it calls for it. Since sitting at a desk isn't giving them a true test, I can attest to them working great in the field, too. Both base layer pieces are in the tan-based Dry Earth, but also come in a green Conifer and two of First Lite's camo patterns.
The merino wool Beanie and Fingerless Gloves have performed when I've asked them too, but the hat has some trouble covering my ears when placed upon my admittedly large noggin. That's no fault of First Lite's, but it's led me to bypass the hat for others I have in my collection. What can I say, I'm a wuss when it comes to cold ears, and I'm not willing to sacrifice that on a particularly cold day.
The strongest accessory, in my mind, are the Shale Hybrid Gloves, which combine merino and leather and include reinforced shooter pivot pads on the palms and thumbs. These are what hunting gloves should be: simple, effective, and non-restrictive.
Probably the highlight of my hunting season was harvesting a pronghorn during a late-October Wyoming tent hunt, and I was wearing the Catalyst system when I took the shot. The opportunity happened first thing in the morning, less than 30 minutes into the hunt, so I can't say I had much of a chance to notice the jacket or pants making a whole lot of difference in my luck.
The gloves, on the other hand, were exactly what I needed. They kept my hands warm, weren't slick, and performed the trigger pull that downed my first pronghorn.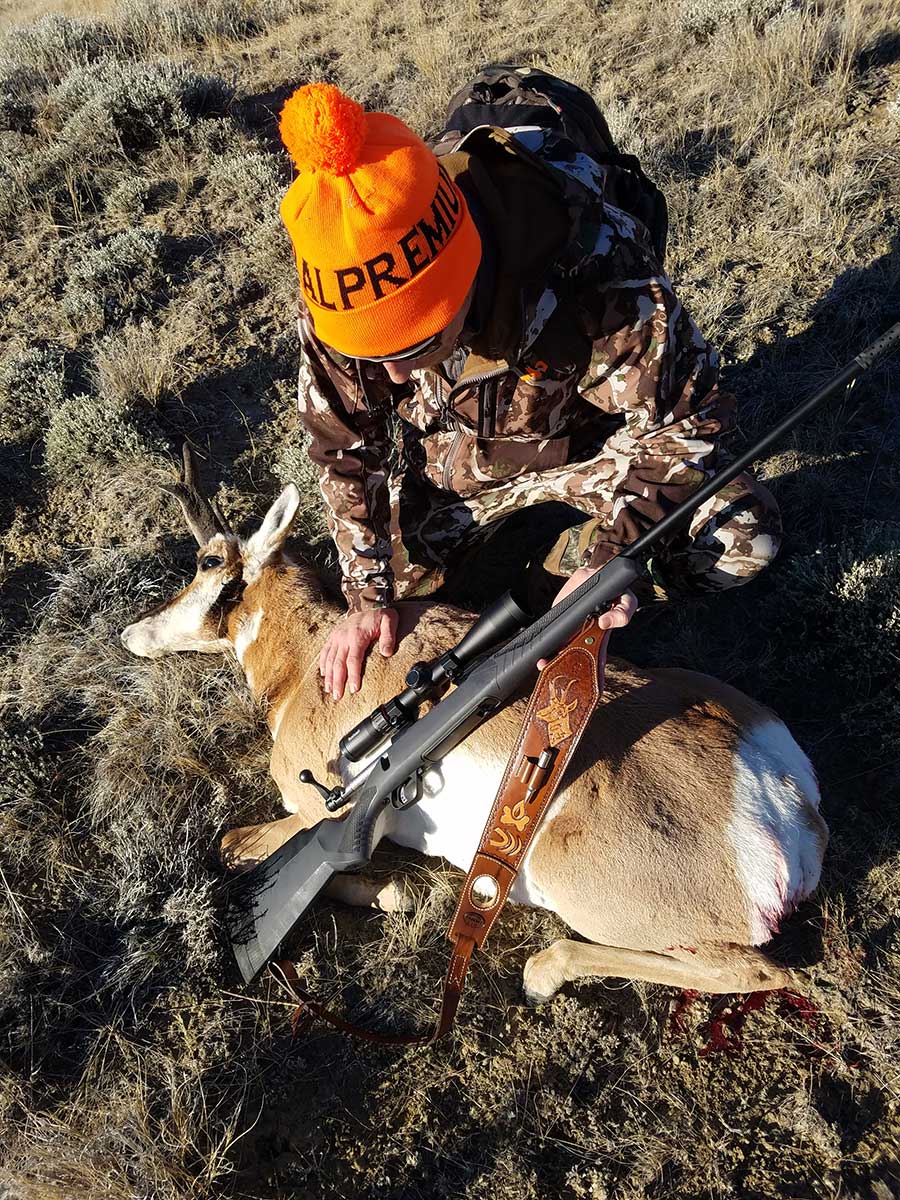 Granted, this sort of gear comes with price tags that need to be accompanied by durability for them to be justified. I can't speak to the longevity of stuff I've had for less than a year, but there are signs that point to a positive experience. The natural odor resistance will cut down on washing requirements, and the DWR coating helps battle thorn and briar snags. I plan on getting good use out of it all, and would be surprised to see deterioration any time soon.
All of the First Lite gear I've given a once over has lived up to the reputation the brand has built for itself. Like I said, I'm proud that the gear I've used stands as a testament to the hard work put into creating it. I want stuff that works as hard as I do, and that's what this is.
NEXT: THE FIRST LITE OBSIDIAN PANTS HAVE BECOME MY GO-TO, AND I'LL TELL YOU WHY
WATCH
The post Gear Review: The First Lite Catalyst Hunting System appeared first on Wide Open Spaces.