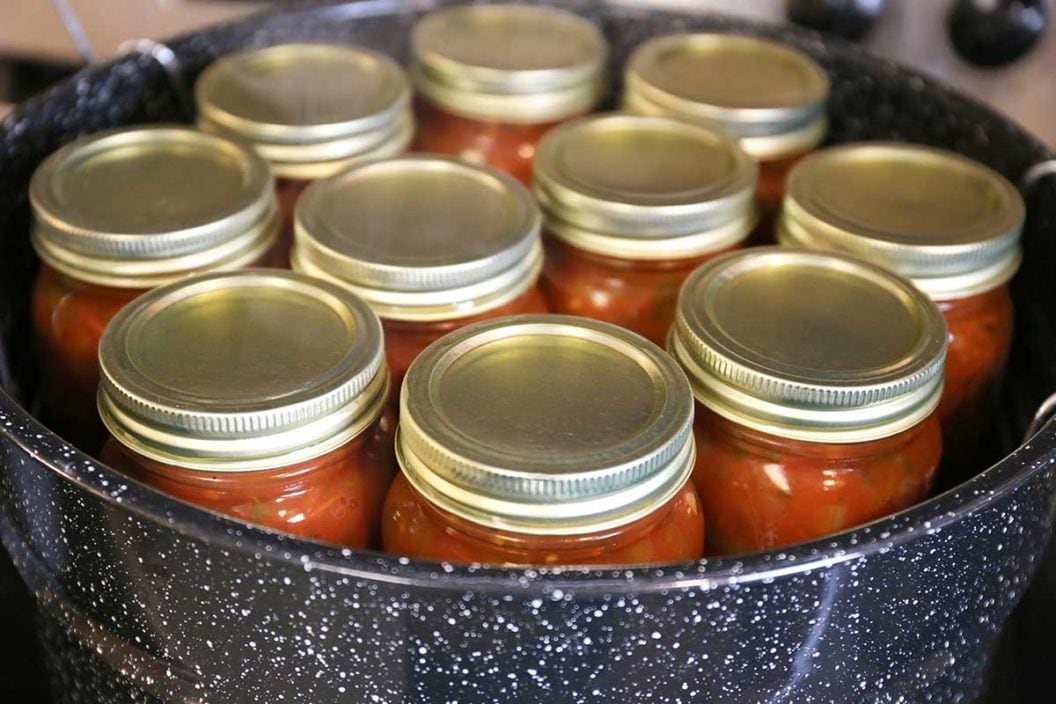 Our mothers and fathers taught us everything to know about the outdoors, but somebody had to teach them. When it came to my mother, hunting and fishing weren't the only things that she had to share–she also knew how to gather, prepare, and save things for a rainy day. And she learned everything she knew from her mom. My maternal grandmother, Alice Joseph, learned some hard lessons raising eight children in the middle of the Nebraska Sandhills. Making sure that there was food to be had during the worst parts of the year was the most important. Finding and gathering wild fruits and vegetables was one thing, but how to make them last without refrigeration was a challenge unique to the era. These days, we have a lot of options for canning and dehydrating gear that would have made grandma's life a lot easier.
We've all experienced a power outage, but not many of us have had to keep our food good for long periods or take the chance at having nothing to eat. You and I have had fridges, freezers, and coolers all our lives, but grandma Alice had mason jars, her wits, and eight kids to feed. Here's to the modern advancements that help us survive without a supermarket. I just know Grandma Joseph would love these tools at her disposal.
Food Dehydration
By the 1930s my mother's family had an electric pump installed to use instead of having to pump the water by hand each day, so an electric dehydrator could have theoretically been possible. But it would have blown their minds, too. An item like this would have saved time and money, and most importantly food. Fruits, veggies, and especially meats would have run through a good dehydrator and I'm willing to bet that they would have had more than one.
Freeze Drying
Freeze-dried foods generally offer a longer shelf life, lower moisture content, and usually taste better than dehydrated foods, but it's a subjective thing. Virtually any freeze drying machine is going to be expensive which is probably why so many choose dehydration over this technique. Typically, it takes about 20 to 40 hours to freeze-dry one batch of food. My grandmother's life was based around food and food preparation, so time would not have been an object.
Vacuum Sealing
There are any number of good quality vacuum sealers out there, and most enjoy a good reputation. Since she certainly had a freezer that was already chock full of items, grandma would have loved another option for preserving foods for the short run. In other words, meats would last much, much longer in the freezer, but dried peas, beans, and the like could be sealed then left right on the shelf for use at any time. Fresh fruits and vegetables would go from four to seven days of conventional storage to 30 to 50 days with vacuum sealing and freezing. This is the kind of information that she wouldn't ignore when it came to handling her hard-earned food supply.
Canning
My Grandma Joseph didn't need much in the way of canning supplies, but some of today's items can do so much more than cook. This model not only slow cooks and pressure cooks food, but includes the ability to warm foods, and most importantly can be used to sterilize. As a lifetime canner, Grandma knew how important it was to have her jars in a perfectly sterilized condition before placing the food in them. With the sterilize function she could clean jars and utensils and take care of her canning much more conveniently than ever before.
Reading Material
Grandma wasn't a woman who thought that her knowledge of food preservation was the beginning and end of it. She understood full well how to take advice and constructive criticism on any subject, including food keeping. She loved to read and would have enjoyed some good reading material on hand during the offseason.
With many of these items and more, plus the information that we now have regarding the safekeeping of food, she would have gobbled it all up like a whitetail deer over newly dropped acorns. My grandparents also had a lifetime of raising livestock, which would mean that the technology we have now to preserve meats wouldn't be wasted on them. Sure, folks have been making jerky in the oven for many years, and humans have long since learned to smoke their meat in order to save it for a rainy day, but who among us wouldn't want to know that it was not only well preserved, but completely safe to eat far into the future? We can cook it, dehydrate it, smoke it, can it, or freeze dry it now, but it was our ancestors who led the way.
Please check out my book "The Hunter's Way" from HarperCollins. Be sure to follow my webpage, or on Facebook and YouTube.
The post 5 of Today's Canning and Dehydrating Items That Grandma Would Kill For appeared first on Wide Open Spaces.