Getty: Jupiterimages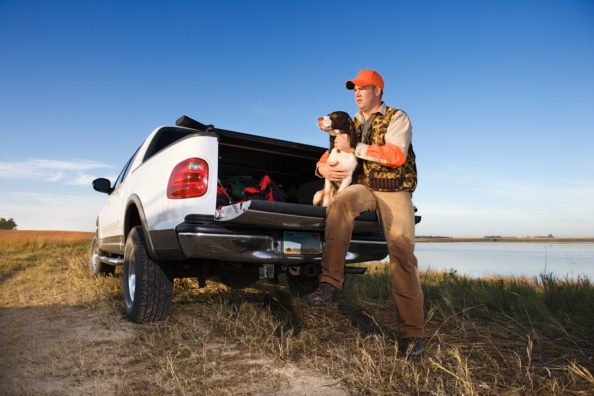 Before you head off-road on your hunting next adventure, be sure to outfit your rig with these truck accessories.
You should be prepared for any situation in the wild.
A great place to start is by getting yourself some innovative truck accessories every hunter should have, beyond your typical all-weather floor mats and truck bed liner.
Your hunts typically begin and end in your truck, so it only makes sense to equip it like it's your home base.
Pelican Cargo Case
Keep all your hunting gear dry, organized and protected with this heavy-duty storage system from Pelican. Available in a variety of sizes and configurations, these roto-molded storage boxes can be easily mounted to your truck bed, roof or sides with custom-fit options for Dodge, Ford, Chevy, Toyota and Jeep.
Built-in UV protection and padlock-compatibility make Pelican Cargo Cases a great solution for ammo and gun storage on the go.
Carhartt Seat Covers
No matter what type of hunting you're doing or where you're doing it, those beautiful leather seats are bound to get splattered with mud and scratched beyond repair. Invest in some durable Carhartt seat covers that will add an extra layer of protection from dirt and burrs on your pants throughout hunting season.
If you have a hunting dog, camo universal covers for the back seat are a great option for preventing paw prints on the upholstery.
Uncharted Portable Power System
You'll never get stuck with a dead truck battery in the middle of nowhere again when you keep a portable charger from Uncharted Supply Co. in tow.
The 20,000mAh Zeus has enough juice to jumpstart even the biggest trucks multiple times, fully charge your cell 10 times over, and provide light via its built-in flashlight for several days.
Its 16000mAh counterpart, the Athena, can power up to a 6.0L engine and features multiple USB ports as well as a 3-in-1 LED light.
Scent Crusher Ozone Go Max
Clear the remnants of wet dog smell and fast food stink from your pickup truck with the travel-sized Ozone Go Max. Just plug it into a 12-volt outlet, and your hunting rig will be scent-free and ready for your next whitetail hunting trip in no time.
Vehicle Holster
Keep your sidearm well within reach and securely fastened with either a seat- or dash-mounted holster or a console vault. From magnetic mounts to seat straps to seat holsters, there are plenty of options you can customize for your hunting truck. Of course, be mindful of regulations in your state and when crossing state lines.
Whether you're on team Tacoma, Silverado or RAM, get your hunting truck ready from grille to tailgate with these accessories now.

Products featured on Wide Open Spaces are independently selected by our editors. However, when you buy something through our links, we may earn a commission.
NEXT: THE AMERICAN HUNTER'S DREAM SPRING ROAD TRIP
The post 5 Hunting Accessories for Your Truck appeared first on Wide Open Spaces.