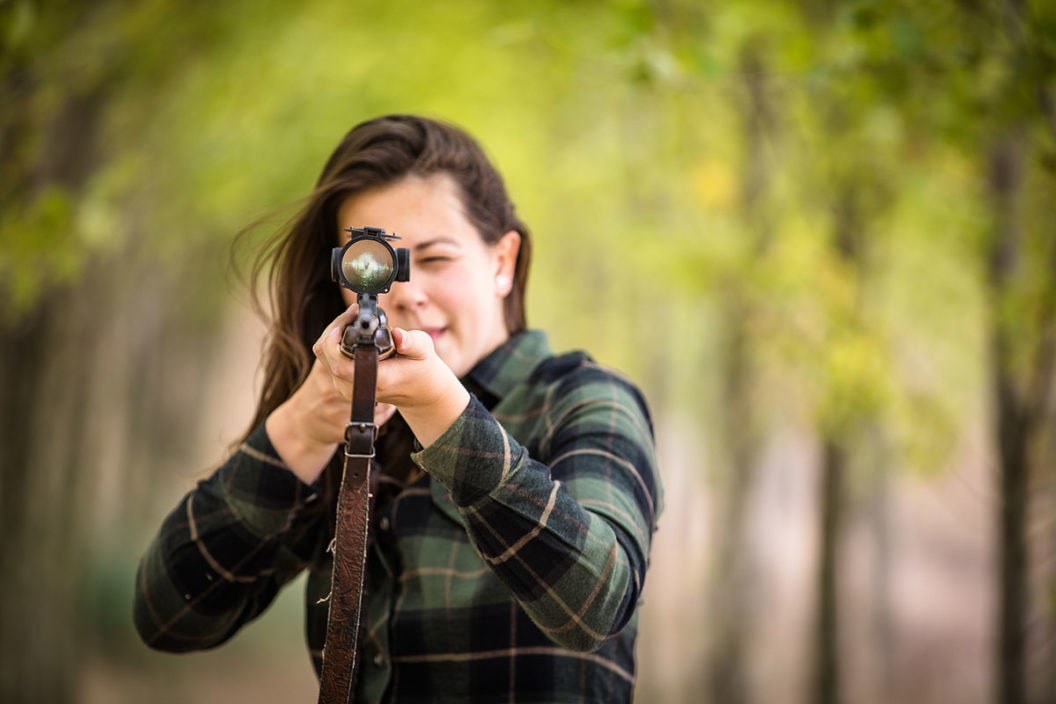 A great rifle, whether for plinking, deer hunting, or long-range shooting, is one that fits a shooter best. The better a rifle fits, the better a person will shoot with it. Women don't require a special type of rifle, nor does it have to be pink or purple. It just has to fit correctly. By and large, rifles are designed to be compatible with the size of an average adult man in terms of overall size, length of pull and grip size.
Depending on an individual's stature and the adjustability of the firearm, some women will find full-size rifles fit them just fine. A rifle with a highly adjustable stock can be a good solution, but many adjustable stocks simple won't let the cheek rest go high enough or collapse the length of pull to be short enough to fit just right.
However, the majority of women are of smaller stature than men, and the rifle racks at the gun shop have historically offered very little for them. Until recently, many women's only option for a well-fitting deer rifle was a custom-made stock, a short carbine, or a scaled down youth rifle with a buttpad added to get the LOP right. Now, women represent the fastest-growing segment of the shooting and hunting community, and gunmakers have noticed.
There are a number of feature-rich precision rifles and sporting rifles on the market that are tailored to fit women just right. Here are a few of the best hunting rifles for women today:
Savage 11/111 Lady Hunter
This versatile rifle was built specifically around the needs of female hunters and is available in the most popular whitetail and big-game calibers, including 6.5 Creedmoor and 7mm-08 Remington. The American walnut stock has a raised comb that better fits a woman's contours, along with a shortened length of pull along with a more slender grip and fore-end.
The 20-inch barrel has an adjusted balance point that makes the gun feel lighter while still providing enough heft to absorb a good amount of felt recoil. Other notable features include a user-adjustable trigger in the form of the Savage AccuTrigger, a detachable box magazine, and a receiver that comes drilled and tapped for scope mounts.
The Savage 111 Lady Hunter is the same rifle but with a long action available in .30-06 Springfield and .270 Winchester.
The Weatherby Camilla Rifles
Weatherby was one of the first companies to build a new rifle just for female hunters. Now, the company's Camilla series of centerfire rifles include four bolt-action rifle models: the Mark V Camilla Deluxe, the Mark V Camilla Ultra Lightweight, the Vanguard Camilla, and the Vanguard Camilla Wilderness–all named after Camilla Weatherby.
We don't typically have lists like this with so many products coming from the same brand, but there are a few things to consider here. First, the hunting rifle market for women is shockingly bleak. There aren't many options to begin with, and much of what is offered seemingly panders to what would serve as a nice gift for the wife or girlfriend who's expressed a passive interest in joining you in the woods. Surely there's a place for those rifles, but outside of the Savage 11/111 Lady Hunter, few female-focused rifles are in the same league as the Camilla lineup.
Vanguard Camilla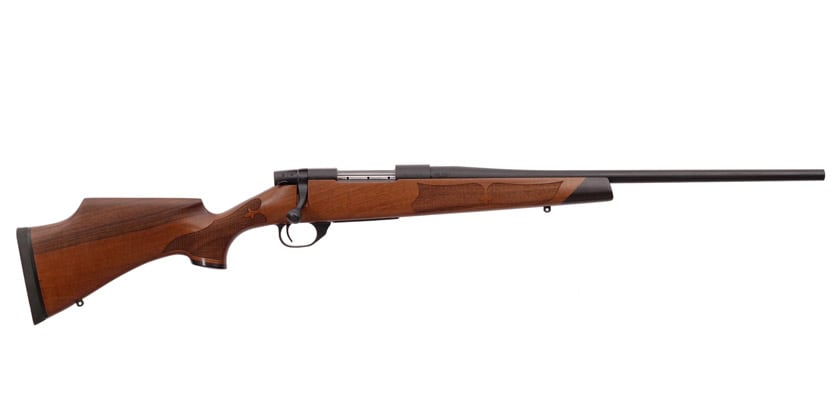 The Vanguard Camilla rifle, as the company says, was "designed by women, and built by Weatherby." Its stock has a high comb and the buttstock and recoil pad are angled away from the body, which is a better fit for the female anatomy, allowing it to easily nestle into the shoulder.
The stock also features a slim pistol grip with a shorter grip-to-trigger reach that's great for smaller hands for better ergonomics. The stock has a reduced 13-inch length of pull and a slender fore-end, along with a reduction in overall weight and length. Without sacrificing accuracy. All Vanguard rifles are guaranteed to shoot a 3-shot sub-MOA group from a cold barrel (with Weatherby or premium ammunition). The gun also features an adjustable trigger and a hinged floorplate.
Vanguard Camilla Wilderness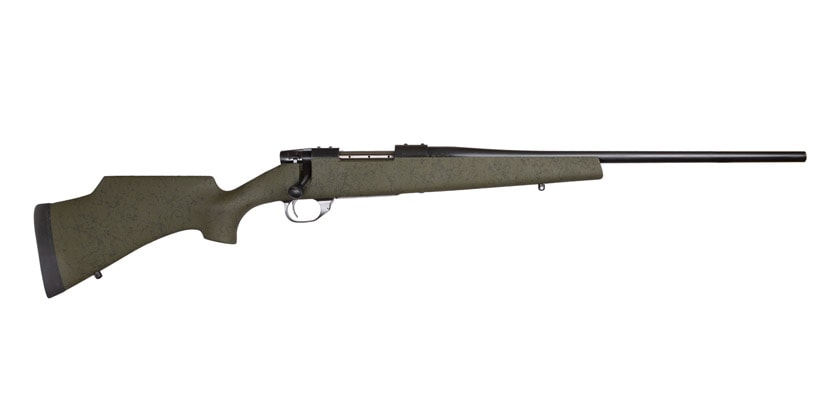 The Vanguard Camilla Wilderness is basically the same as the Vanguard Camilla, only with a green, hand-laid fiberglass stock with black webbing for better weather resistance. When differentiating between each of these, you have to consider how you'd plan to use it. If you're one who plans to push your own personal limits, defying natural elements such as terrain and weather, you want something that's equipped to take on a little more wear and tear. That's where the Wilderness trim comes in.
Mark V Camilla Deluxe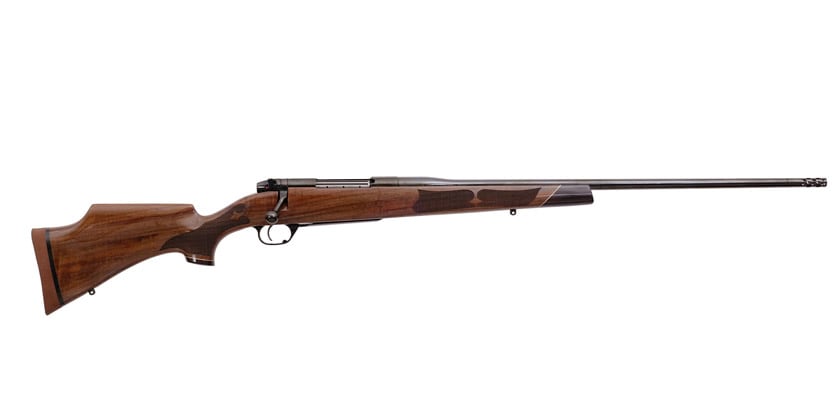 The Mark V Camilla Deluxe has the Mark V's six-lug action along with a AA-grade Claro Walnut stock and a hand-lapped barrel. It's geometry has been redesigned for female shooters with a 13-inch length of pull, a slender forearm and grip with a gentle palm swell, along with a higher comb for proper sight/scope to eye alignment.
Additionally, its aesthetic is top-shelf, donning a high-gloss finish to go along with its performance. It also features an externally adjustable TriggerTech trigger, which produces true zero-creep break and extremely short over-travel while ensuring consistent trigger pulls with its precision-cut stainless steel components.
The Camilla Deluxe also employs an Accubrake ST, which reduces felt recoil by up to 53 percent, as well as an industry-leading 54-degree bolt, which allows for faster chambering on follow-up shots and greater bolt-to-scope clearance. All Mark V rifles are tested and guaranteed to shoot a three-shot group of less than an inch from a cold barrel with premium ammunition
Mark V Camilla Ultra Lightweight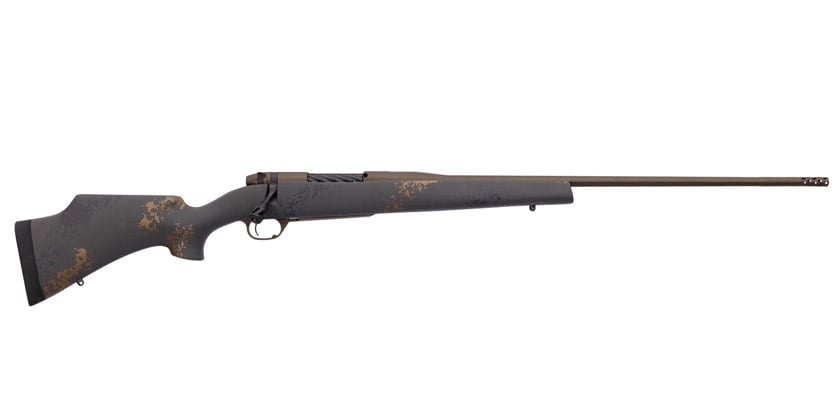 The Mark V Camilla Ultra Lightweight is a more rugged rifle with a dark green, Monte Carlo hand-laid composite stock with aluminum bedding blocks for long-range accuracy. The synthetic stock shares the dimensions and features of the wood offering. It weighs in at just under 6 pounds.
This rifle offers a similar alternative as the Vanguard Camilla Wilderness in that it's built for the backcountry hunter. However, this option does also present a Cerakote barrel, which is the best option out there for protecting against wear, corrosion, and chemical resistance.
The post 5 Best Hunting Rifles for Women appeared first on Wide Open Spaces.