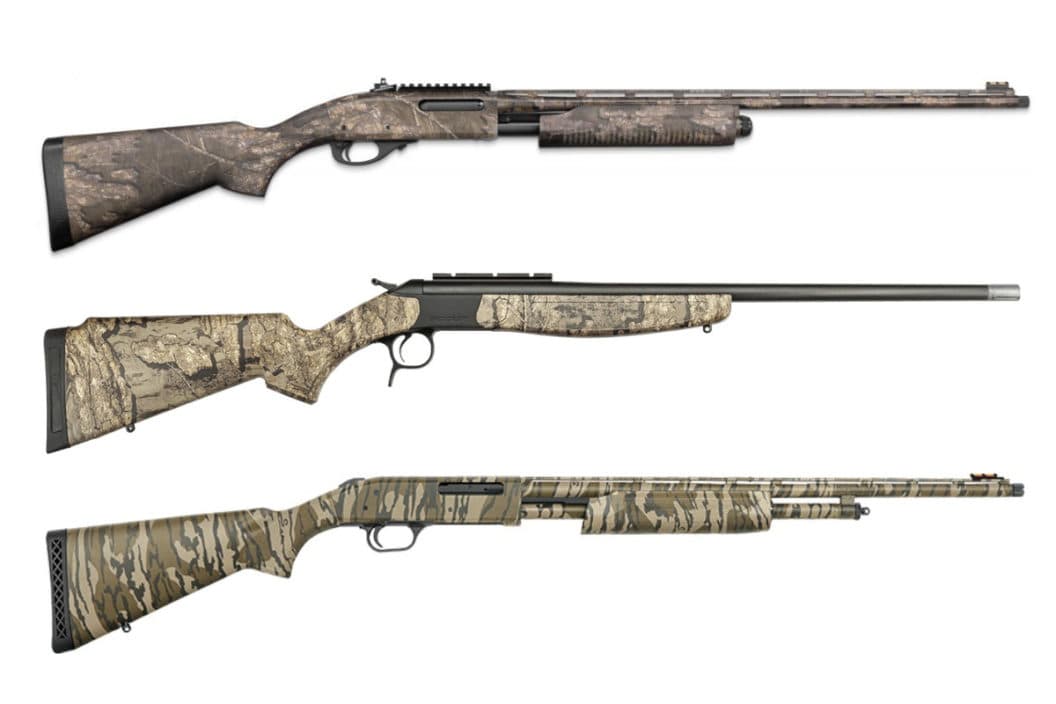 The .410 shotgun is quickly becoming more popular for turkey hunting.
Perhaps one of the biggest movements among turkey hunters these days is a massive shift towards using .410 bore shotguns as a primary turkey gun.
What used to be reserved strictly for youth hunters is now becoming more popular for hunters of all ages and experience levels. And why not? A quality .410 bore firearm is way more affordable than a 12-gauge, has almost no recoil, and the ammo is way more accessible.
Because so many of us started in the outdoors hunting with a .410, it's also a nice way to get back to our roots in the turkey woods. Plus, you can use such a gun for small game and fun target shooting in the off-season, too.
When you take a look at the use of the .410 for turkey season, there's little wonder how this became a popular trend. We'll share some of the top shotgun options on the market today and you'll see just how affordable a new turkey setup can be for you this spring.
.410 Ammunition Improvements
As is usually the case, the popularity of a firearm in a certain gauge was preceded by advancements in ammunition. It took a while for turkey shotshells to see some new innovation, but eventually it allowed the .410 shotgun to reach similar performance measurements to the typical 12 gauge. We can look at Federal's
The National Wild Turkey Federation has a ton of info on Federal Premium's Tungsten Super Shot (TSS) shotshells that use No. 9 shot. They note that because tungsten is denser than lead, a payload of TSS pellets combined with a full choke results in ballistics and grouping close to what you can get out of a 12-gauge using lead shot.
According to the Federal Premium website, these three-inch loads have a muzzle velocity of about 1,100 feet per second. Most notably, these shells have an MSRP that's $13 to $20 less than Federal's 12-gauge TSS loads. That's nothing to sneeze at.
Another tungsten .410 load is the HEVI-X strut, which uses No. 6 shot. You can expect around 1,250 fps at the muzzle with these loads. HEVI-SHOT also makes TSS shot loads in No. 7 and No. 9 shot that are doing about 1,090 fps.
That's not meant to say that lead load alternatives are the only thing the .410 has going for it. Winchester also produces a .410 turkey load, the Double X Diamond Grade, that is shot size 7 ½. It has antimony and copper plated lead pellets, and it's also doing about 1,100 fps.
Speeds aside, the main reason these types of loads have taken off is because of how well they pattern out to 30 and 40 yards. Many hunters have a misconception about the .410 as a short-range gun, but the design of these new loads combined with a quality full choke tube is allowing the .410 to do things that remind most hunters of a 12 gauge shotgun, only in a much lighter package.
Remember, you should make sure to check your state's regulations ahead of time, because there are some that still do not allow hunters to use .410 for turkey hunting. We imagine a lot of those regulations are going to change over the next few years.
We should also note that turkey choke options for a .410 are somewhat limited. While most serious turkey hunters agree an extra-full choke would probably be preferable, it can be hard to find a .410 with an extended full choke. Fortunately, as hunting turkeys with a .410 has become more popular, more manufacturers are offering that type of choke tube standard to maximize what these guns can do.
With that in mind, let's review some of the more popular turkey guns in .410 bore you can find.
CVA Compact Scout
This is one of the newer options on the market, having only been introduced in 2020. This single-shot .410 weighs only six pounds and has a 22-inch barrel length. It can chamber three-inch shells and comes with an "X-full" turkey choke. This CVA shotgun comes with a scope rail from the factory ready for a red dot sight or other optic of your choice. There's also a spacer in the stock that allows you to adjust the length of pull, making it a great youth model option that can grow with your younger hunter. At just over $400, this is a solid first-timer turkey gun.
Mossberg 500 Turkey
It's hard to go wrong with pump action classic. The Mossberg 500 has downed more gobblers than many other shotguns on the market. Mossberg's .410 version of the gun features a classic Mossy Oak Bottomland camo finish, a 24-inch vent rib barrel, and an X-full extended choke. It weighs just 6.5 pounds and is chambered for three-inch shells. This shotgun is fully ambidextrous thanks to the top mounted safety, and has a fiber optic front sight so you can feel confident in sighting down that big longbeard.
Stevens 301 Turkey
Built by Savage Arms and coming in just over $220 MSRP, the Stevens 301 is an excellent budget option for a break-action turkey gun. This shotgun features a 26-inch barrel made of chrome alloy steel. It has an extra-full choke tube and bead sights built to be compatible with a TruGlo sight system straight out of the box. The barrel and receiver are a classic matte blued finish while the stock and forend are in a Mossy Oak Obsession camo pattern. There's also a one-piece picatinny rail that makes this turkey shotgun ready for an optic if you so choose. At five pounds, it is going to be a joy to carry afield this spring.
Rossi Single Shot Tuffy
This shotgun has an MSRP around $250, but it can often be found on sale for sub $200. The turkey-specific version of the Tuffy has a 26-inch barrel length with an extra-full choke. The break-action single shot is a great choice for newer hunters, especially youngsters, because the stock is extremely ergonomic and easy to handle. This shotgun features hammer cocking, but it also has a crossbolt safety for a little extra peace of mind. Perhaps the most outstanding part is the fact that Rossi cuts the weight down to just a little over 3.5 pounds, making this shotgun manageable for hunters of all ages.
Remington 870 410 Turkey TSS
The Remington 870 is probably responsible for just as many turkey harvests as the Mossberg 500 over the years. As a result, we're thrilled to see Remington also hop on board the .410 turkey gun train with this model. It has a 25-inch barrel with an extended full choke specifically designed for heavyweight TSS loads. This shotgun has the twin action bars you're probably used to with other 870 models, which makes for a smooth cycling firearm. Remington gave this gun a TRUGLO rail system as well as a picatinny rail for those who prefer to mount a red dot or other optic.
TriStar Viper G2
If you're looking for a semi-auto option that can also double as a solid squirrel and rabbit gun, the Viper G2 is a great option, albeit a little more expensive. This shotgun has a 26-inch barrel and is one of the few .410s on the market to offer a removable choke tube system. TriStar includes a modified, full, and improved cylinder Beretta-style chokes. The gun cycles off a gas-operated system and is fed through a tubular magazine. One thing we appreciate is that TriStar includes a plug for this gun standard, so there's no need to purchase or make your own later. The gun has a Realtree Edge camo pattern to help you disappear into the undergrowth when that big Tom tries to pick you out of the brush.
For more outdoor content from Travis Smola, be sure to follow him on Twitter and Instagram For original videos, check out his Geocaching and Outdoors with Travis YouTube channels.
The post .410 Shotguns for Turkey Hunting: Knockdown Power for Gobblers at an Affordable Price appeared first on Wide Open Spaces.