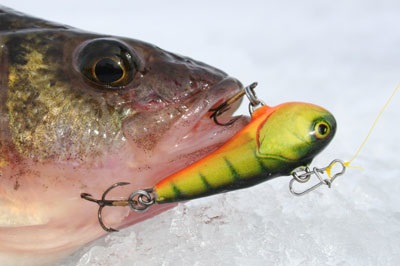 Winter anglers will be able to easily target panfish with the addition of a new micro sized Chubby Darter called the Chubby Darter #3. There is no disputing the fact that the Chubby Darter has become one of the hottest selling lures in the North Country for use while ice fishing. Thousands of anglers have used the Chubby Darter #4, #5 and #6 with amazing results for walleye, but the new Chubby Darter #3 was designed to be a bite size morsel for panfish this winter. Salmo Poland has been working on the tiny Chubby Darter for at least five years, stated Marcy Zenanko of Salmo-USA. It is very hard to make a tiny lure act in the water like the larger Chubby Darters, so they did not want to introduce a lure that could not catch fish as well or better than their larger counterparts. Do they work? Well let me tell you I had my first perch about five seconds after it hit the bottom. Since then, we have taken crappie, sunfish and perch.
The lure flickers, wobbles and glides to act like a real minnow but you never need to add any bait to attract a strike, in contrast to other winter lures that really only work if you drape them with live bait. Introduction of the new Chubby Darter #3 will be limited in 2007 so avid winter anglers best ask their local Salmo Dealer to get on their waiting list to get a chance to fish with this truly unique ice fishing lure. For more information on all Chubby Darters or the complete line of Salmo lures, you can check out their web site at www.salmofishing.com or call 952-224-3649 to get a free Salmo product brochure.
The post Salmo's Chubby Darter Targets Winter Panfish appeared first on ODU Magazine-North America's #1 Digital Fishing Magazine.